Who Should and Will Win the 2014 Golden Globes: Movies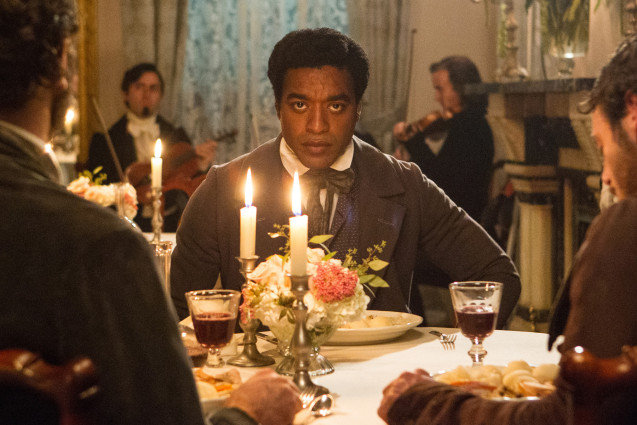 FOX Searchlight
Here are our picks for who will win, and (more importantly) who should win the film awards at the 2014 Golden Globes.
Best Supporting Actor in a Motion Picture
Michael Fassbender, 12 Years a Slave
Jared Leto, Dallas Buyers Club
Bradley Cooper, American Hustle
Daniel Bruhl, Rush
Barkhad Abdi, Captain Phillips
Will Win: Michael Fassbender
Should Win: Michael Fassbender
The supporting actor category has long been the domain of film's best villains, and it's hard to argue when actors continue to put forth powerful performances like Michael Fassbender's turn as the contemptible slave owner Edward Epps in 12 Years a Slave.  Fassbender made his character a putrid mix of brutally cruel and embarrasingly pathetic.
Best Supporting Actress in a Motion Picture
Lupita Nyong'o, 12 Years a Slave
Jennifer Lawrence, American Hustle
Julia Roberts, August: Osage County
June Squibb, Nebraska
Sally Hawkins, Blue Jasmine
Will Win: Luptia Nyong'o
Should Win Luptia Nyong'o
Luptia Nyong'o shows an incredible amount of strength in the face of unspeakable adversity as Patsey in 12 Years a Slave. The young actress gives an attention grabbing performance and proves that she can hold her own in scenes with actors like Michael Fassbender and Chiwetal Eijiofor.
Best Actor in a Motion Picture, Drama
Chiwetel Ejiofor, 12 Years a Slave
Matthew McConaughey, Dallas Buyers Club 
Tom Hanks, Captain Phillips 
Robert Redford, All Is Lost 
Idris Elba, Mandela: Long Walk to Freedom
Will Win: Chiwetel Ejiofor
Should Win: Robert Redford
Chiwetel Ejiofor came out of nowhere and wowed critics and audiences alike with his searing performance as Solomon Northrup in 12 Years a Slave, but we think Robert Redford had the strongest performance of the year with his turn as the marooned sailor in All is Lost.
Best Actress in a Motion Picture, Drama
Cate Blanchett, Blue Jasmine
Sandra Bullock, Gravity
Emma Thompson, Saving Mr. Banks
Judi Dench, Philomena
Kate Winslet, Labor Day
Will Win: Cate Blanchett
Should Win: Cate Blanchett
Ever since she wowed audiences in Woody Allen's Blue Jasmine, Cate Blanchett has been the heavy favorite to win the Best Actress category. This should be an easy win for the actress, whose performance in the film is worthy of all the praise.
Best Screenplay
John Ridley, 12 Years a Slave
Bob Nelson, Nebraska
Eric Warren Singer and David O. Russell, American Hustle
Jeff Pope and Steve Coogan, Philomena
Spike Jonze, Her
Will Win: American Hustle
Should Win: Her
We're betting that American Hustle's witty heist script takes the top honor in this category, but we felt the most moved by Spike Jonze's searingly emotional and romantic script for Her.
Best Actor in a Motion Picture, Musical or Comedy
Bruce Dern, Nerbaska
Leonardo DiCaprio, The Wolf of Wall Street
Christian Bale, American Hustle
Oscar Isaac, Inside Llewyn Davis
Joaquin Phoenix, Her
Will Win: Christian Bale
Should Win: Bruce Dern
This category is pretty much a toss-up, and could go any number of ways. Isaac would be a well-deserved surprise, and although DiCaprio and Phoenix have both received multiple nods in the past, it's hard to picture them winning this time around. Dern, meanwhile, has won incredible reviews and a few early awards for his performance, and could ride this nomination to a victory (and maybe even another at the Oscars). But all in all, Bale is probably the safeest choice, considering his devotion to the off-the-wall, highly emotional role in David O. Russell's latest. 
Best Actress in a Motion Picture, Musical or Comedy

Meryl Streep, August: Osage County

Julia Louis-Dreyfus, Enough Said

Amy Adams, American Hustle

Julie Delpy, Before Midnight

Greta Gerwig, Frances Ha 
Will Win: Meryl Streep

Should Win: Greta Gertwig
Almost every time that Streep is nominated for an award, she takes home the prize – and rightly so, as she is one of the best actors of our time. However, in this case, it would be nice to see the HFPA break away from the safe choice and go with Gertwig, whose performance in Frances Ha was at once charming, realistic, and extremely compelling.
Best Motion Picture, Musical or Comedy

Nebraska

American Hustle

The Wolf of Wall Street

Inside Llewyn Davis

Her
Will Win: American Hustle

Should Win: Inside Llewyn Davis
American Hustle tied for the most Golden Globe nominations this year, making it clear that the HFPA are big fans of the film, which means it's highly likely that the heist film will take home the prize. However, Inside Llewyn Davis has been hailed as the best Coen Brothers' movie yet, and it would be wonderful to see the moving, engaging film win.
Best Director
Alfonso Cuaron, Gravity
Steve McQueen, 12 Years a Slave
David O. Russell, American Hustle
Paul Greengrass, Captain Phillips
Alexander Payne, Nebraska

Will Win: 12 Years a Slave
Should Win: 12 Years a Slave
While Steve McQueen's brutal slavery saga will probably take home the prize, Alfonso Cuaron created a terrifyingly authentic feeling version of space that had us wondering if the director actually threw his cameras into the stratosphere before filming. The Gravity helmer embued his film with boundless invention and techinical wizardry, while never loosing the sight of the characters at the center of his space disaster.
Best Motion Picture, Drama
12 Years a Slave
Gravity
Captain Phillips
Rush
Philomena

Will Win: Gravity
Should Win: 12 Years a Slave
In the biggest showdown of the night, we have a feeling that the HFPA will go light and choose the life-affirming blockbuster Gravity over the glum 12 Years a Slave, and leave the more serious fare for the Academy Awards. While we loved Gravity for all its CGI might, we would give the Best Picture to 12 Years a Slave, a movie that will stay in our hearts and minds for many years to come.
Best Animated Feature Film
Frozen
The Croods
Despicable Me 2
Will Win: Frozen
Should Win: Frozen
With Frozen, Disney deliverd a wonderfully sweet subversion of the princess movie, and created a new set of princesses for modern era. Frozen is a brilliant film filled with drama, action, and humor, but most importantly, it places the relationship of two sister's at it's coursing heart.