The Greatest 'Hunger Games' Parodies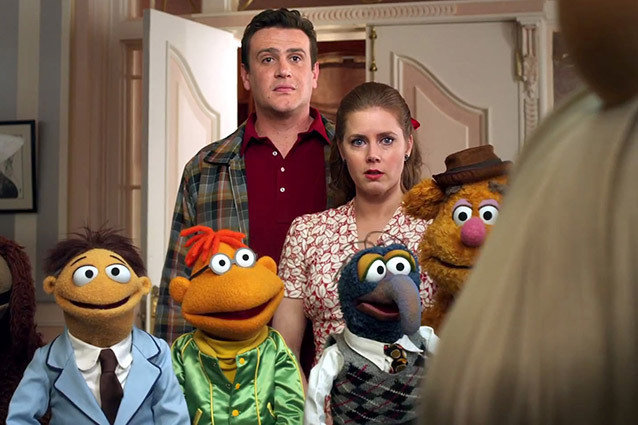 Walt Disney Pictures
You can almost judge how much a film has entered the nation's consciousness by the amount of parodies that crop up on YouTube. From home-made homages to studio-backed tributes, here's a look at five of the best The Hunger Games spoofs that have emerged so far. Unsurprisingly, Jason Friedberg and Aaron Seltzer's typically awful big-screen venture, The Starving Games, doesn't make the cut.
The Muppets
Just beating The Pirates! Band Of Misfits to the punch, the makers of The Muppets' took various scenes from Kermit and co.'s inspired cinematic comeback entirely out of context to weave together a Hunger Games-style narrative for the trailer to the film's DVD release.
Lana Del Rey's "The Hunger Games"
Making a cheeky bid to appear on the next soundtrack, comedienne Holly Laurent nailed Lana Del Rey's 'Hollywood sadcore' persona with this Katniss-themed reworking of her breakthrough hit.
A Bad Lip Reading
Having previously twisted the words of Twilight beyond all recognition, the team behind A Bad Lip Reading then turned the dialogue of The Hunger Games into nonsensical but hilarious gibberish with a three-minute clip which sees Katniss impersonate a goat, Peeta waffle on about a cat called Marvin and Gale give a shout-out to Scooby Doo.
The Honest Trailer
The spoof most likely to rile the series' die-hard fans, this Honest trailer picks apart all the supposed flaws from the film, most notably describing the famous love triangle as a choice between 'a short, boring one-dimensional worthless blonde guy and a much hotter dude,' in a mean-spirited but often amusing manner.
The Disney Games
Cleverly put together by a Disney aficionado, this animated trailer casts Aladdin's Princess Jasmine as Katniss, Treasure Planet's Jim as Peeta and Cinderella as Effie for one of the most inspired Hunger Games mash-ups.