Can You Guess the Generic Movie Title Based on the Plot?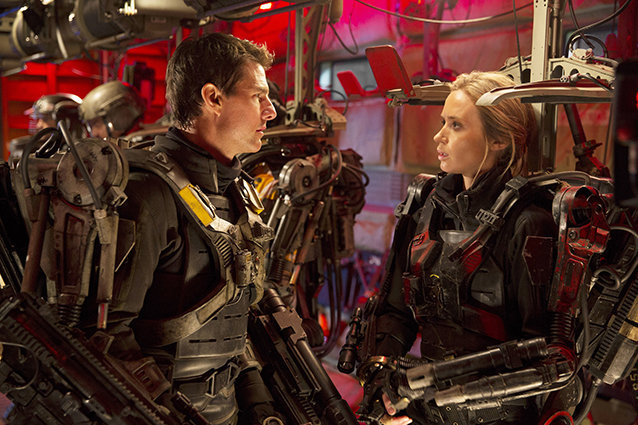 Warner Bros. Pictures via Everett Collection
Picking a title for a movie is hard. That one small phrase needs to be broad enough to encapsulate everything that the movie deals with but narrow enough to let the audience know what it's about, while also being catchy enough to stick in people's heads, but not so specific that it dissuades people from coming to see it. And on top of all of that, it needs to look good on a movie poster. So when it came time for the producer of Tom Cruise's latest film to name their blockbuster, they must have cracked under the pressure, and settled on the completely generic Edge of Tomorrow. 
As a title, Edge of Tomorrow doesn't reveal anything about the movie. It doesn't clarify whether it's an action film or a coming-of-age story, it doesn't hint at the alien apocalypse at the center of the story, it isn't catchy enough to stay with you long after you watch the trailer, and it doesn't even look that great on billboards. Without Cruise, it would be almost impossible to identify Edge of Tomorrow… it could be any film, about any topic. Don't believe us? We've rounded up the plots of nine films with the most boring, uninspired titles in Hollywood. Can you pick match the film to its incredibly generic name? 
1. While settling his recently deceased father's estate, a salesman discovers he has a sister whom he never knew about, leading both siblings to re-examine their perceptions about family and life choices.
A. Life as We Know It
B. People Like Us
C. A Fine Mess
D. Let Me In
2. A British investment broker inherits his uncle's chateau and vineyard in Provence, where he spent much of his childhood. He discovers a new laid-back lifestyle as he tries to renovate the estate to be sold.
A. A Good Year
B. Begin Again
C. Life as We Know It
D. Edge of Tomorrow
3. An officer finds himself caught in a time loop in a war with an alien race, and must use the new skills he acquires each time to help defeat the enemy.
A. Tomorrow Never Dies
B. Live and Let Die
C. Edge of Tomorrow
D. Begin Again  
4. Two single adults become caregivers to an orphaned girl when their mutual best friends die in an accident.
A.  An Unfinished Life  
B. A Fine Mess
C. Life or Something Like It
D. Life As We Know It
5. A bullied young boy befriends a young female vampire who lives in secrecy with her guardian.
A. Live and Let Die 
B. People Like Us
C. Life or Something Like It
D. Let Me In
6. Two friends discover a plot to fix a horse race and try to get in on it, but their actions send a group of mobsters after them.
A. Life as We Know It
B. People Like Us
C. A Fine Mess
D. Once
7. A dejected music business executive forms a bond with a young singer-songwriter new to Manhattan.
A. Let Me In
B. Once
C. A Good Year
D. Begin Again
8. A reporter interviews a psychic, who tells her that she's going to die and her life is meaningless.
A. Life or Something Like It
B. Life Itself
C. Life Is Beautiful
D. Life as We Know It
9. A busker and an immigrant spend a week together, writing songs, playing gigs and falling in love.  
A. Once
B. Begin Again
C. Let Me In
D. A Fine Mess
Answers: 1) B; 2) A; 3) C; 4) C; 5) D; 6) C; 7) D; 8) B; 9) A