Finally It's Seasonally Appropriate to Watch 'Hocus Pocus' Every Day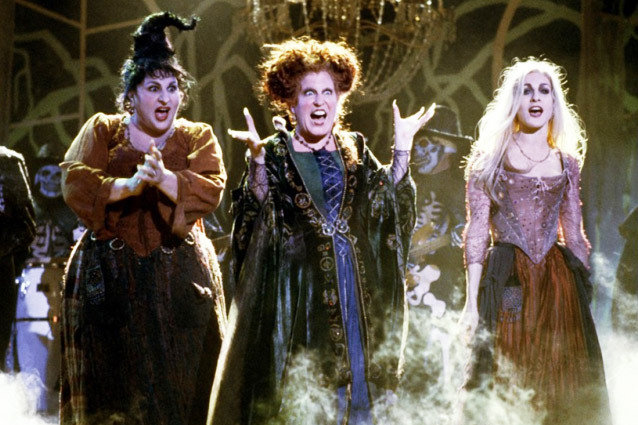 Disney
Welcome to October, friends. It's time to finalize those Halloween costume plans, pull your sweaters out of storage, and down so many Pumpkin Spiced Lattes that you almost go into sugar shock. It's also time for every family channel on television to put Hocus Pocus back into heavy rotation.
The live-action Disney movie turns 20 this year, and remains a cultural touchstone for every kid who grew up watching it. And it's impossible to grow out of it. Two decades later, Bette Midler, Kathy Najimy, and Sarah Jessica Parker are still delightful as the Sanderson sisters, three colonial witches who are brought back to life in early '90s Salem and run amok ("Amok, amok, amok!"). We still identify either with new kid on the block Max or his annoying tag-a-long little sister Dani (a very tiny Thora Birch). We still cry when Binx the cat dies. And "Come Little Children" still gives us the creeps.
For a kid, Hocus Pocus  is just scary enough to feel a little bit illicit. Think about it: in the opening exposition, the Sanderson sisters are hanged for murdering Salem's children by stealing their souls. Yikes. And then a virgin lights the Black Flame Candle, and suddenly it's a fish-out-of-water comedy with the murderous sisters befuddled by modern inventions like, say, the bus ("Tell me, friend, what is this contraption?") or a lighter ("Look! He makes fire in his hand!") In one memorable scene that must have slipped past the Family Values lobby, the girls meet a man (director Garry Marshall in a cameo) dressed up as the devil and fall down worshipping him ("Oh, master!). And we've got the Divine Miss M, so why not throw in a production number?
The spell has a hold on us, for sure. Happy birthday, Hocus Pocus. Thanks for the memories. And for the word "yabbos." We still use it a lot.
More:
A Scaredy Cat's Guide to Non-Gory Horror Movies
Disney Is Planning a Cruella De Vil Movie
Unmasking the Villains of Horror
---
From Our Partners:


40 Most Revealing See-Through Red Carpet Looks (Vh1)


15 Stars Share Secrets of their Sex Lives (Celebuzz)