Jared Leto Has Completely Changed Our Perception of 'Brilliance'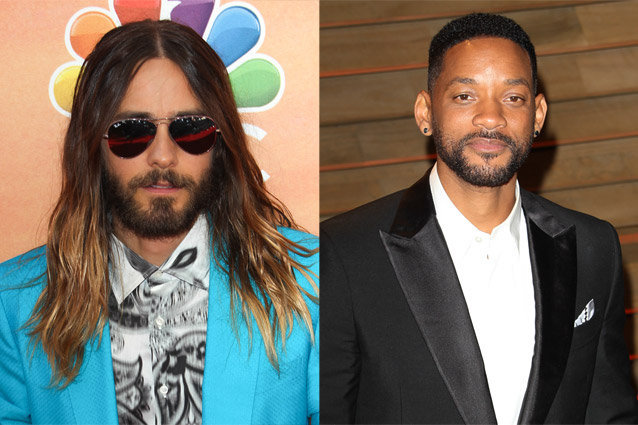 WENN/WENN
Imagine a typical Jared Leto film: serious and independent, helmed by a critically-acclaimed director and requiring Leto to undergo some kind of drastic transformation. Now, imagine a standard Will Smith movie: action-packed and exciting, stocked with an equal amount of laughs and explosions, and featuring Smith as the wisecracking hero. Until this point, their filmographies had very little, if any, common ground, but that might be about to change. Deadline reports that Leto is in talks to replace Smith as the lead in the upcoming sci-fi thriller Brilliance, based on the book by Marcus Sakey.
With the exception of their shared ability to stave off aging, and each actor's claim to a lead role in a great '90s series, Smith and Leto are polar opposites, which is why it's a surprise to see him possibly step into the shoes that Smith has so recently vacated. However, it's even stranger that Leto's rumored involvement in Brilliance actually has us excited for the film, whereas a Smith-led version only left us lukewarm at best. Our perception of Brilliance has completely shifted based on this small piece of casting news.
Most of that has to do with the kind of films that Leto and Smith tend to choose. The former is notoriously picky about his projects, often waiting years between each film, and his selectivity has paid off in terms of the overall quality of his movies. Smith, however, is in the middle of a downturn, with many of his recent films coming off as unoriginal, formulaic blockbusters. Until now, there was no reason to believe that Brilliance, which centers on a group of people born with extraordinary gifts and the FBI agent who must use his to track down an equally brilliant terrorist, would be anything other than another schlocky Smith vehicle, all flash and no substance. But Leto wouldn't pick just any old thriller; if he's looking at Brilliance, that must mean there's some hidden originality or depth to the film that isn't evident based on the summary.
Our change in perspective is helped along by the fact that the premise of Brilliance is general enough that it could go either way. With Smith on board, it seemed like another action film attempting to make a deeper point along the way, but with Leto, it has the possibility to go darker, deeper, and smarter. Leto's coming off of an Oscar win, after all, and he wouldn't pick just any generic action film as hid follow-up. He'd want something with some substance and grit, something that would live up to his award-winning performance. And while Smith's films are generally fun and entertaining, they're not quite on the same level as Dallas Buyers Club.
That doesn't mean that the depth and substance we're now seeing in Brilliance wouldn't have been there with Smith in the lead, but adding Leto's name to the cast holds a different kind of weight than Smith's does. It's usually easy to predict whether one of Leto's films will be good based on only the description, but Smith's career has been so hit-or-miss lately that it's generally better to hold off on making a judgment until the first trailer is released. Audiences have a different set of connotations and expectations for each actor, and those affect the way that we see the same project.
Of course, there's still a chance that the movie will turn out terrible, even with Leto on board, and Smith's new project about NFL-related concussions will be the better of the two, but either way, it seems like Legendary has finally found a way to get people talking about Brilliance.