'Maleficent': 3 of Angelina Jolie's Children to Appear In Film — REPORT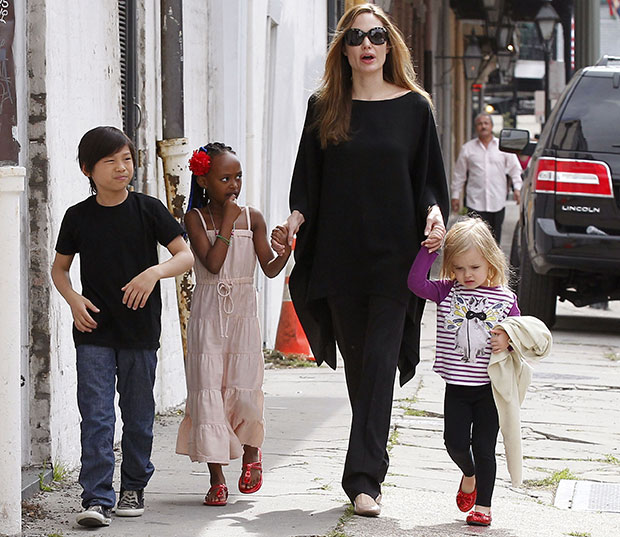 Fifty percent of Angelina Jolie's children will star alongside their famous mother in her upcoming live-action Disney film Maleficent . 
According to US Weekly, home of all things regarding the Jolie/Pitt clan, 8-year-old Pax Jolie-Pitt and 7-year-old Zahara Jolie-Pitt, will join their little sister, 4-year-old Vivienne Jolie-Pitt (who is playing the young version of Elle Fanning's Princess Aurora in the movie) on screen. Shiloh Jolie-Pitt, who appeared in her dad Brad Pitt's Oscar-nominated film The Curious Case of Benjamin Button, was rumored to have a small part in Maleficent as well, but opted out. Kids!
A source told the magazine that Pax and Zahara have smaller, non-speaking roles in the Sleeping Beauty spin-off. A VP for feature casting at Disney had no comment for Hollywood.com regarding the story. 
Maleficent — which is planned for a March 14 2014 release in theaters — is the Sleeping Beauty origins story which tells the tale of the evil fairy (see Jolie in full, villainous garb here) casting her spell on baby Aurora. 
How close Maleficent will stick to the 1959 original Sleeping Beauty is unknown, but the films make-up artist Rick Baker assured Hollywood.com, "It's not the traditional Maleficent from the cartoon. But it's going to be cool."
[Photo credit: FameFlynet]
More: Angelina Jolie's Daughter Vivienne Jolie-Pitt to Appear in Maleficent
From Our Partners:

Jaw-Dropping Actor Transformations
(Moviefone)

(Moviefone)