5 Movie-Inspired Cruises We'd Want to Take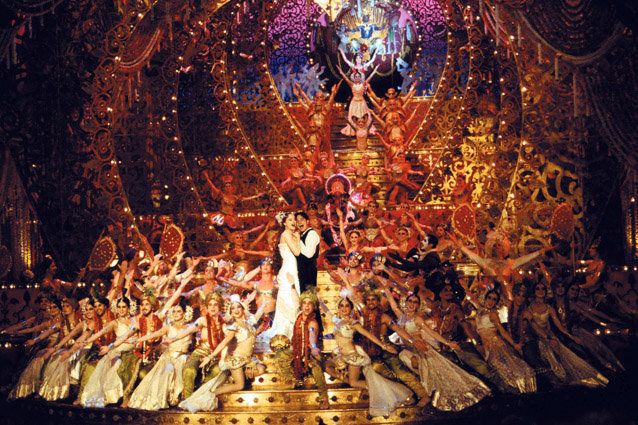 20th Century Fox Film via Everett Collection
Pretty soon, passengers on the Queen Mary 2's transatlantic route will set sail with director Wes Anderson and a few members of the Grand Budapest Hotel cast. According to CNN, Tilda Swinton, Jason Schwartzman, and Wes' afrequent collaborating screenwriter Roman Coppola will all be on board to attend screenings of Anderson's films and participate in audience Q&As. No word on whether the kitchen will be serving Mendl's Courtesan au Chocolat or if the concierge will be as solicitous as Gustave H. Still, this cinematic sail has us dreaming of themed cruises inspired by our favorite movies. Here are a few ideas.
Sumptuous, lavish, romantic. A few days living inside Baz Luhrmann's musical epic will have you feeling like you've danced with the Green Fairy. There might be a treacherous, possessive Duke on the loose, but the guest talent show on the final night would be a doozy.
2. Inception
Cruise ships have levels, and according to Christopher Nolan, so do dreams. What if you could play the Architect and design your own stateroom to full dream-like specifications? We'd be on the phone to our travel agent right now.
The perfect trip for anyone who's ever been accused of being "over-dramatic," our Gone with the Wind cruise would be all sweeping scores and epic clinches. For obvious reasons, some basic elements of the Civil War era drama will have to be updated. And the diameter of the ladies' hoop skirts would probably cut our capacity in half.
4. Black Swan
Those who are only happy when it rains can go dark with a cruise inspired by Darren Aronofsky's trippy ballerina thriller. The line between reality and nightmare may get slightly blurred, but club night will definitely be interesting. And, like Nina Sayers' final dance, we're sure it'll all be perfect.
Lego ice sculptures! Lego towel animals! Lego deck chairs! All Lego everything! A whole ship of Legos! When do we leave?