Scoot McNairy: Hollywood.com's Breakout Actor of 2012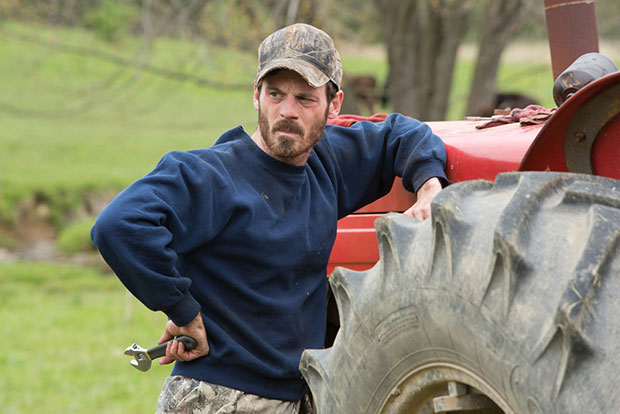 Actor Scoot McNairy isn't letting his deluge of roles in the year's most prestigious films get to his head. The actor is aware that he's now regularly working with some of the best directors in the business, but he's not allowing himself to make a misstep. "You try and pick jobs you're right for," McNairy tells Hollywood.com. "Some actors make that mistake. I'm sure I'll make the same mistake as well. But you take things you can tackle. Always be pushing yourself, challenging yourself, but don't choose something that's beyond you."
After a decade of featured roles in both TV and movies, McNairy is hitting a stride, and rightfully so. He's a chameleon, capable of fitting into any ensemble, owning the spotlight but never stealing it. In 2012, the character actor appeared in an eclectic trio of films: as Joe Stafford, a member of the Iranian embassy who questions CIA agent Tony Mendez's (Ben Affleck) plan of escape in Argo; as Frankie, a burnt out petty thief who takes on the mob to disastrous consequences in Killing Them Softly; and Jeff Dennon, a local farmer contending with Matt Damon's pro-frakking salesman in Promised Land. The throughline between all three is McNairy's unexpected, ferocious commitment to disappearing into the roles. Regardless of the size, the actor approaches them each with the same integrity.
"I look at a leading role the same way as supporting roles," McNairy says. "You read the script and see that it's a great story. So then you ask, 'Who do I want to be in that story?'"
McNairy began his acting career a decade ago, after leaving his home in Paris, Texas, to pursue a career in cinematography. "I wanted to be a cameraman. I had done a few independent films in Austin, but I realized I wanted to shoot. I thought it was something I could really excel in." Acting diverted McNairy's attention, which led him to commercial roles and big screen comedies, like D.E.B.S., Sleepover, and Art School Confidential. McNairy recalls feeling a need to challenge himself beyond comedy, which came easy to him. He set off hunting for meaty drama and found it in Gareth Edwards' 2010 indie sci-fi Monsters. "Monsters was something that elevated me, opened some people's eyes."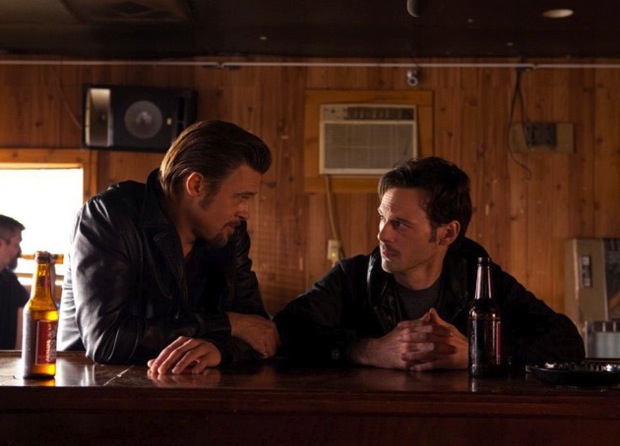 A common misconception about Hollywood: Monsters may have introduced the world to McNairy's dramatic side, but it didn't hand him job after job on a silver platter. The actor admits it's still a process of rigorous auditioning and directors gambling on him. He wasn't always confident. McNairy "never thought there would be a chance in hell" that he would land the lead in Killing Them Softly. "I know that [director] Andrew Dominick took a huge risk putting me in Killing Me Softly. He had never seen Monsters, he'd never seen anything."
What sold Dominick was McNairy's unidentifiable accent for Frankie, which he suggests was "based on environments in the script: cold, grey, dark." Worried that the slightly goofy style may not click with Dominick in the audition, McNairy was convinced by his wife to go with his gut. Invaluable advice. "It wasn't hard to find the voice, but it was hard to authenticate." When Dominick finally recruited McNairy, the demand was stronger than anything he'd ever done. "[Andrew] was really, really keen on performances," McNairy says. "There wasn't a minute on set in that movie where they weren't rolling camera. He just puts a 1000-foot mags [of film] in the camera and we keep rolling. He really hounded me on performance. One day we did 40 takes on just a quick shot. He just wanted to get it right."
One of McNairy's biggest scenes in the film is opposite star Brad Pitt. McNairy had obvious nerves about meeting the movie star, but he used that to his advantage. "My relationship with him came from me wanting to meet him, putting that energy and putting it into the scene," McNairy says. "At the beginning of the shoot, we didn't speak at all. I never met him until the third day of shooting. The bar scene, that whole scene was the first scene we shot together and we never spoke throughout the entire process of that shoot. I think that's what I wanted to put into it. I wanted to be super f**king intimidated by him. Not try to have to act, but feel it." In the end, Pitt turned out to be the perfect sparring partner. "Brad is an incredibly generous actor. He accommodates the other person as well as works with them. He'll mold to the person around him. Not many actors are like that."
If Killing Them Softly was about McNairy embracing his natural instincts, Argo was about stripping them away. McNairy says Affleck had the large ensemble — portraying eight U.S. diplomats trapped in Tehran during the 1979 Iranian hostage crisis — live together for five days before shooting. Or as McNairy calls it "Get-your-egos-out-of-the-way camp." McNairy sites the experience as essential to the process. "I think you have to be aware of [ego]. I'd love to say I don't have an ego, but everyone has it. I try and keep myself out of what's being said and talked about. Focus on the work, focus on the work, focus on the work."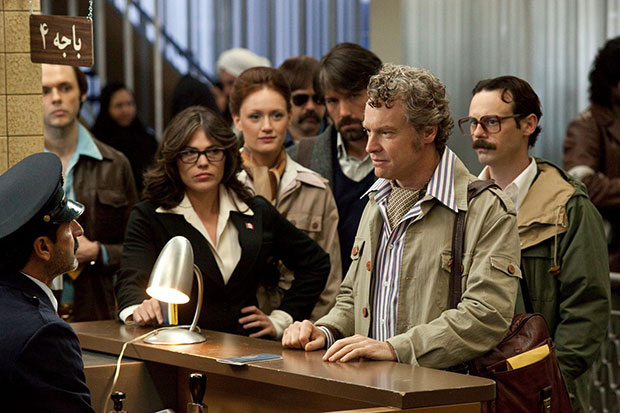 For Argo, McNairy sported a haircut straight from the '70s and a mustache to boot. He was happy to disappear, saying that he loves costumes and rarely wants to work in an environment that feels normal. "I don't even like rehearsing at my house. Even for auditions, I try and put on some kind of outfit. It's that transformation. Trying to step into something else." McNairy cites Fight Club, The Diving Bell and the Butterfly, The Machinist, and this year's Rust and Bone among his favorite films — no surprise, considering the gargantuan change the actors involved went to bring the films to life. "You want to step away from yourself. I'm attracted to people who can do so little and say so much. "
McNairy continues to prioritize roles that speak to him over any calculated career moves, an example of this being his smaller part in Damon and John Krasinki's Promised Land. He goes after movies that he would want to watch, talent he would want to work with. The actor recalls watching Steve McQueen's Hunger and being blown away by Michael Fassbender's performance. He insisted to his reps that he had to be involved in the director's next project. While timing didn't work out for the award-winning Shame, he managed to land himself a role in the director and actor's next collaboration, Twelve Years a Slave. "I play a circus con man," McNairy says, excitement in his voice. "The one who convinces Chiwetel [Ejiofor], who is playing a slave, to come and run with us. Inevitably, we sell him to slavery. Sometime in the first 15 to 20 minutes of the film."
McNairy is currently filming Non-Stop in New York City, an action thriller set almost entirely on a plane from Jaume Collet-Serra (Unknown) that puts him alongside Liam Neeson. It's a welcome change of pace for the actor. "[It's] something I haven't played and puts me in a different light," McNairy says. "Someone with military training. I also wanted to work with Liam Neeson. Schindler's List — I watched that movie all the time."
The sudden upsurge in big screen face time has left McNairy relatively unfazed. That's a good thing, as the actor sounds ready to jump at any juicy, potentially risky part that crosses his path. "It is a business and there's a bunch of bulls**t involved in it, but you gotta keep the fun. Let why it was fun 10 years ago remind you why it's enjoyable."
[Photo Credit: Focus Features; The Weinstein Company; Warner Bros. Pictures]
Follow Matt Patches on Twitter @misterpatches
More:
'Beasts of the Southern Wild' Star Quevenzhane Wallis: Hollywood.com Breakout Actor 2012
Jess Walter, 'Beautiful Ruins' Writer: Hollywood.com Breakout Author of 2012
20 Biggest Breakout Stars of 2012
You Might Also Like:


20 Hottest Bikini Bodies of 2012: Megan Fox and More!


Honey Boo Boo vs. Kardashians: An Xmas Card Showdown