'Season Of The Witch': A Labor Of Love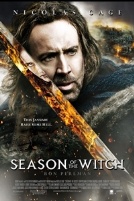 Anyone who knows anything about show business understands that a motion picture doesn't come together overnight. After a script is written and a green light is given from a studio or production company, many months of pre-production go into the project before cameras roll. I'm not even going to get into the post-production process, so let's just say that making a movie (no matter how big or small) is a true labor of love.
In the case of Season of the Witch, the journey to the big screen took nearly ten years from the time that producer Chuck Roven (The Dark Knight) found Bragi F. Schut's Nicholl Fellowships Award-winning screenplay to when the finished product was ready for release (this Friday). "It was fairly sought-after, what we call a hot property," Roven said of the film in a recent interview. "Back then, my company had an overall deal with MGM and we ended up buying it and then began the long journey of getting it made."
Roven faced many hurdles in getting the movie rolling, one which is commonplace in today's filmmaking climate. "In about 2002, maybe 2003, Alex Gartner, who was the President of Production, ended up leaving MGM to come and work with me as a producer over at Atlas. And also, I think you might remember MGM ended up being purchased by a bunch of companies. One of them was Sony/Columbia Pictures and when they made that deal they designated a number of projects that they wanted to further develop before the deal closed and Season of the Witch was, fortunately, one of those," he said while reminiscing about the early days of the production. Luckily, Roven was relieved of one major headache at around the same time when he hired a director. "I think it was 2003 or 2004 when we attached Dominic Sena and really did all of the advance work on the picture. When we finally attached Nicolas Cage to the film in 2009, Dom was still attached the picture, so all of the work we did during that period for Sony really paid off, even though Sony never made the picture."
Roven talks about "attaching Nicolas Cage to the film" as if it was an everyday thing, but he assured me that wasn't the case. Though he had the desire to make the movie, timing was a big issue for the Oscar winning A-lister. "There are two kinds of movies Nic had never done," Roven explained. "He'd never done a scary film – a movie that made you jump – and he had never done a film where he wielded a sword and this sort of fit that bill." Still, Cage's incredibly busy schedule made it almost impossible for him to work on Season of the Witch. "This movie had to be done in the winter and Nic always seemed to be busy in the winter. [But] At the end of 2008, he let us know that he wasn't busy in the winter of 2009, so we offered it to him", Roven said. "He and I had great success together on a picture called City of Angels and him and Dom Sena had success with Gone in Sixty Seconds, so he ended up saying, 'let's do it'!"

Even after landing a bankable leading man and a solid supporting cast, Roven further explained that there was a lot of work to be done after the shoot wrapped. Many may remember that the film was originally set to open in early 2010 but was inexplicably pulled from the release schedule. I made sure to get the low-down straight from the horse's mouth. From visual effects to character development, Roven says that "there were some things that we felt we could do better. One of those things was the relationship between Nic and Ron [Perlman] and the back and forth about trying to figure out exactly what the girl's story is." I don't want to spoil anything, but let's just say that the "back and forth" directly involves the "big twist" of the story, so everyone who plans on buying a ticket to the film should be thankful that the filmmakers decided to take the time to get it right.
Season of the Witch also stars Christopher Lee, Ulrich Thompson and Stephen Graham. Catch it in theaters this Friday.