'Fast & Furious 6' and 'Skyfall' Stunt Driver On Becoming 007 and Nearly Crashing the Batmobile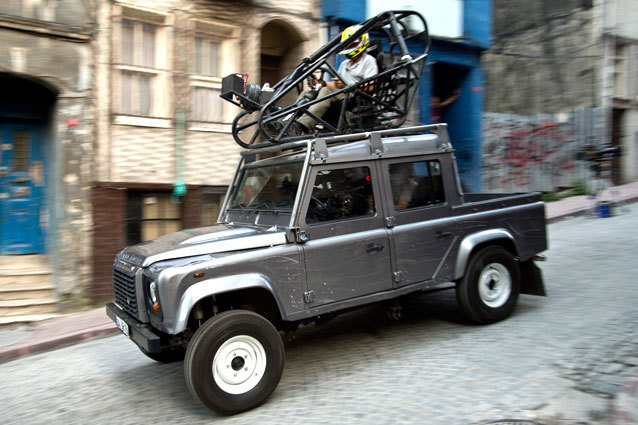 He's played both James Bond and Batman. He's driven faster and more furiously than Vin Diesel and Paul Walker. He's bested dozens of Hollywood's biggest names — including Tom Cruise, Cameron Diaz, and Hugh Grant — on the race track. He held a starring role on one of the UK's top rated television shows for eight years. And yet, chances are you wouldn't recognize him if you passed him on the street.
Ben Collins, who acted as a stunt driver in The Dark Knight Rises, Quantum of Solace, Skyfall, Fast & Furious 6 and others, is one of the top precision stunt drivers working today — and he gave Hollywood.com a behind-the-scenes look at what it takes to get ahead in his adrenaline-pumping industry. 
Daniel Craig is renowned for doing his own stunts (including much of the driving) as Bond, but Collins played an instrumental role in one of the film's most heart-stopping car sequences. While actress Naomie Harris was behind the wheel of the Land Rover in the film's opening chase, Collins was the one controlling the vehicle… from the roof. "Basically I was on the roof in what's called a pod system. It's like a metal cage with the steering and the pedals and the gears, so that basically I'm driving it from the roof with the actress underneath," Collins says. "It's pretty spooky for the actress."
"I guess I'm like expensive luggage sitting on the roof," Collins jokes. "I'm caged in there where I belong, and I'm strapped into a chair. It's got a normal seating position so from the outside it feels normal — but driving from the roof desperately takes some getting used to because you feel a lot more momentum at the top. And because you are the end of the seesaw, basically, when you go around a corner it feels like the car's going to tip over. They made a lot of modifications to make sure it stayed on the ground." 
RELATED: 'Skyfall' Stuntman Reveals How They Pulled Off The Movie's Big Set Pieces
Becoming 007's driving double is the most recent development in Collin's long career as a driver; the road to stunt driving has been paved with achievements on the race track and on television in his native Britain. He has been racing for 20 years, he says, and was "on the ladder's rung to reach Formula One," the most elite racing circuit in the world. During his time as a race car driver, Collins participated in the endurance racing event 24 Hours of Le Mans — which Collins describes as "cars racing at speeds of over 220 mph for 24 hours on this very high speed freestyle track in France" — as well as NASCAR in the U.S. Then, Collins landed his big break; he was cast as The Stig on BBC's long-running series Top Gear. The only catch: he couldn't tell anyone about it. 
The Stig, who pushes cars to their limits as well as teaches celebrities to race on the show, "is this mysterious character in a white suit," Collins says. "And basically I never took the helmet off so no one ever knew who I was, what my name was, I never spoke in front of anybody who wasn't the crew. So for 8 years I carried on that role — 500 million viewers never knew who was doing all the driving. That was my career basically."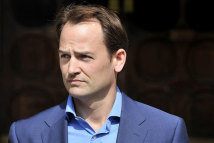 While on Top Gear, Collins (as The Stig) was challenged with teaching Hollywood's who's-who how to steer a car around the track. Who stands out in his mind as being the most adventurous? The one and only Tom Cruise. "He was absolutely ballsy," Collins says. "When he was going for the lap time in the Top Gear lab he was pushing so hard to set the fastest time. He did, but he actually crossed the line on two wheels — the car nearly tipped over. And he never got off the gas pedal, which I think says a lot about his nature." 
In 2010, Collins decided to leave Top Gear  and published an autobiography called The Man in the White Suit. While Collins had already left the show at the time of its publication, the book prompted a legal battle between Collins and Top Gear producers over confidentiality agreements. 
RELATED: How Movie Posters Are Made
With eight seasons of TV under his belt, Collins set his sights a little higher: the big screen. Collins reached out to Gary Powell, stunt coordinator on a number of Bond films, including Casino Royale, Quantum of Solace, and Skyfall. Powell brought Collins on board for Quantum, where he found himself seated behind the wheel of Bond's iconic Aston Martin. "I got involved with that incredible car chase, driving the Aston Martin, doubling James Bond, and pinching myself — it was hard to believe I was doing it," Collins says. 
While the actors who have stepped into Bond's tuxedo — Sean Connery, Roger Moore, Daniel Craig, and the others — are the films' faces, the franchise is just as well known for its wild car chases and insane stunts. Behind the wheel of a Bond car, be it the Aston Martin or a Land Rover, Collins knew he had some large driving gloves to fill. "The great thing is, you've got a huge thing to live up to. With Bond, you're being handed a baton that's been passed through 50 years from one incredible stuntman to the next. So you've got a lot on your shoulders to live up to," Collins says. 
"I grew up watching Bond with my family … So when someone pats you on the shoulder and says, 'It's your turn now,' you just think, 'I better not mess this up.' And you give it your everything to make it as good as what you remember seeing," Collins says. "So with the Bond character you are absolutely in awe of it. And you just try to keep calm on the day and make sure that you get the maximum performance out, that's what counts. You try and forget the nostalgia and just focus on the job."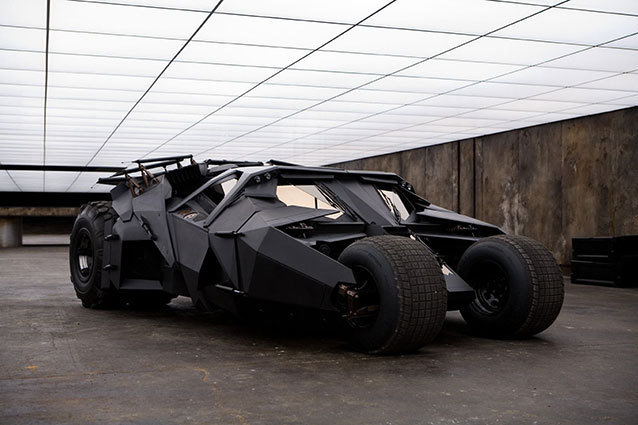 Following his first stint as Bond, Collins was given the opportunity to check another dream off every car enthusiast's checklist. He drove the Batmobile in The Dark Knight Rises. "Yeah, driving the Batmobile was awesome," Collins concedes. "It's a fantastic machine. They made this incredible car that goes 110 mph — there are about six or seven of them, but there's nothing else like it in the world." 
RELATED: How Movie Trailers Are Made
Collins' favorite moment of shooting from the TDKR set never made it into the film, however. "There was a point when there was three of us doing a high speed through a tunnel and Chris Nolan was in a tracking vehicle, it's like a crane mounted to the roof of the Mercedes NL55, and we had to swerve past him in quite a tight space. It was so tight that our wheel hubs were just touching the wall and sending sparks through the tunnel," Collins says. "I'll always remember that because it was the first time I really drove with [stunt coordinator] George Cottle and Terry Jackson, another famous stunt guy from America, and I knew I'd arrived. It was a fantastic moment." 
With sparks flying and head-on collisions imminent, the average driver would be terrified to face the things that are all in a day's work for Collins and his team. As such, Collins says that he rarely feels as though he is in danger while attempting death-defying stunts. "I'm usually brought in as a precision driver, which means there might be some danger, but by being precise and accurate I should be able to avoid it," he says. "We rehearse [the car chases] very accurately as best we can … We make all the preparations in advance as best as we possibly can, and that gives you a feeling of being in control." That being said, Collins adds, "You're definitely aware of the danger and that's why you get the adrenaline. And I suppose that's why we're addicted to our jobs."
When we spoke with Collins he was on his way to the Fast & Furious 6  set, so we had to ask, is he a speed demon on the highway during his daily commute? "Oh well, I get the odd ticket, which is terrible, but occasionally it happens," he says, laughing. "I mean, I don't go crazy on the road. I'm very fortunate to have had a career in racing and take as much of it out, as I can, on the track. And also, what I do, the speeds are so different than anything you could possibly do on the road anyway, I don't get that much of a buzz at road pace anyway."
Collins adds, "But I do love driving day to day. We have great roads here, as well as in the States; there are some fantastic places to drive. And occasionally you get a little carried away. But I try not to." 
Follow Abbey on Twitter @AbbeyStone
[Photo Credit: Motortrend; AP Images;Warner Bros. Pictures]
---
You Might Also Like:


Topanga's Revealing Lingerie Shoot: Hello '90s!


15 Stars Share Secrets of their Sex Lives (Celebuzz)