Selena Gomez Is Going on Spring Break and She's Bringing… — POSTER
The lead up to Selena Gomez's psychedelic teen flick Spring Breakers has been bent on complicating and subverting itself. First, we saw fun-loving photos of Gomez and costar Vanessa Hudgens zipping around Miami on Vespas. Months later, trailers and posters emerged. Things got weird. Are those girls robbing banks?! Did James Franco just say his rapper character is named "Alien"?! Why are they in a room full of hats?! This was not the "Spring Break" movie anyone anticipated.
RELATED: 'Spring Breakers': Selena Gomez in The Darkest Damn Movie You'll Ever See — Trailer
The latest poster continues to warp our brains while speaking perfectly to the tone of the movie. Juxtaposed against the fun-in-the-sun items of Spring Break are the all the objects necessary to start a full-on underground drug war. Tequila won't be the only thing the ladies of Spring Breakers will be shooting on their vacation.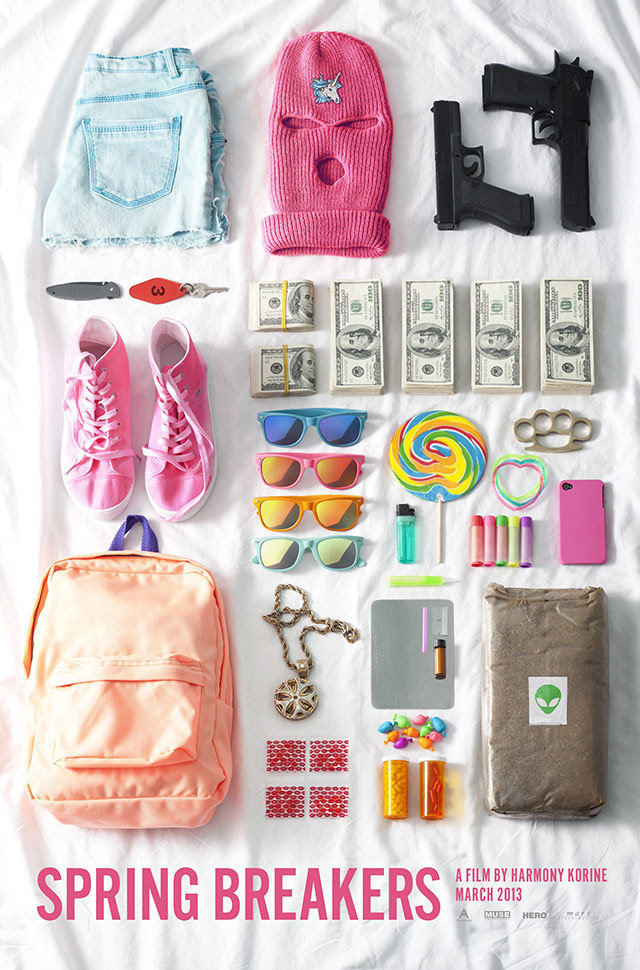 Adding to the promise of one bizarre time at the movies is Spring Breakers' official soundtrack lineup, which includes new tunes from dubstep wizard Skrillex.
RELATED: 'Spring Breakers': The Movie About Selena Gomez & Vanessa Hudgens in Bikinis — Pics
1. "Scary Monsters and Nice Sprites" – Skrillex
2. "Rise And Shine Little B***h" – Music by Cliff Martinez & Skrillex
3. "Pretend It's A Video Game" – Cliff Martinez
4. "With You, Friends (Long Drive)" – Skrillex
5. "Hangin' With Da Dopeboys" – Dangeruss with James Franco
6. "Bikinis & Big Booties Y'all" – Music by Cliff Martinez & Skrillex
7. "Never Gonna Get This P***y" – Cliff Martinez
8. "Goin' In (Skrillex Goin' Down Remix)" – Birdy Nam Nam
9. "F**k This Industry" – Waka Flocka Flame
10. "Smell This Money (Original Mix)" – Skrillex
11. "Park Smoke" – Skrillex
12. "Young N****s" – Gucci Mane (feat. Waka Flocka Flame)
13. "Your Friends Ain't Gonna Leave With You" – Cliff Martinez
14. "Ride Home" – Skrillex
15. "Big Bank" – Meek Mill, Pill, Torch & Rick Ross (feat. French Montana)
16. "Son Of Scary Monsters" – Music by Cliff Martinez & Skrillex
17. "Big 'Ol Scardy Pants" – Cliff Martinez
18. "Scary Monsters on Strings" – Music by Skrillex
19. "Lights" – Ellie Goulding
Follow Matt Patches on Twitter @misterpatches
[Photo Credit: A24 Films/Annapurna Pictures]
---
From Our Partners:


40 Most Revealing See-Through Red Carpet Looks (Vh1)


33 Child Stars: Where Are They Now? (Celebuzz)