Can Anyone Beside Harmony Korine Make a Harmony Korine Movie?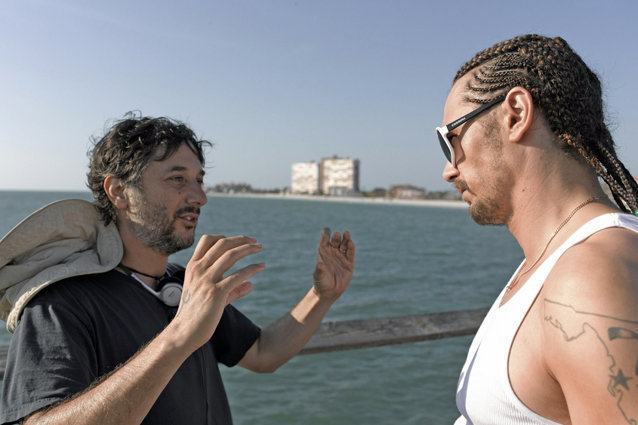 Annapurna Pictures via Everett Collection
Looks like spring break really is forever. According to ScreenDaily, a sequel to Harmony Korine's Spring Breakers is in the works, and is currently in the middle of acquiring a cast and funding. But if you're looking to see Brit, Candy, Cotty, and Faith go on more insane, illegal spring break adventures, we've got some bad news for you: Spring Breakers: The Second Coming will focus on brand new characters. Though there will be a few allusions to the girls from the original film, the sequel will introduce a new group of spring breakers, who must take on "an extreme militant Christian sect that attempts to convert them."
Writer/director Korine is also not returning for the next installment, and those responsibilities are being taken over by Trainspotting novelist Irvine Welsh and famed music video director Jonas Akerlund. There's been talk about a possible sequel to Spring Breakers for some time now, although the most common rumor was about a prequel centered on the friendship between James Franco's Alien and Gucci Mane's Archie. However, Korine has seemed reluctant to make a sequel, so his absence from The Second Coming isn't surprising, but it does mean that Akerlund and Welsh are faced with the challenge of essentially creating a Harmony Korine film of their own. 
The biggest challenge facing the pair is matching the tone of the first film. Spring Breakers relied on a balance between a commentary on pop culture and society, the shock value of the sex-drugs-gun culture that these girls embrace, and the neon-colored aesthetics of a spring break party movie. Therefore, it would be easy for The Second Coming to lean too heavily in one of these directions, resulting in a cheesy, stereotypical film about spring break, or a movie that attempts to be even more outrageous and controversial than the original at the risk of losing the message underneath the debauchery. Without that balance, the artistry of Korine's film is lost, and the cultural commentary becomes less important than the controversial surface. It's not the ridiculous behavior of the characters that makes Spring Breakers a successful film, but the way it uses that ridiculousness to make a point. 
Though Korine's method of shooting tends to differ from project to project, all of his films feature some shared stylistic elements that characterize them as a "Harmony Korine film." While his use of abstract images and non-linear storytelling might seem easier to emulate than a director with a very rigid, direct cinematic style, it also means there is more room for interpretation, and therefore will be harder for Akerlund and Welsh to match Spring Breakers in tone and style. Since the sequel features both new characters and a new creative team, the tone of the films is needed to keep them connected; otherwise, it's just a film about college students on vacation, that happens to be using the Spring Breakers name to gain attention. 
However, both Akerlund and Welsh have an advantage over many other directors and writers who might ahve signed on for the project, thanks to their individual styles and experience. Spring Breakers utilized both pop music and pop culture references and imagery in order to comment on modern culture, and so Ackerlund's time working with artists like Lady Gaga and Britney Spears makes him a great choice to take over the directors chair and bring the neon-lit world of spring break back to life. His videos tend to have a distinct style – dramatically lit to give the clips a distinct mood, artistically shot, and featuring plenty of abstract imagery – which is very similar to the kind of pop video imagery that Korine used. His glossy, high-concept style will be balanced out by Welsh's gritty realism, as his most acclaimed work proves that he won't shy away from the darkness and debauchery of the spring break culture, and isn't afraid of depicting the grim reality of a situation, even if it's controversial. 
Which means that while we wait and see whether Ackerlund and Welsh's styles will combine to make another entertainingly insane installment of Spring Breakers, we can focus our attention on predicting which actor will whisper about spring break through their grills this time around.