'Star Wars Into Darkness'?: The 5 Best J.J. Abrams/Episode VII Mash-Up Trailers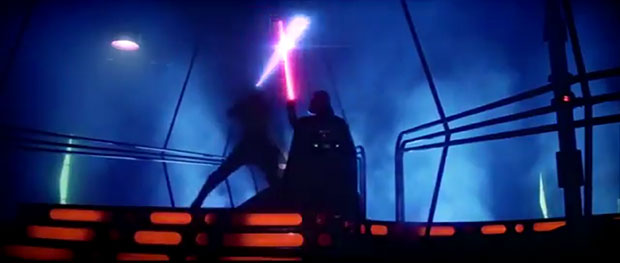 It was like millions of geeky voices crying out… who were then suddenly silenced.
The crying out was the joyful sound of Star Wars fans learning that J.J. Abrams is to direct Episode VII. The sudden silence? Because so many of those fans have already taken to YouTube to spend hours and hours editing together clips from the original Star Wars trilogy in the style of a J.J. Abrams movie trailer. Some of these have spliced footage of Luke, Han, and Leia into moments from the teaser for Abrams' upcoming Star Trek Into Darkness. Others have merely played Benedict Cumberbatch's ominous voiceover as not-Khan over Wars footage. And pretty much all have incorporated blinding lens flares in one way or another. Even we imagined a new Abrams-inspired opening credits sequence for Episode VII: Leilicity.
Here are five of our favorite fan mashup trailers that are burning up the web like the twin suns of Tatooine.
1. Star Wars Into Darkness
It's amazing how easy it is to replace Bruce Greenwood's inspirational voiceover with Yoda talking about "my ally, the Force" and Cumberbatch's creepy villainy with The Emperor's evil cackle.
2. The Hero's Journey
Admittedly, I don't know why both the Emperor and Darth Vader would be in Episode VII since they died at the end of Return of the Jedi, but who cares? Based on the "hero's journey" shots of Luke Skywalker that all of these faux trailers have, it seems the fans really, really want Mark Hamill to return.
3. Star Wars Into Darkness Unleashed: The Old Republic
To use the parlance of young Annie Skywalker, this clip is "wizard" because it intercuts footage from the Star Trek Into Darkness trailer with cinematics from the Star Wars: The Old Republic MMO videogame, The Force Unleashed II, and at least one shot from Revenge of the Sith. Smart move, since the actual trailer for Episode VII will be lucky if it's half as good as the "Deceived" cinematic trailer for The Old Republic. It also hints at how much in common Abrams' Trek already has with Star Wars, right down to the idea that there's nothing more calamitous that could ever happen than the destruction of a planet. Vulcan is Trek's Alderaan.
4. Star Wars: The Flare Unleashed
This one just really instills fear in me that Abrams will follow suit with his design for the Enterprise bridge and turn the interiors of that Galaxy Far, Far Away into a giant Apple store. Oh, wait. George Lucas already did that with Kamino.
5. The Teaser That Tells You Nothing
You gotta admit that this is almost exactly like the first teaser Abrams' debuted for 2009's Star Trek, a year before that movie's release. It shows absolutely nothing, and yet somehow inspires awe. Sadly, though, we don't have John F. Kennedy saying, "The eyes of the world now turn to space!" It's also a bit like the minimalist title sequences of Alias and Lost. Or, as Hollywood.com's movies editor Matt Patches puts it, "Does J.J. Abrams make all of his title sequences on his Mac laptop?"
So it's verdict time. Which of these is your favorite?
Follow Christian Blauvelt on Twitter @Ctblauvelt
[Photo Credit: Lucasfilm]
More:
What J.J. Abrams' 'Star Wars' Will Look Like: Everyone, Meet Leilicity — VIDEO
'Star Wars' & J.J. Abrams: Superfans Bonnie Burton, Tracy Duncan, & Eric Geller Weigh In
'Star Wars' Is 'Lost'! 10 Clips Linking J.J. Abrams' Past and Future — VIDEOS

J. J. Abrams and 'Star Wars': Has the Lightsaber Been Passed to the Right Director?