'Short Term 12' Cast Reflects on their SXSW Grand Jury Prize-Winning Film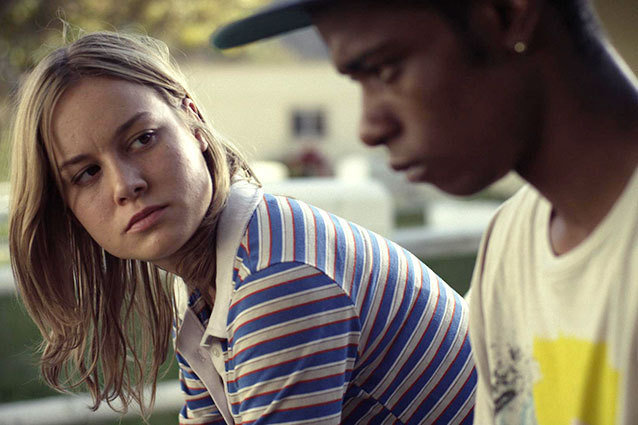 Destin Cretton is not in the room, but his presence is most certainly palpable. Just a day before his film Short Term 12 — a heartfelt, effective drama about teens in a foster care system and the lives of the counselors who look after them — won the Grand Jury Prize at the SXSW film festival, Hollywood.com sat down with a few cast members of the young, wildly talented ensemble. 
When asked what got them most interested in the project and who made them feel most at ease working on something that deals with such weighty topics as abuse, depression, and suicide, the answers from Brie Larson, John Gallagher Jr., Kaitlyn Dever, Keith Stanfield, and Rami Malek were unanimous: their leader Destin Cretton. His cast described him as "thoughtful," "casual," "calm," "intuitive," "great," "genuine," and "honest," among other things.
RELATED: SXSW 2013 Film Awards: 'Short Term 12' Nabs Grand Jury Prize
Cretton channeled his own personal experiences from working at a facility like the one depicted in Short Term 12 into a short film with the same name in 2008, and decided to turn the project into a full-length feature. He put his cast together (2013's Short Term 12 reunited the writer/director with the elusive Stanfield, who appeared in the short film) and with a small budget — but a lot of heart — the cast and crew got to work. 
As it turned out, the only thing the cast members loved more about the project than Cretton was each other. The tight-knit group's enthusiasm for the film was only matched by their enthusiasm for each other and their performances. When Dever, who plays a troubled teen named Jayden, modestly talked about the audition process, Larson — who turns in a career-making performance as Grace, a counselor with a dark past of her own — is quick to point out, "You made [Destin] cry, don't forget about that part." When talking about the scenes that hit her hard, Dever doesn't point to her own tearjerker, but Stanfield's lost soul Marcus, who turns his pain into an honest, heartbreaking rap. 
Cretton certainly didn't hurt the process by having his cast engage in bonding experiences, either. Gallagher, who plays the sweet, sensitive counselor (and Grace's struggling love interest) Mason recalls, "Brie and I went to dinner when we first met and Destin gave us an envelope that we kept on the table. Every couple of minutes we would take out a piece of paper that was in there that had a conversation starter about [us]." Larson quickly interjects with a laugh, "It's so weird to think about that now! That we went to a nice dinner and had an envelope of questions about what our [character's] first date was." 
One major bonding experience for the cast is something you'll actually see on screen: the tongue-twister of a team-building game called "Big Booty." "I had to teach the kids how to play Big Booty," Gallagher reveals. "Destin would be like, 'Hey, you're not in the next scene. Can you take these kids to the other building and practice Big Booty because we have to shoot that tomorrow. So I'd be like, 'Hey everyone, we're gonna learn the game; and then I would mess it up and they would be amazing at it." In true supportive fashion, Larson quickly notes, "We were all pretty bad at Big Booty!"
But fun games and first dates weren't the only ways the cast dove into their work. Dealing with such heavy material took research — and going to dark places. "Destin had me shadow at a place, and that's where I learned a lot. That's really where I found Grace's voice," Larson says. "You learn very quickly in these foster care places, [the kids] are acting tough, but they have very specific triggers and they're traumatized."
RELATED: SXSW: 'Short Term 12' is a Small Movie with a Big Impact
Larson continues: "Talking about serious trauma stories [with these kids], you just can't even fathom that anybody would ever do this to any other human being. I'm the type of person, when I first meet someone I wanna hug them, and you can't do that [there]…Certain [kids] don't want to speak to you, won't want to talk about certain things. I got to sit down with them and learn what Grace would know for her job." 
As Larson and others got more hands-on experience for the task at hand (Dever recalled that they had to properly learn how to do restraints on set), others like Stanfield, whose character is withdrawn and depressed, retreated. "I kind of isolated myself," the elusive actor admits. "I wanted to kind of soak in everything. I feel as though if you talk you're not listening, so I just sit back and ingest. This is all very new to me, so I wanted to take in the experience. At the same time I thought it would be good for my character if I maintained not being really socially intimate with anybody and put myself in the zone. My whole being was immersed in being melancholy. It's cool to dive in there and go to those places." 
Dever agrees that going to those darker places, while difficult, was one of the more rewarding experiences for her. "When I first read the script, I loved it and I really related to the character. I felt like I could do so much with it and it was so deep and dark."
Larson adds, "I lived this through Grace's eyes, which is a very lonely experience."  
In the end, all the blood, sweat, and tears paid off, not only with a film that critics and moviegoers have taken note of and sung its praises, but one the cast is proud to be a part of. Malek, who plays Nate, a newbie counselor to the facility, told Hollywood.com about what it felt like to watch the film's world premiere at SXSW with his castmates, director, and an audience. 
RELATED: Anna Kendrick, Jake Johnson, and Ron Livingston Riff on 'Drinking Buddies' at SXSW
"It was palpable, the emotion," Malek says. "Something was happening with the energy in that audience. There were definitely moments — I don't know if I was having a particularly sensitive day — but it was really hitting me, watching that film. It made me count my blessings… I felt fortunate." 
But Gallagher, perhaps, sums it up best for his castmates:  "I loved making it; I loved who wrote and directed it. I loved the script. I loved the actors in it. I loved watching it. When I watched it [at SXSW], I was like, 'It's all about love'."
[Photo credit: SXSW]
Follow Aly on Twitter @AlySemigran
---
You Might Also Like:


Topanga's Revealing Lingerie Shoot: Hello '90s!


Stars Who Have Lost Roles For Being Too Hot (Celebuzz)