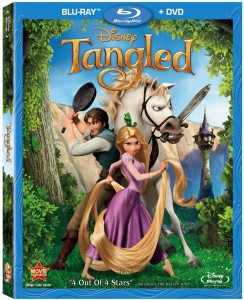 When you're Disney's 50th animated feature you're in a pretty tough spot. Add to that the fact that Walt Disney himself attempted to tell your story decades ago and that it's a tale every child has heard before. A film like this has no choice but to be good. And luckily for Tangled the retelling of Rapunzel good is just the beginning.
As much of a Disney fan as I am I honestly didn't have high hopes for Tangled. I wasn't a fan of the "hip" title. I didn't think there was enough meat to the Rapunzel story to hold an entire film. I thought that the addition of 3-D technology would just render it a giant gimmick. I was dead wrong. Not only is this film delightful adorable and even kind of moving it's stunning even without the 3-D. Often when films in that format hit regular old Blu-ray the result is a film with incredible high-definition that only serves to emphasize how many 3-D tricks filmmakers attempted to shove down our throats. With Tangled the 3-D can serve as a fantastic enhancement to the beautiful settings in the film but it's really not necessary to enjoy it.
As for the story itself it's a delightful fresh take on the tale we all know so well. Yes I still think the title change is a little silly but the film is so enjoyable that by the end it's just a name. Mandy Moore's head-strong (literally she's carrying a hell of a lot of hair) yet sheltered Rapunzel and Zachary Levi's conceited but lovable Flynn Rider are a wonderful pairing; they add enough modern flavor without taking us out of the fairy tale mindset. It's something that many fairy tale cartoons have tried but Tangled succeeds without being too blunt about it. Overall it's a fun little ride and while I would never place it firmly alongside classics like Snow White or Sleeping Beauty it reminds me of the fun and colorful adventures we witnessed in Aladdin and some of the more modern classics. It's a fairy tale for the modern viewer.

As for the special features this Blu-ray isn't quite as jam-packed as other more classic Disney films' discs seem to be. We've got your typical deleted scenes with a little explanation from directors Nathan Greno and Byron Howard a look at the original storybook style opening and two extended songs. The most worthwhile feature is probably the featurette "Untangled: The Making of a Fairy Tale." It's actually sort of a trivia presentation with stars Moore and Levi but you learn a bit and there's a segment about the CGI snafus that happened with Rapunzel's hair and I'm going to admit they're kind of funny. I was a little disappointed that the feature seems to focus heavily on the fact that Tangled is the 50th animated feature and that the information about the film itself is pretty quick and light; I would have like to learn more about how they decided on this particular adaptation. Even so the gorgeous film is really enough on its own so anything extra would just be that much more fun.
Tangled hits Blu-ray DVD and 3-D Blu-ray March 29.