The Academy Didn't Bite for Oscar Bait This Year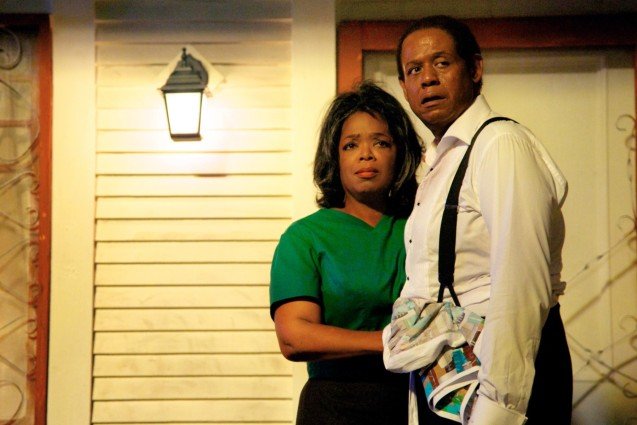 Weinstein Company via Everett Collection
For years, filmmakers who wanted to be recognized by the Academy on Oscar night would rely on one, foolproof method: gather together a large group of talented actors, most of whom have already won or been nominated for Oscars, put them in a film that is either based on a true story and/or the right combination of  intensely dramatic and overly sentimental, and just wait for the nominations to roll in. Unfortunately for them, this year, the Academy proved that the nature of Oscar bait has changed, completely snubbing Lee Daniels' The Butler, Saving Mr. Banks, and — to a lesser extent — August: Osage County, three films that could not have tried harder to appeal to Oscar voters. 
At the very start of the season, it seemed like Lee Daniels' The Butler was the film to beat. After all, it was a biopic about a black White House butler attempting to balance his job and the tumult of the civil rights movement. It starred Oscar winner Forest Whitaker and nominee Oprah Winfrey, with a cast that included Alan Rickman, Jane Fonda, Robin Williams, Terrence Howard and Cuba Gooding Jr. It had every single element that a standard "Oscar bait" film requires, got solid reviews, and it even did well at the box office. However, as the season progressed and other films started getting awards buzz, The Butler faded into the background. It managed to garner three SAG nominations, including Best Actor for Whitaker, Best Supporting Actress for Winfrey, and Best Ensemble, but a day later, it was completely shut out of the Golden Globes. Still, many believed that the Academy would send a few courtesy nominations its way, and it seemed highly likely that Winfrey would manage to sneak into the Best Supporting Actress category. 
But when the Oscar nominations arrived, The Butler was nowhere to be found. Despite being tailor-made for the Oscar race, the Academy didn't by into the hype surrounding the film, and it didn't recieve a single nod. Although it was a perfectly good film, it wasn't necessarily better than the other films that got nominated over it, but considering the Academy usually recognizes Oscar bit films in some way, a total snub was unexpected. After all, it checked off every single box required for the stereotypical Oscar nominated film, and the sheer amount of stars should have tipped the odds in its favor. 
Similarly, Saving Mr. Banks seemed to be a lock for an Oscar nomination for some time now. Again, it was a sentimental biopic, this time starring Tom Hanks, who everyone loves to nominate, as the first person to ever play Walt Disney onscreen, opposite two-time Oscar winner Emma Thompson, playing author P.L. Travers. Critically, it was one of the more divisive films in the running, as many people praised the individual performances of Thompson or Hanks, but disliked the film as a whole. Still, it appeared to be destined to receive something at the Oscars this year, and with a Golden Globe and a SAG nomination under her belt, Thompson seemed set to push Meryl Streep out of the Best Supporting Actress category. Yet, when the nominations were announced, the film only came away with one, for Best Original Score. 
Then there was August: Osage County, a film based on a Tony Award-winning play and filled to the brim with family dysfunction and A-List actors, which are two things that the Oscars usually love in a film. To stack the deck even further, it featured Streep, the most Oscar-nominated actress of all time, playing against type as a pill-popping nightmare of a matriarch. Again, the film received lackluster reviews, although Streep and Julia Roberts were singled out as the high points, but it sill seemed destined to be nominated for Best Picture or Best Adapted Screenplay, especially since it received a SAG nomination for Best Ensemble. And while both Streep and Roberts were nominated this morning, for Best Actress and Best Supporting Actress, respectively, the film was ignored in every other category, and Streep's nomination feels more like a courtesy than an accolade she actually deserved. 
Even though all three films were clearly Oscar bait, designed less to make a statement than to simply sweep nominations, all three failed to gain recognition from the Academy, which proves not that they are less-susceptible to Oscar bait, or even that they are moving towards rewarding only the most deserving films — if that were the case Inside Llewyn Davis would have received a lot more nominations, and smaller films like Short Term 12 or Fruitvale Station would have finally gotten some recognition — but simply that the nature of Oscar bait has changed. Instead of the sappy, melodramatic films we have come to expect, the Academy is now more interested in flashy, attention-grabbing films. Films like American Hustle, which tied with Gravity for the most Oscar nominations this year.
In many ways, American Hustle is similar to the traditional Oscar bait films that failed to gain traction this year. It has a star-studded cast, including two previous Oscar winners, and three previous nominees, it was directed by a big name, who is known for both his avant-garde, artistic work and his more mainstream, awards-baiting films, it's (loosely) based on a true story, and it's a period piece, which always grabs the Academy's attention. However, it's much flashier than films like The Butler or August: Osage County, filled with fast-talking, Long Island-accented excitement and over-the-top performances. That's not to say that American Hustle isn't a good film, but simply that, like the other ones, it caters perfectly to the Academy. 
It's not just American Hustle that has benefited from the Academy's shift in favor of flash over sentiment. Just look at Jonah Hill's Best Supporting Actor nomination for The Wolf of Wall Street. Hill was shut out of the Best Supporting Actor category at both the SAG and Golden Globes in favor of Daniel Bruhl, who played Formula One racer Niki Lauda in Rush. And while the idea of Rush getting an Oscar nomination might seem a bit ridiculous, Bruhl got rave reviews for his work as Lauda, and it seemed likely that he would once again be recognized by the Academy. However, they instead went with Hill, who received more attention for his prosthetic genitals than for his acting, a decision which was likely influenced by the over-the-top excess that characterized The Wolf of Wall Street as a whole.
If anything, this year's nominations prove that even the Oscars have gotten bored of films that seem deliberately designed to appeal to them. Instead of heavy-handed sentiment, they're much more interested in cocaine binges and elaborate cons. It's not just the Oscars that have turned away from the expected films, as both the SAGs and the Golden Globes favored American Hustle over just about every other film that came out this year. So, directors, instead of casting every big name you can think of and finding a film that deals with a pivotal and emotional period in America, just give someone a perm. It's a lot easier, and it seems to be a lot more effective.