15 Things You Didn't Know About 'Dazed And Confused'
Since it was released, Dazed and Confused has been a cult classic featuring A-list actors who were just getting their feet wet in Hollywood. Examining a day in the life of teens on their last day of school before summer break in 1976, the movie has become a timeless go-to for many to re-watch every time warm weather hits. Here are 15 movie tidbits you didn't know about the iconic stoner flick.
1. It may come as a surprise, but Dazed and Confused flopped at the box office, making only $1 million in profit.

Universal Pictures/Giphy
2. To help get them in character, director Richard Linklater made the cast a mixtape of music from 1976 and told them it was the only music they could listen to.

PerezHilton.com
3. The title was lifted from a Led Zeppelin song of the same name.

Giphy
4. While the movie was packed with stars, many have missed spotting future Oscar winner, Renee Zellwegger, who appeared in the movie as an uncredited extra.

Photobucket
5. Casting director, Don Phillips turned down several Hollywood heavy hitters vying for a role including Claire Danes, Ashley Judd, Brendan Fraser, Jon Favreau, Elizabeth Berkeley, and Vince Vaughn.

LogoTV/Wordpress
6. Quentin Tarantino lists Dazed and Confused as one of his all-time favorite movies.

CTV/Buzzfeed
7. Matthew McConaughey won the role of David Wooderson thanks to a chance meeting with Richard Linklater during a drunken night at a bar in Austin, TX.

Universal Pictures/Wiffle Gif
8. Wiley Wiggins, who played freshman Mitch Kramer, was originally cast as an extra but after producers took notice of his unique name and naturally long hair, they signed him up to play the tormented teen.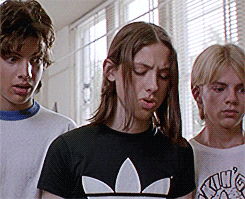 Universal Pictures/Wiffle Gif
9. 15% of the $6.9 million budget was spent on securing copyrights to use the classic rock tracks in the film.

University of Auckland
10. The F-bomb is dropped 59 times during the film and "man" was said 203 times.

Universal Pictures/Photobucket
11. On-screen lovebirds Milla Jovovich and Shawn Andrews carried the romance into real life and eloped in Las Vegas during the shoot.

Universal Pictures/Wordpress
12. Contrary to rumors buzzing otherwise, the cast was banned from using real marijuana during filming.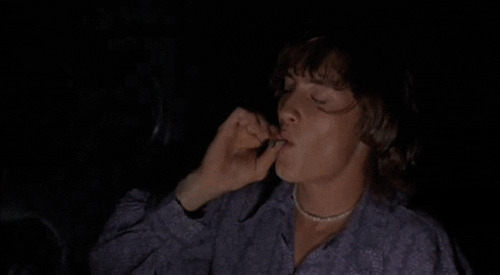 Universal Pictures/Giphy
13. Matthew McConaughey's iconic "Alright, aright, alright" while picking up redhead Cynthia Dunn was the first scene he filmed. He meditated to The Doors in-between takes to conquer nerves.

Universal Pictures/Giphy
14. Even though Aerosmith was paid $100,000 for the use of their song "Sweet Emotion" in the opening credits, the band refused to allow it on the official soundtrack.

TrendyGifs
15. One of the hazing paddles used in the movie had the number 17 engraved in it, representing the number of years between the film's setting, 1976, and the year it was filmed, 1993.

Universal Pictures/Buzzfeed
RELATED:
10 Surprisingly Good Stoner Films You Can Watch In Any State of Mind
17 Things You Never Knew About 'The Shawshank Redemption'
20 Things You Didn't Know About Clueless