Watch Political Themes Reflect Off Matt Damon's Bald Head in the New Trailer For 'Elysium'
With the release of the third trailer for Neill Blomkamp's Elysium, we are finally able to look past Matt Damon's extreme baldness, and focus on the rest of the movie that is reflecting off his head in every direction.
Setting hairdos (or lack thereof) aside, the new trailer showcases the political themes of Elysium a bit more than the recently released 3 minute version did. In the year 2154, the privileged few are led by Jodie Foster on the "Elysium" space station, while everyone else suffers on the ruinous Earth. When Damon's character is given a few days to live, he decides to travel to the space sanctuary on a mission to save his life as well as bring equality to the asymmetrical worlds.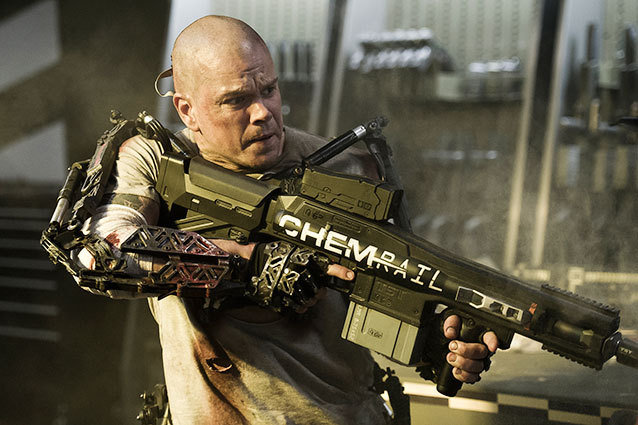 This time, however, the condensed trailer focuses more on the Earth-Elysium dichotomy of poverty vs. wealth than anything else. It also features a rocking anthem by Zola Jesus entitled "Manifest Destiny", an electronic ballad with a not-so-coincidental title symbolizing cultural superiority, as well as lyrics elucidating the sci-fi film's plot through lines such as, "You gotta make it out for me."
Watch the trailer here, then check out the battle for inequality when it occupies Wall Street… er, theaters on August 9.  
Follow Lauren On Twitter @Lopay92 | Follow Hollywood.Com On Twitter @Hollywood_com
More:
'Elysium' Trailer Explains Bald Matt Damon's Quest For Vengeance
'Elysium,' Like Matt Damon, Brings Brains And Brawns In First TV Spot
10 Things to Know About 'Elysium'
---
From Our Partners


Stars Pose Naked for 'Allure' (Celebuzz)


20 Grisliest TV Deaths of 2012-2013 (Vulture)