Tom Cruise's 'Oblivion' Hints at 'Matrix' and 'Vanilla Sky' Inspirations — TRAILER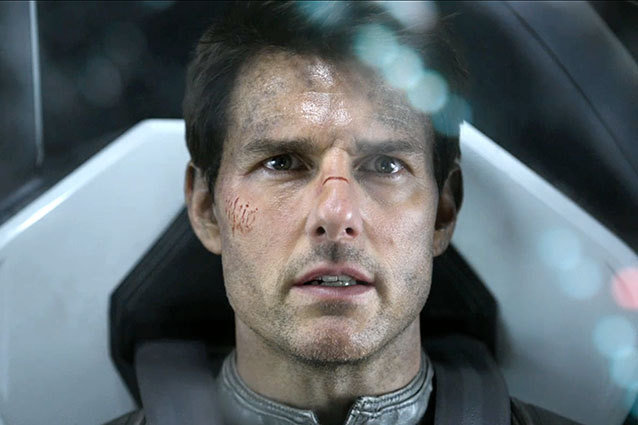 "Is it possible to miss a place you've never been? To mourn a time you've never lived?"
Tom Cruise's new movie Oblivion looks completely foreign in today's sci-fi movie landscape. Sure, it's packed with large-scale action, explosions, guns, and futuristic vehicles that blow up other futuristic vehicles. But in the latest trailer for the movie, we get a taste for the headier science fiction that director Joe Kosinski has woven into his Cruise picture. As we lamented when the 2012 remake of Total Recall hit theaters, Hollywood rarely explores sci-fi with a brain, relying on the otherworldly setting for new ways to conceive the same old shootouts and chase scenes.
RELATED: 'Oblivion': Tom Cruise's Future Is Appropriately Glossy — First Trailer
From the first seconds of the below Oblivion spot, it's apparent that Kosinski is at least attempting to do something more. We're introduced to Cruise's Jack Harper, a man desperate for a clue. His world (which might be Earth? Or an alien world? Or an alternate reality?) is turned upside down when he discovers a woman who has crash landed on his planet and, evidently, remembers him from a past life. When Harper meets Morgan Freeman's mysterious, goggle-wearing character, all hell breaks loose. The Matrix and Vanilla Sky both spring to mind — Harper's existence is murky, as most of what he knows is founded on lies.
REALTED: The Beginning Of 'Oblivion' Looks Like The End Of 'Planet Of The Apes' — POSTER
Kosinski has a super slick style that he showed off in Tron: Legacy, but it pops even more in the brightly-lit Oblivion. Can his fancy camera and special effects work live up to the promises of a meaty sci-fi story? Tom Cruise might be the only star with enough clout to convince Hollywood to allow this one through the greenlight gates, so the prospect is promising. Check out the trailer and watch for Oblivion, which lands in theaters April 19:
[Photo Credit: Universal Pictures]
---
From Our Partners:

'SI's 25 Sexiest Swimsuit Covers of All Time (Vh1)

Pregnant Kate Middleton Bikini Pics Spark Palace Anger (Celebuzz)