Will People Head to the Theater for 'Dark Knight Rises?'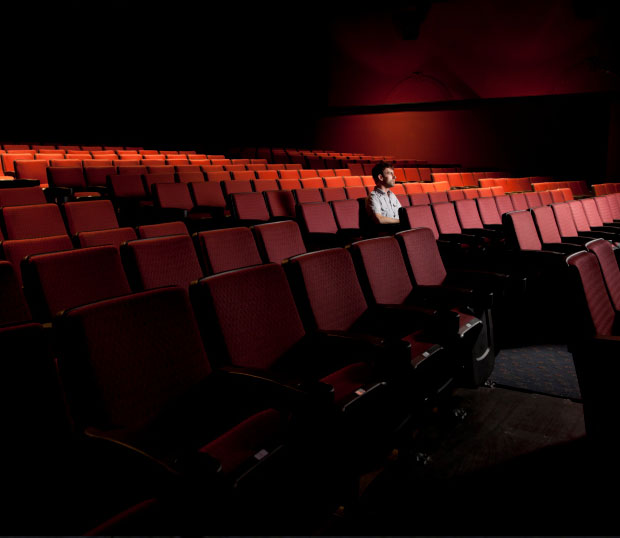 The Dark Knight Rises was the event film of the summer. It was a long-awaited, highly anticipated blockbuster which, days ago, was tracking to be one of the biggest movies of all time. The buzz was deafening, with fandom showing its face in mile-long comment threads, off-the-charts box office predictions, and $175 eBay ticket auctions. Last night, director Christopher Nolan's third installment of the Batman franchise was finally unveiled to anxious crowds who waited in lines for coveted spots at midnight screenings. Post-midnight protocol would see people scrambling to Twitter and Facebook to throw up reactions, with sites like our own keeping tabs on the massive overnight grosses. But that couldn't be further from the case.
"You don't want this to be the story, but right now this is the story."
Hollywood.com Box Office Analyst Paul Dergarabedian cites today as one of the most difficult days in his career. It's easy to see why. This morning, The Dark Knight Rises was, for the first time in weeks, not at the center of attention, with talk reasonably focusing on a more tragic event. During a midnight screening of TDKR in Aurora, Colo., a masked gunman opened fire into the crowd, killing 12 and injuring 50. The incident cast an immediate shadow over the film. A morning that would normally be filled with excitement suddenly took a dire turn. "It's not about the midnight grosses, it's about the midnight shooting," Dergarabedian laments.
The Dark Knight Rises was, and is, going to be a huge movie. On the 19th, Fandango reported that it had sold out of more than 2,000 showtimes nationwide, with TDKR accounting for 91 percent of the ticket sales on the site. Based on an informal poll by MovieTickets.com asking buyers to rate their interest in Dark Knight Rises on a scale from one (the lowest) to five (the highest), the film averaged a 4.8, with 78 percent of ticket buyers acknowledging they would see it opening weekend. Dergarabedian's early estimates pegged the movie between $160-$200 million. Thanks to pre-sales, TDKR's early days already indicate a financial success. But will people actually go see it?
Tragedy of a violent nature has occurred in the past, with media coverage putting moments of terror in front of an entire country's eyes, but rarely has one been so intertwined with a piece of pop culture. There have been quarrels in movie theaters that have led to grisly ends — a recent incident in Philadelphia saw a man shoot another over talking during The Curious Case of Benjamin Button — but they lack the scale and unknown intentions of the Aurora attack. Even a major catastrophe like 9/11 didn't keep people from theaters; the weekend of Friday, Sept. 14, 2001 actually saw the box office increase from 2000. The difference with the shooting in Aurora is that the fallout hits avid movie-goers directly. Someone intruded in their home, their safehaven for entertainment. Justifying a return to the theaters could impact the industry and audience attendance beyond The Dark Knight Rises.
Fans with pre-sale tickets have a big decision ahead of them tonight: Stay in and bite the ticket costs or indulge in the popcorn action movie of the season? (Movie theater chains and national ticket sellers have so far remained mum over whether ticket holders have requested refunds in the wake of the tragedy. UPDATE: AMC theater chains are offering pre-sale ticket holders the option for refunds or exchanges for later dates, according to Deadline.) "I'm most certainly not going to see Dark Knight tonight," says Justin Allen, 31, of San Diego, Calif. "Oddly enough, I watched a documentary on Columbine last night and one of the forensic investigators was talking about how he wished mass media wouldn't put such a spotlight on shootings like this and that every time they do, 'another shooting occurs within two weeks.' I think I'll wait for the Blu-ray to come out and watch it in the safety of my own home." 
For Danny Chang, 21, of New York City, fandom is too big a draw. There's no way he could stay home when a new Batman was ready for consumption. "Honestly I didn't think twice about it," he says. "I guess my penchant for entertainment is much more strong than any type of fear I have for getting harmed. Which may be kind of foolish, but I feel like it's a freak accident. Everything is so capricious, anything can happen at any moment." Matt Raeburn, 30, of Washington D.C. echoes the sentiment: "I think that I don't want to have fear dictate the way I live my life. Not to be glib about it, but that's kind of the point of Batman … You have to try to live your life as normally as possible and not let fear be a major factor of your decision-making."
The Dark Knight Rises has been effectively tainted by the Aurora shooting, and while the acclaim of Nolan's Batman film will hook audiences, the enjoyment factor is inevitably altered. "I feel hesitant now because part of me will feel guilty for enjoying the movie theater experience while so many others weren't able to," says Kelsey Hanlon, 21, of Brighton, Mich. 
The dizzying effect of the tragedy is a common reaction. Broadcasting similar thoughts over Twitter, writer Patricia Chui of Brooklyn, N.Y. mentions, "I have to admit feeling uncomfortable at having (pre-bought) tickets to see Dark Knight today. As though I'm trivializing a tragedy."
The audience anticipation and positive critical response revolving around The Dark Knight Rises is both the situation's downfall and its saving grace. In the end, quality may outweigh the morose scenario of the shooting. In 1991, a string of similar incidents occurred in screenings of the film Boyz n the Hood. The L.A. Times reported that 11 people were harmed and one person killed during three shootouts in theaters playing the film. In the wake of the tragedy, eight theaters pulled the film while security measure were taken in theaters across the country. The controversy could have spelled doom for the $6.5 million feature. Boyz n the Hood went on to make $57.5 million and was nominated for two Oscars for writing and directing. As Paul Geiger, 26, of Lexington, Ky., puts it, "I've anticipated this film for a number of years, so I'm definitely going. And [while] it might put a damper on the whole thing, it's not going to stop me from seeing it."
In the wake of the shooting, there will be an even closer eye on The Dark Knight Rises, the box office numbers no longer symbolizing Warner Bros. Pictures success, but rather a quantifiable figure of audience fearlessness. Heading back into theaters after an act of sporadic terror is a challenge. Batman as an answer to that fear might be the blockbuster draw people need.
Follow Matt Patches on Twitter @misterpatches
Additional reporting by Kelsea Stahler and Abbey Stone
More:
Who Is Alleged Gunman James Holmes?
'Dark Knight Rises' Shootings: NYPD to Secure All Movie Theaters
Warner Bros. Responds to 'Dark Knight Rises' Colorado Gunman Attack: "Deeply Saddened"
[Photo Credit: Patrick Heagney/Getty Images]