2012 Homes That Hit Home: The 12 Best (and Worst) Real Estate Properties in Film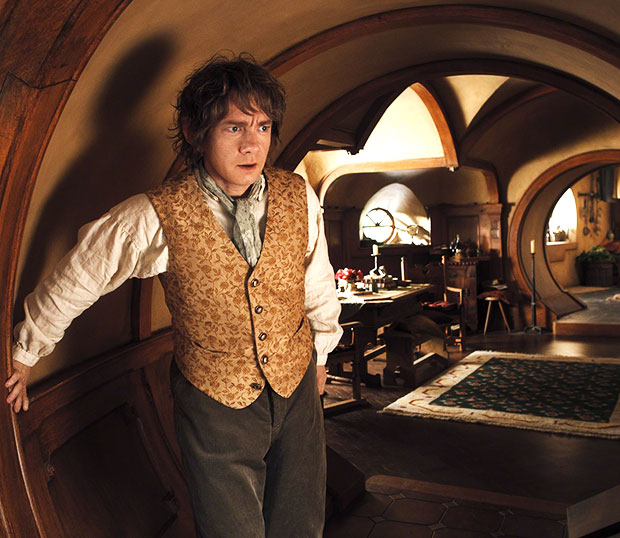 For many movie-goers, 2012's film slate hit close to home. Especially if they sat in theaters admiring cinema's best real estate of the year. Skyfall, The Hobbit, The Dark Knight Rises — many of the year's biggest blockbusters also boasted sprawling mansions that movie-goers would spend hours drooling over in their theater seats. But which films brought us the most — and least — coveted homes and properties of the year? Go ahead — make yourself at home and scroll down to find out!
Movie: The Hobbit
Property: Bag End
Location: Hobbiton, Middle Earth
Description: Nestled in the side of a Hobbiton hill, this cozy three-bedroom Hobbit hole is the perfect bachelor pad for lads preparing for their next unexpected journey.
Amenities: A fireplace fit for a pipe, a wine cellar, and a pantry big enough to feed 13 dwarves.
Price: The Baggins family wouldn't be quick to give it up — perhaps for an Arkenstone?
Movie: Skyfall
Property: The Bond Family's Skyfall Estate
Location: Scottish Highlands
Description: The perfect retreat for when you literally need to retreat from a deranged former colleague who's trying to kill you and your boss.
Amenities: Long vacant — its owners were killed in a climbing accident — this is a fixer-upper to be sure. But it comes with substantial acreage, a car park for your Aston Martin, propane tanks for heating and the construction of makeshift bombs, a wall-length mirror, Reformation Era subterranean tunnels for a clandestine exit, a vintage hunting-rifle armory, and the services of a crusty old gamekeeper.
Price: By our calculations, a steal at £1.5 million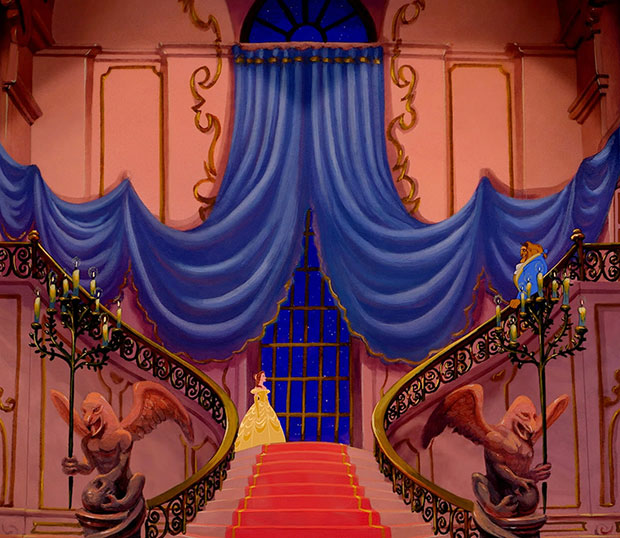 Movie: Beauty and the Beast 3D
Property: The Beast's Castle
Location: France
Description: This sprawling, private kingdom — built with Europe's finest golden materials — boasts a history as rich as the food served in the castle's fully staffed kitchen.
Amenities: Indoor landscaping (in the form of a mysterious, single rose), a large library to charm visitors, a 3D-friendly vast ballroom with high ceilings, and a roomy dungeon to host your future father-in-law.
Price: $47 million — otherwise known as Beauty and the Beast 3D's total box office cume.
Movie: The Dark Knight
Property: Wayne Manor
Location: Gotham City
Description: Escape Gotham's violent underground with this beautiful mansion, once home to billionaire Bruce Wayne and many exorbitant parties gone very, very wrong.
Amenities: A fully manicured lawn, a friendly butler who knows more about you than you know yourself, a subterranean cave for an undercover vigilante filled with technologically advanced weaponry a basement that leads nowhere.
Price: By our calculations, $46 million.
Movie: The Best Exotic Marigold Hotel
Property: The Marigold Hotel
Location: India
Description: This charming hotel is happy to host retirees both enthusiastic about travel and extremely racist. Don't be distracted by its cracks — this property is perfect for anyone looking to invest in a fixer-upper!
Amenities: A thriving social scene for the elderly, local cuisine that will give your taste buds a bit too much of a kick.
Price: Whatever takes it off Sonny's hands!
Movie
Property: The Capitol's Training Center
Location: The Capitol
Description: Right in the heart of Panem's Capitol, the Hunger Games' training center bristles with excitement. Be one of the first to scope out the Games' talent first-hand, and stay for a drink — if a tribute doesn't shoot it out of your hand first.
Amenities: On-location stylists and mentors, an underground gymnasium, an adjoining apartment complex filled with windows to longingly peer out of.
Price: Whatever it costs to overthrow President Snow. Courage?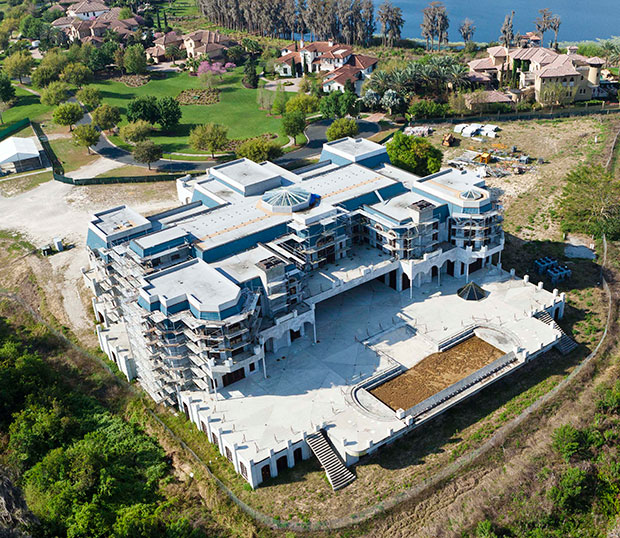 Movie: The Queen of Versailles
Property: The mansion built by billionaires Jackie and David Siegel, also known as Versailles
Location: Orlando, Fla.
Description: This real-life 90,000-square foot mansion — the largest in the U.S. — is strictly for the 1 percent, offering more luxury than practicality. But that's okay, because you're rich! (Until, of course, you're not.)
Amenities: Two movie theaters, a bowling alley, nine kitchens, three swimming pools, a baseball diamond, a health spa, 30 bathrooms, and other luxury items that, yes, actually do exist in a real home.
Price: Considering its windows cost $4 million, you don't even want to know.
Movie: Wanderlust
Property: Elysium Bed and Breakfast
Location: Unknown
Description: The perfect rest stop for your long journey, Elysium offers peace and next to free love lodging for those who love Mother Earth.
Amenities: A breathtaking view of Jennifer Aniston's breasts.
Price: That's not the green stuff we care about, man.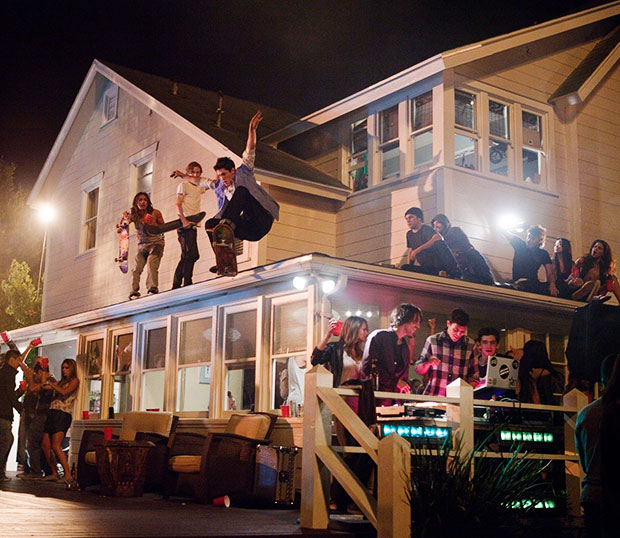 Movie: Project X
Property: The Kub Home
Location: Pasadena, Calif.
Description: This comfortable family home is the optimal place to raise children who will one day take advantage of your trust and throw a raging party on the spacious lawn.
Amenities: A pool large enough to fit your car, a roof secure enough for dancing, rooms that can be converted into beer troughs, and a lawn gnome.
Price: Pales in comparison to what you'll pay in fire insurance.
Movie: Sinister
Property: The Oswalt Home
Location: Unknown
Description: In need of inspiration? Move into this home, perfect for those hoping for privacy to hunker down and work on their next project.
Amenities: A home entertainment center in the attic, a garage with a full set of sharp tools, unique wall art.
Price: Your life.
Movie: Paranormal Activity 4
Property: The Nelson Home
Location: Suburbia, USA
Description: Get to know the creepy neighbors in this delightful home filled with plenty of dark corners.
Amenities: Fully equipped wireless cameras, laptops, and other specter-revealing technology, a nearby tree house so inviting, even evil ghosts can't resist.
Price: Your life.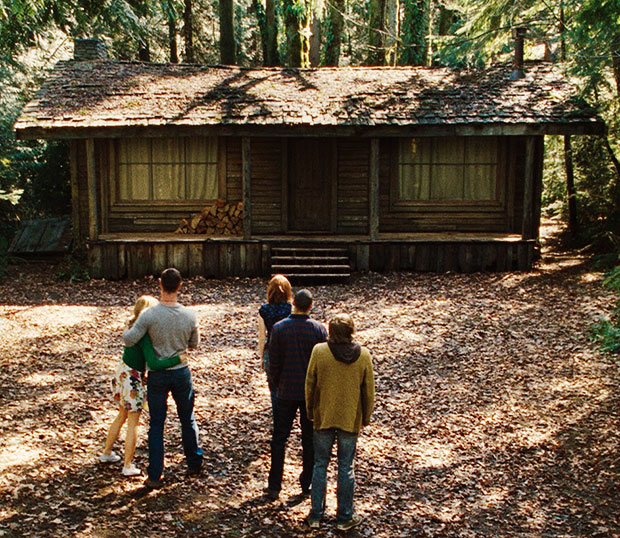 Movie: Cabin in the Woods
Property: A woodland cabin
Location: Unknown
Description: Looking for an isolated weekend getaway where no one can hear you scream for your four college friends? You're in luck! This cabin — located in the middle of the woods — is the perfect location for nights in with a case of beer and a family of zombies.
Amenities: A cellar full of charming, ancient trinkets. Look, but don't read.
Price: Your life.
Additional Reporting by Christian Blauvelt
[Image Credit: Warner Bros (2); Lauren Greenfield/Magnolia Pictures; Walt Disney; Lionsgate]
More:
The Bare and the Bold: The 10 Best Movie Sex Scenes in 2012
Bad Music To Our Ears: 2012's 14 Most Embarrassing Singing Performances on TV — VIDEO

25 Things You Didn't Know About 'Aladdin' (Moviefone)