Is '50 Shades of Grey' a Really Bad Idea for Charlie Hunnam Right Now?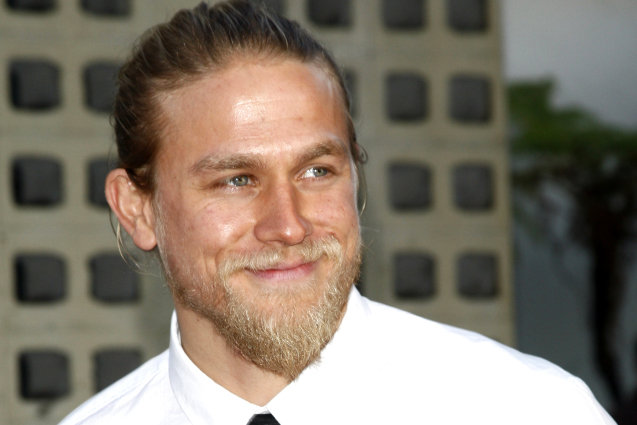 Starbux / WENN
Upon hearing that Charlie Hunnam has been cast as the titular sado-masochist in the upcoming film adaptation of EL James' novel Fifty Shades of Grey (the news reported by Deadline), fans of the story have been chiming in with their approval — or lack thereof — of the choice. But looking at it from another angle, is Fifty Shades the right choice for Hunnam at this point in his career? Ever since the polarizing Pacific Rim, Hunnam has been on thin ice with some critics and moviegoers. Working with occasionally abject dialogue, Hunnam gave a performance that has been called out as the worst part of Guillermo del Toro's film. So will something like James' pseudo-porn from the screenwriter behind the groan-worthy Terra Nova be a detriment to Hunnam at this sensitive crossroads?
If he were just another well-sculpted frontman whose career had promise only to marshal action-heavy blockbusters and sultry romances, then we might not even bother with the question of whether or not this is the right time for Hunnam to sign onto Fifty Shades. But the man has talent, and fandom to boot. His Sons of Anarchy role, Jax Teller, has earned him critical praise and public celebration. He proved comically adept as the uncurably suave Lloyd on Judd Apatow's goofy college comedy Undeclared, impressed in a handful of acclaimed dramas, with Alfonso Cuaron's Children of Men a standout.
In short, Hunnam has the goods. He can handle real material, not just kaijus and sex dens. And we're afraid that so soon after an unfavorable Pac Rim reaction, Hunnam's assignment to Christian Grey might label him forever a flat actor who juggles lackluster scripts.
Then again, maybe we shouldn't discount Fifty Shades entirely. Maybe Hunnam and newly cast costar Dakota Johnson will derive some provocative chemistry from the story. Maybe screenwriter Kelly Marcel, who is also handling this year's anticipated picture Saving Mr. Banks, has more up her sleeve than a few "Oh my God! A dinosaur!" exclamations. Maybe director Sam Taylor-Johnson will conjure up her Nowhere Boy magic and instill this new project with a hefty dose of character and charm. If all things go as such, this might not be such a bad choice for Hunnam after all.
But try convincing the Fifty Shades fans that he's not a bad choice for the movie…
More:
Is Dakota Johnson Right for Anastasia Steele?
Sam Taylor-Johnson Directing 'Fifty Shades of Grey'
'Fifty Shades' Screenwriter May Adapt 'The Little Mermaid
Follow @Michael Arbeiter
| Follow @Hollywood_com
---
From Our Partners:


40 Most Revealing See-Through Red Carpet Looks (Vh1)


15 Stars Share Secrets of their Sex Lives (Celebuzz)