'The Amazing Spider-Man 2': Paul Giamatti's Rhino Is Very Angry — PHOTO
Director Marc Webb sure is in love with Twitter! He's been tweeting out tantalizing images from the set of his upcoming The Amazing Spider-Man 2 for months, including glimpses of Dane DeHaan's Harry Osborne and Jamie Foxx's villain and Blue Man Group wannabe, Electro. It's an interesting strategy: it's cultivated and maintained interest in the film during its long production, sure, but it also strips away any air, dare we say Webbs, of mystery. We know exactly who the bad guys are and a decent sense of what they're after. In essence, Webb's approach has been the total opposite of J.J. Abrams' with Star Trek Into Darkness, in which the identity of Benedict Cumberbatch's villain has been carefully guarded for months. That movie is all about mystery, but that doesn't seem to be the case for The Amazing Spider-Man 2.
Electro, Rhino, and Venom, Oh My! 11 'Amazing Spider-Man 2' Twitter Pics
And now Webb's tweeted another photo, our first glimpse of Paul Giamatti's Rhino, angrily driving a vehicle. Check it out.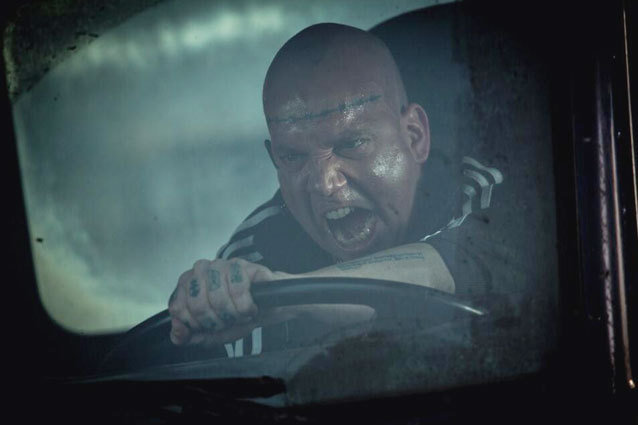 Talk about road rage! Giamatti lobbied long and hard to play The Rhino, his personal favorite villain from Marvel's Spider-Man comic books. He even pitched Sony on the idea during a visit to Conan a couple years back, which you can watch below. For you non-nerds, Rhino is a guy, often presented as a Russian in the comics, who was experimented upon and given an invulnerable skin. Nothing can harm him, so he often attaches a helmet to his head in the shape of a rhinoceros horn that he can use to break through walls and get into places he definitely shouldn't be. I wouldn't be surprised if in this photo he's just robbed a bank and this car or truck is his getaway vehicle.
Still, this means we've got at least two villains, in Electro and Rhino, onboard for The Amazing Spider-Man 2. And possibly a third if Harry Osborne becomes Venom. There's never been a good comic book movie with multiple villains. Do you think The Amazing Spider-Man 2 could break that curse?
Follow Christian Blauvelt on Twitter @Ctblauvelt
More:
Jamie Foxx Sports a Jheri Curl Combover in 'The Amazing Spider-Man 2'
First Glimpse of Electro's Wrath in 'The Amazing Spider-Man 2'
Paul Giamatti In Talks to Play The Rhino in 'The Amazing Spider-Man 2'
---
From Our Partners:


What Happened to 33 Child Stars (Celebuzz)


40 Most Revealing See-Through Red Carpet Looks (Vh1)