Angelina Jolie on Confronting the Bosnian War in 'In the Land of Blood and Honey'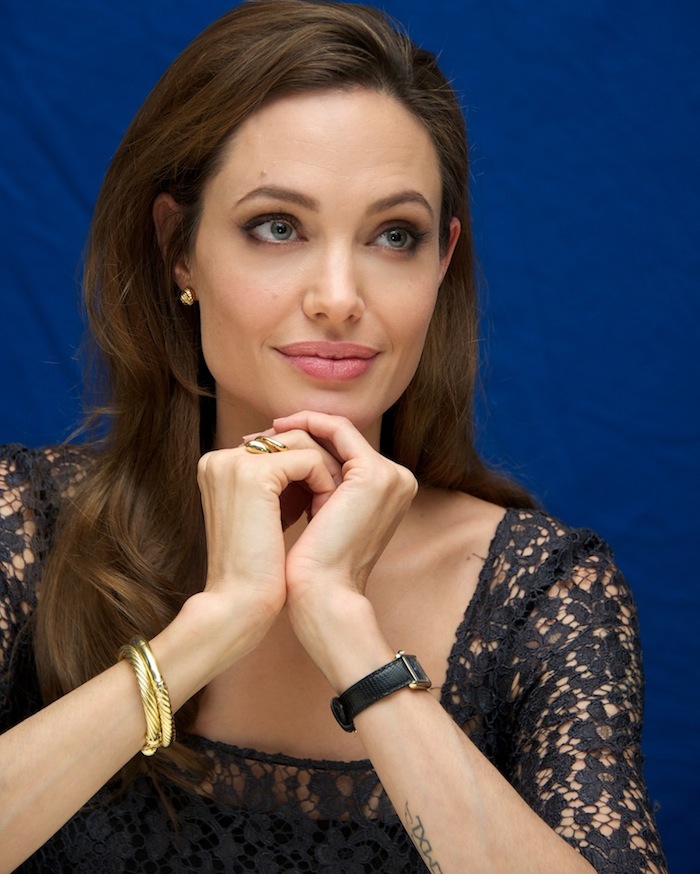 "I had been haunted for years, traveling in the field, by the lack of intervention, by the trauma people face, in post-conflict situations. Seeing their pain, wondering if we could have done something about this, something before. Violence against women, man's humanity against man—all of it. So I sat down privately to write something, and this led me clearly to Bosnia. It was a war of my generation."
Angelina Jolie wasn't planning on making a movie before coming across the real life terror of the Bosnian War, a conflict that found the country's Muslim population at odds with aggressive Serbian forces from 1992 to 1995. But the truths uncovered in her research pushed her pen the screenplay that eventually would evolve into her feature film debut, In the Land of Blood and Honey. During a recent press conference held in New York, Jolie and her local cast, which featured real life survivors of the conflict, explained to several journalists and me how she brought the movie to life.
"It was [a conflict] I felt a responsibility to learn about, because I didn't know. The more I learned, the more I was overwhelmed by the guilt of what I didn't know, and was shocked by how long this went on and what was going on. So when I sat down with this one particular woman, she told me this story…it was very hard, very emotional…Her memory of being used as a human shield was one that she explained in great detail. And then she said this one thing, even though it wasn't the most violent, it broke her when they took the old women and made them dance naked. She could never recover from it. So we tried to recreate it."
Blood and Honey, which was recently nominated for Best Foreign Language Film at the Golden Globes, follows two halves of a former romantic couple as they attempt to stay afloat during the war: Danijel, a Serbian soldier, and Ajla, a Bosnian refugee. For Jolie, it's not another Romeo & Juliet story: "It's an oversimplification. We know that story as two people who are from opposite sides who find their way to each other. So, ours is the exact opposite of that. Ours is two people from the same side who are then told they are different and can not be together. We sometimes refer to it not as a 'love story,' but a 'love story that could have been,' if not for war. A beautiful family that could have happened."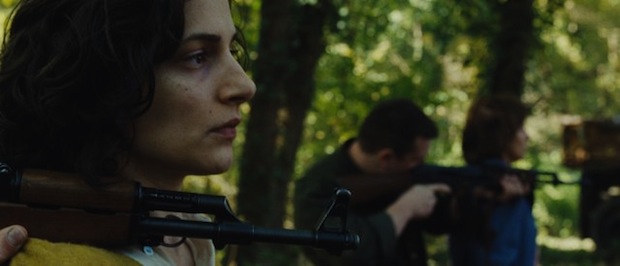 Much of Jolie's cast was either family members of or actual survivors of the war themselves, each one with their own harrowing story. Alma Terzic, who plays one of the women captured by the Serbs in the movie, recounts being five, seeing her mother's hair turn white for one night after father was kidnapped from her home. Vanessa Glodjo, Ajla's sister Lejla in the film, had a similarly distressing experience. When she was living on the front line, thirty Bosnian soldiers visited her home in preparation to engage Serbian forces, many of them between the ages of eighteen and twenty-one. When the skirmish end hours later, only ten returned.
But along with carrying the memories of war, Jolie also credits her cast for being "brilliant." The production moved at lightning speed as they shot the deeply emotional material on location. "They get it right the first time. We moved very fast. They didn't have many takes or many chances. What you see on screen is what they brought and they gave, and they gave it immediately."
Jolie admitted that, as an American actresses, she doesn't have "the depth of emotion, the depth of understanding and the commitment to art, the ability that people have in this region of the world," but that artistry is what enhanced the movie. Unlike Hollywood stars, every actor was on time and prepared. As Jolie puts it, "I got lucky."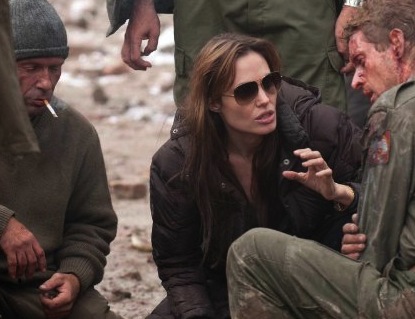 Jolie is no stranger to working with A-List directors, and when tracing her directorship routes back to past collaborators, she credits "everybody." Specifically, Jolie gave a shout out to her Changling director, Clint Eastwood, who taught her a lot about, "working with people you love, who you think are great people. Making a family," and Michael Winterbottom (A Mighty Heart), picking up, "the way he set the tone and made it real and allowed for air and room for the actors to create something that was not pushed upon them."
Jolie concluded the conversation by citing the movie's greatest hurdle: the pressure of doing justice to this important moment in history. Balancing politics with dramatic storytelling was no easy feet, but even more difficult was asking her actors to recreate Blood and Honey's difficult scenarios. Jolie described a particular scene, in which a Serb soldier (Ermin Bravo) rapes a woman in front of a crowd of newly-acquired prisoners:
"That was our first day [of shooting]. Many of the cast had known each other, many had not. They came from all different parts of the region, many sides of the conflict. So I was very nervous that this first day was going to either cause more tension or…what would it do for us, but I hoped it would drop us into the reality of this film. And the first scene…I think it was shocking for everyone, horrifying. But as soon as I called cut, I noticed that Ermin picked up the woman that he had to rape in the scene, and gave her the biggest hug to make sure she was OK. And all the other men picked up the clothes off the floor and redressed the women themselves. And that was the beginning of how we would treat each other on this film. It set the tone. It taught me everything."
In the Land of Blood and Honey opens in limited release this Friday.
="font-style:>