Bide Time Until 'Avengers 2' with Marvel's 'Iron Man & Hulk: Heroes United' — TRAILER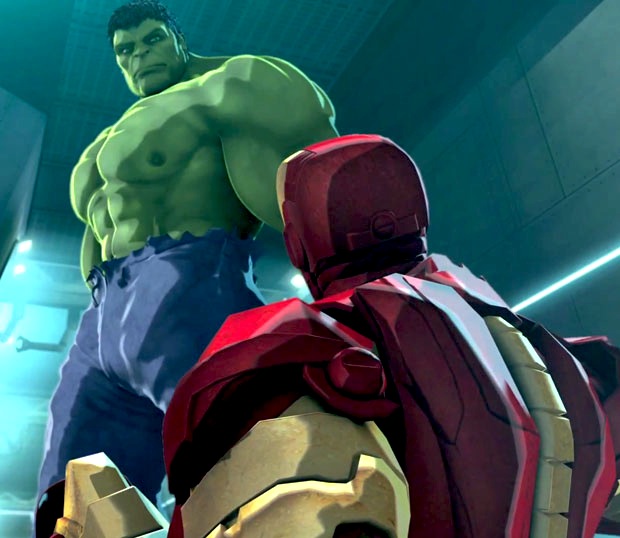 Marvel had a lot to live up to when it arrived at this year's San Diego Comic-Con in the wake of The Avengers, one of the biggest movies of all time. But in true Con tradition, Marvel came prepared to wow. They unleashed a first look at Iron Man 3, revealed their plans for the upcoming Thor: The Dark World and Captain America: The Winter Soldier (which would pull its story from one of the more famed modern arcs), and they even teased films for 2014 and beyond. Weeks later, the comic book movie conglomerate announced that Joss Whedon would return for The Avengers 2 with a set release date of May 1, 2015.
One thing the company didn't announce was any further plan for the beloved Avengers member The Hulk. After two solo attempts that underperformed (2003's Hulk and 2008's The Incredible Hulk), Marvel was keeping their big green monster intertwined with the Avengers franchise. It became clear for Hulk fans that the next three years were going to be quite excruciating.
In hopes of smashing a big of Hulk devotees' sadness, Marvel's animated division has cooked up a new adventure for the Jade Giant that hopes to capture a little of the magic set up in Whedon's 2012 blockbuster. Iron Man & Hulk: Heroes United teams up Hulk with Tony Stark for a direct-to-DVD movie that looks and feels like a one-off comic come to life. The first trailer for the movie, which premiered at New York Comic Con this weekend, gets to the point: action is clearly a priority over plot. It's unclear why Hulk and Iron Man team up for the film, but the result is animated action aimed to fill a void in fans hearts.
Does it do the job? Check out the trailer below and keep eyes peeled for Iron Man & Hulk: Heroes United when it arrives in April 23, 2013. By then, it will only be two more years until Avengers 2….
Follow Matt Patches on Twitter @misterpatches
[Photo Credit: Marvel]
More:
The Hulk Problem: Lou Ferrigno on Marvel's Struggles to Bring the Hero to Screen
'Captain America 2' Casting Rumors: 5 Ladies Up For Role, Plus a Black Widow Cameo?
Marvel's 'Ant Man' Test Footage Teases Comedy Action Adventure