Blame 2012's Fashion Trends on 2011's Holiday Film Releases

When we were kids, we would leave the theater after seeing a great, rousing movie and feel as if we were still in the world of the film. It captured our imaginations, rapt us up and for a few hours, and infused us with whatever the spirit of that film happened to be. Sometimes a really great film can still create that sensation, but what never fails to come out of an impressive film — at least for us ladies — are a few bouts of fashion inspiration. And it just so happens the slate of movies coming out during the holiday season are rife with just that.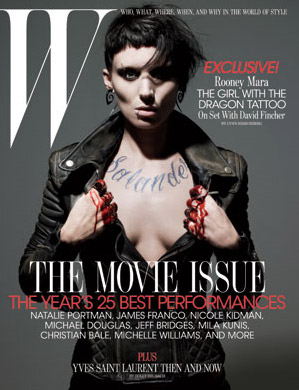 Punk-Chic
Source: The Girl With The Dragon Tattoo
Cut your hair short, embrace the androgynous style. Rock those facial piercings and ear gauges and let your tattoos peek out through strategically-placed holes made to look oh-so accidental. Get ready for winter with midnight-hued cowl neck scarves that double as hoods – perfect for hiding from the world. Leather jackets as shirts? Yes, please. And don't forget to surround your eyes with enough black eye shadow and eyeliner to make even the smokiest of smoky eye makeup run for cover. Rooney Mara gives this look a whole new life in David Fincher's adaptation of the best-selling book and if you don't believe it's going to be a trend, check out H&M's latest collection.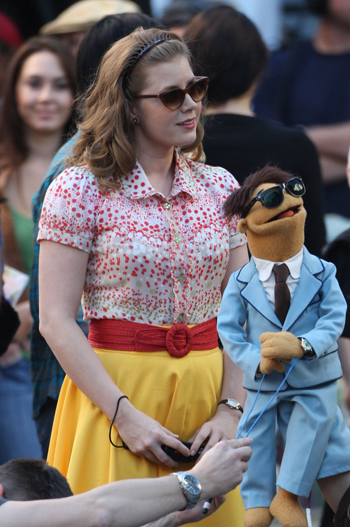 Colorful, Modernized 50s Dresses
Source: The Muppets
The time has come! Fifties-style dresses are no longer just for people living the dream of the 90s in Portland! (That's my best attempt at avoiding the tired term, "hipster.") Amy Adams' colorful, cheerful wardrobe in The Muppets plays with all the old fashioned, sweet elements we love from the 50s — from flouncy A-line skirts to button-up tops with adorable belts cinched at the waist to those classic cat-eye sunglasses. Miss Adams is a modern day vintage-y vision and likely the catalyst for the proliferation of a trend that I'm personally a big fan of. Bring it on!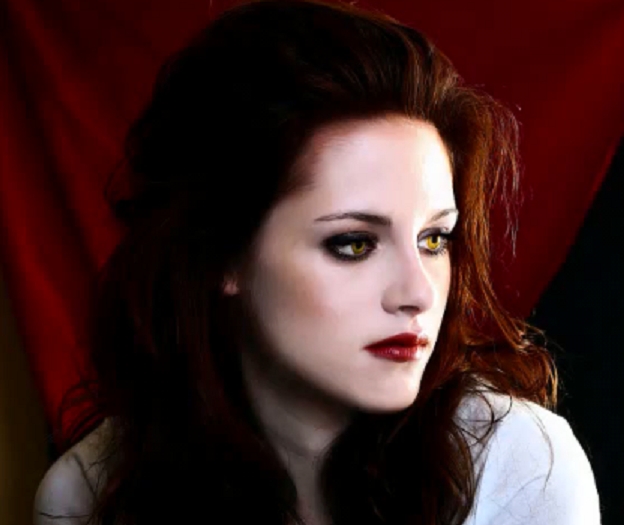 The Pouty, Undead Look
Source: The Twlight Saga: Breaking Dawn
After being swept up by the romance of the wedding and the spectacular honeymoon in the long-awaited Twilight (almost) series-ender, how could you not want to embrace the wintry pallor? And when you see legions of young ladies waltzing around this chilly season with pale face makeup and sangria-hued lips, you can blame that (SPOILER) scene at the end of the movie. If Edward likes Bella like that, maybe Robert Pattinson will like me like that too, right?

Ironic Hello Kitty Shirts
Source: Young Adult
She may be the model of underdevelopment, but Charlize Theron sure pulls off that cutesy t-shirt — in her own way. I hope I'm wrong, but if the cuddly cartoon character t-shirt fad comes back – however briefly – you can direct all your internet ire towards Miss Theron. And those who jump on board, just know, you're probably missing the point of the flick – Hello Kitty is only cute on 10 year-olds.

Victorian, Military-Inspired Outerwear
Source: Sherlock Holmes: A Game of Shadows
In the highly-anticipated Sherlock Holmes sequel – come on, any woman with half her sight is itching to see RDJ and Jude Law run around in Victorian garb for two hours – Noomi Rapace takes the role of leading lady. But you won't see her donning red silk gowns like Rachel McAdams did in the original. Everything we've seen of Rapace shows her in typical gypsy attire and running around with the boys in a dress paired with a military-style coat. And you know what? It's pretty cute. I may latch onto this combo myself!

Short, Bouncy Haircuts and Curve-Hugging Pencil Skirts
Source: My Week With Marilyn
Curvy girls already know pencil skirts are our best friends, but after watching the Marilyn Monroe biopic, I have no doubt the Marilyn style bug will bite a few ladies. The short, sexy curls, the red lipstick, the form-fitting (and semi-constricting) skirts are all synonymous with the woman who couldn't help but capture the world's attention. And you can bet there will be more than a few gals hoping to harness some of that magic with classic Marilyn style.