Breck Eisner Will 'Escape From New York'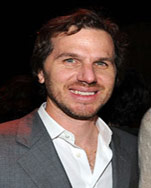 Source: The Hollywood Reporter
Remake is, apparently, his middle name. Breck Eisner, who won kudos for his chilling re-imagining of George Romero's The Crazies earlier this year, will next set his sights on John Carpenter's beloved Escape From New York, says The Hollywood Reporter.
The remake has been a top priority for the New Line (WB), which picked up the rights in March 2007, with Gerard Butler attached to star and Ken Nolan writing the script. The project then veered into development hell, losing Butler but amassing a penal colony of writers, among them Jonathan Mostow and Allan Loeb, and collecting then losing director Len Wiseman. (Neal Moritz has remained producer throughout the process.)
Eisner's boarding should bring redo back on track as New Line, sticking with the Loeb draft, tries to mix an origin story for anti-hero Snake Plissken and merge it with the story of the 1981 original.
On who should take over the famous eye-patch now that Butler is gone, we're officially endorsing Jeffrey Dean Morgan, a current Warner Bros. favorite and emerging star who's work in the genre, from last years Watchmen to this weekend's release The Losers, makes him a dependable choice for the role.  
Walter Hamada and Sam Brown are overseeing for New Line.