David Fincher Set For 'The Girl With The Dragon Tattoo'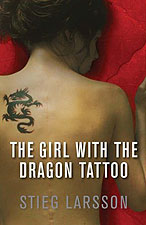 Source: The Playlist
After the success of his grand fantasy The Curious Case Of Benjamin Button, David Fincher is on Tinsel Town's most wanted list. In high demand, he's been attached or rumored to be involved with numerous projects since Button's 2008 bow, including Heavy Metal and Pawn Sacrifice. Today, The Playlist confirmed that the Academy Award nominated filmmaker will next helm the highly anticipated English adaptation of Stieg Larsson's best-seller The Girl With The Dragon Tattoo.
The title is the first in the author's Millennium Trilogy and tells of the mystery surrounding the long-unsolved disappearance of an heiress. A journalist recently dinged by a libel case and a young female hacker try to resolve it, stirring up bundles of personal and industrial corruption along the way.
Steve Zaillian (American Gangster, Gangs Of New York) adapted the script, while Scott Rudin is producing. The film is expected to start shooting in September or October.
In casting the lead role, it is said that Fincher is looking for an unknown. We'll keep you updated on this projects status as more news comes in.