New Disney Short Too Adorable To Handle, Sends Minnie and Mickey to Paris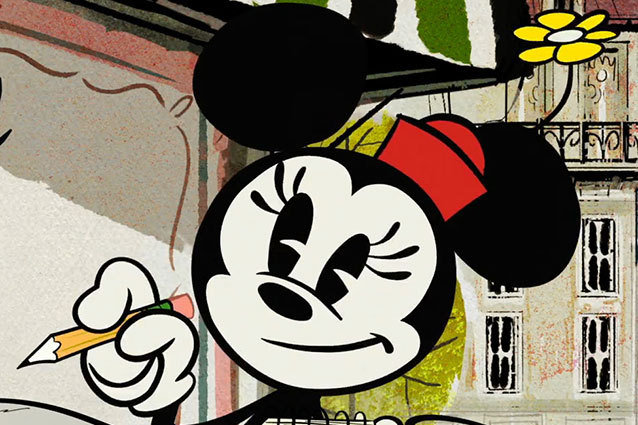 Believe it or not, this is not a remastered Disney cartoon. The clip below is the first in a brand new series of Disney shorts starring Mickey Mouse and aiming to return to the classic comedy stylings and aesthetics of the beloved animated Disney shorts of years past. 
"Croissant du Triomphe" is the first of a long line of cartoons, all of which will send Mickey and friends across the globe to locales like Venice, Bejing, Tokyo, and even New York and California's carefree beach town of Santa Monica. Artist/director Paul Rudish (The Powerpuff Girls) is helming the project, and from the looks of "Croissants" these shorts are going to unleash dangerously high levels of nostalgia in many a Disney fan.
RELATED: Disney Parks Celebrity Portraits
Even in another language, Minnie and Mickey's epic love story plays out perfectly, with extra doses of impossible adorableness. Seriously, did you hear the way Minnie Mouse says "croissant"? What about "souffle"? "Omelette"? 
After this jaunt through Paris, Mickey and Friends will go on to the Alps, where Mickey will find himself facing the threat of an avalanche coming between him and Minnie, who's safely at the top of the mountain. Next, Mickey and Donald will play beach bums just trying to get some lunch, but in a self-aware twist, the duo are tossed out because of the "No shirt, no shoes, no service" rule. (Funny though that the age-old rule doesn't specify that Donald should be wearing pants at this establishment.)
RELATED: Watch 'The Paperman,' Disney's Oscar-Winning Short
The wonderful cartoon below starts the series off right with a chase through Paris, a brief appearance from Daisy, an inanimate object with personality, and a cameo from a pair of classic Disney love birds who reside in France as well. It's in French, but it's enjoyable whether or not you know the language of love. And without further ado, appréciez "Croissant du Triomphe"!

Croissant de Triomphe on Disney Video
Follow Kelsea on Twitter @KelseaStahler
[Photo Credit: Disney]
---
You Might Also Like:


14 Movies That Are, Surprisingly, Not Porn


Stars Who Have Lost Roles For Being Too Hot (Celebuzz)