Emily Watson on 'The Book Thief', Hitting Geoffrey Rush and the Fun of Being Unpleasant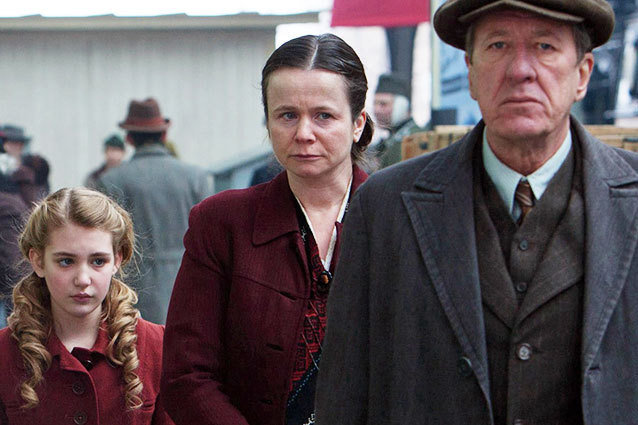 20th Century Fox via Everett Collection
Emily Watson is a multi-award winning actress who has played a variety of complex and iconic roles, but the thing she finds the most fun about Rosa Hubermann, the character she plays in her latest film, The Book Thief, is that she's so unpleasant. In the film adaptation of Markus Zusak's bestseller, Rosa is the stern wife of Hans Hubermann (Geoffrey Rush), a German couple who take in a foster child, Leisel Meminger (Sophie Nèlisse) at the start of World War II. However, once the family begins sheltering Max Vandenburg (Ben Schnetzer), a Jewish man, her frosty exterior melts to reveal a woman who will — in Watson's own words — "fight like a tiger" to protect the people she loves. 
In our interview with Watson, ahead of The Book Thief's November 8 release, we talked about he first impressions of the story, why she felt so free to be terrible to Geoffrey Rush, and the joy she finds in playing such a "vile" character. 
I'm actually a really big fan of the novel, and I thought the film did a great job translating it to screen, so I was wondering what was your introduction to the story? Had you read the novel beforehand, or did it start with the script?
The script was, I'm ashamed to say, my first introduction, and I thought it was an amazing script, and then I read the book and I thought it was an amazing book. But I think it's quite a successful extrapolation — Geoffrey was talking about it earlier, that it was a very difficult thing to find a film language because you can't have — you know, Death narrating everything is brilliant, but it's a literary device, but I think that's what's really unique about the book is that it's a view of this, it's an indifferent. Death is indifferent to who's dying, in a way, and Death is a beneficent presence.
You said that it was really exciting to play a character who was so unpleasant. She's also very understated and really quiet about her emotions. Was that part of the challenge, and was that also exciting for you?
I think she's someone who's very disappointed and very angry. I guess in a good Protestant way she keeps her lip buttoned, but she's pretty vile. And then she gets to the point where the real events, the huge events going on around them start to break her open, in a way, and actually she has something that's he loves, which is a home full of needy children who need her and she loves them and they're under threat and she will fight like a tiger to protect them. She's probably never felt more alive and she's a person with great love in her heart, somewhere, but finds it very difficult to express.
Was it intimidating to play such a beloved character or are you at the point in your career where nothing scares you?
No, I think it's like flying an airplane. If you don't have the fear, don't do it. In a way, though, that the "beloved character," you can't be intimidated by that, you've just got to try and go with it as much as you can, but in a sense you have to bring yourself to it too. I mean, it was good fun, just deciding I need to look as much like a s**t bag as I possibly can, I need to look fat, I need to scrape my hair back and they put really ugly, aging makeup and gray, scraped back, dirty hair and after about a week I just kind of got used to it, really, and being nasty was really good fun as well.
There are a lot of newcomers and relative newcomers in the cast. What was it like working with them?
I mean, Sophie and Ben, are both beautiful young actors, and Ben particularly was in his last year at drama school, so he knew a lot about the theory of acting and was sort of wide-eyed with astonishment to be in the room with us and doing it an just asking questions all the time. Really, really lovely young man. And Sophie as well, I remember her after the first day of rehearsal just looking at us really curiously, and Brian [Percival, the director] asking her, you know, "Are you okay?" and she said "I didn't really know you could go into things as deeply as this." Because we sat and talked and talked and talked about everything, you know, about the family and the history and what was going on in Germany, and Geoffrey and I both love to talk. And she was sort of, "Okay, I get it." And she really was like a sponge, soaking it up.
And you've worked with Geoffrey before, did that help you build the relationship between Hans and Rosa?
Yeah, we've had real fun together before. Doing The Life and Death of Peter Sellers was a hoot, and then we did press, we went to Cannes, we had a laugh, we had a hoot, so we had that. We knew each other and we knew we had shared a sense of humor, so actually it sort of gave me license to be really, really mean to him and just get on with it in a way. We didn't have to be sensitive.
I wanted to ask a little bit about the accent you use in the film. It's a bit rare to have an American produced film with characters actually using German accents.
Uh, in The Reader, they did. If you actually look, a lot of really good movies of this period, they do, really. Yeah, we had dialect coaches, we had a lot of coaching and lessons, but also we were surrounded by Germans, so that made it easier. But also, it's the inflection that helps with the character.
This is a pretty intense experience, but the film has some lighter moments as well. Were there any scenes that were a lot of fun to film? 
I liked filming the scene where I hit Geoffrey round the head, when I'm feeding [Max] soup and he throws up. That was a really lovely demonstration of the relationship between actors on the set, because Ben was sitting there, and he was doing his very best sort of absolutely immersion in the total "I've just arrived in a strange house, and I'm feeling very ill and I'm going to be sick", and Geoffrey and I kind of looked at each other and said, "Okay. If you show that you're going to be sick, it's going to spoil the gag. It's a gag. So don't." and then, of course Geoffrey is the comic actor, so it was sort of "Okay, Geoffrey. How many spoons do I give him? One spoon, two spoons, or three spoons before he gags? What's the right comic [timing]?" So, yeah, we had the master comedian sort of turning his hat, and it was really lovely. And then, just getting up and hitting him, just [thwack], that was the best. I don't know which one they used in the film, I can't remember, but one was a really resounding thwap, and the entire crew were on the floor laughing. That was good fun.
And were there any you found particularly difficult?
Going to the school and telling [Liesel] that Max was going to live, that sort of final cracking of Rosa [where she] does something utterly emotional and impulsive and dangerous, but full of love. In a way, it was a great release to be able to do it like that, but it takes a lot of concentration, I guess, to get to the right place for that.