Emma Stone: The Best Woody Allen Muse Since Diane Keaton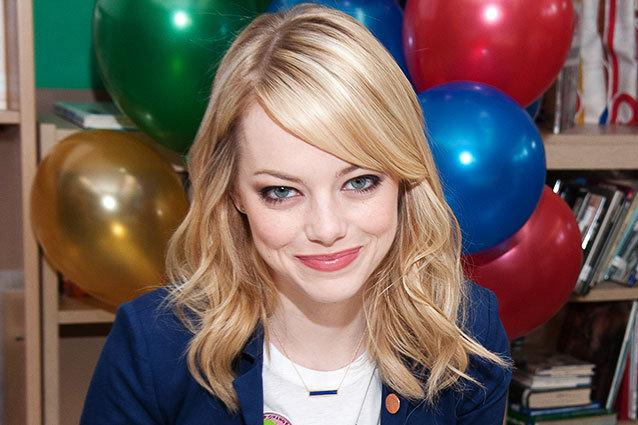 In what seems like the biggest breath of fresh air in the Woody Allen realm since Midnight in Paris charmed us all, comes the news that the beloved director/writer/actor is eyeing Emma Stone as his next movie muse according to Deadline. Could his choice be any more perfect? Unless you have some time traveling magic that can bring back young Diane Keaton, I highly doubt it. 
While Allen has leaned on such vibrant actresses as Scarlett Johansson (Matchpoint, Vicky Cristina Barcelona, and – unfortunately – Scoop), his ex Mia Farrow (13 movies, including A Midsummer Night's Sex Comedy, Alice, and Hannah and Her Sisters), and of course Annie Hall darling (and another Allen ex) Diane Keaton, who worked with him on eight total films. Now that Allen has moved on to frequently working with actresses he's not romantically involved with, Stone is about as perfect as it can get. 
She's got the easy-going confidence of the best sort of Allen heroine, but enough talent to add a layer of duality that's so inherent to his characters. But best of all, her very nature seems to be a call back to Annie Hall, who is arguably Allen's best female character. She's not a vixen in the way Johansson's characters or even Midnight in Paris' cheating Inez (Rachel McAdams) and Whatever Works' Melody (Evan Rachel Wood) are.
Stone, like Keaton in Annie Hall and to some extent Manhattan, is an intellectually sexual being. She's beautiful and alluring, but it's more about her manner and her substance than her ability to fill out a great dress. Like Keaton, Stone could don a man's shirt and slacks and still be one of the most magnetic, modest characters in a room. And of course, there's the part where Stone is a unique, fanstastic strain of goofball.
Put Stone together with Allen, and we may just be looking at a film that hearkens back one of the first films that made Allen a legend. Of course, this new film will continue to make use of Allen's recent Francophila, shooting in the South of France, but as is usual with his films, details of the plot are completely under wraps. Still, isn't it enough to know that the woman standing at the center of his next artistic vision is someone as perfectly suited for his style as Miss Stone?
Need proof? This scene from Annie Hall says it all:
Follow Kelsea on Twitter @KelseaStahler
More:
Emma Stone Teaches Ryan Reynolds How to GIF – Video
Emma Stone Does the Semi-Undressed Cool Girl Thing for 'W'
'Amazing Spider-Man' Star Emma Stone Knows You Make Her Into GIFs -Video
---
From Our Partners:


Eva Longoria Bikinis on Spring Break (Celebuzz)


33 Child Stars: Where Are They Now? (Celebuzz)