George Clooney's 'Monuments Men' Pushed to 2014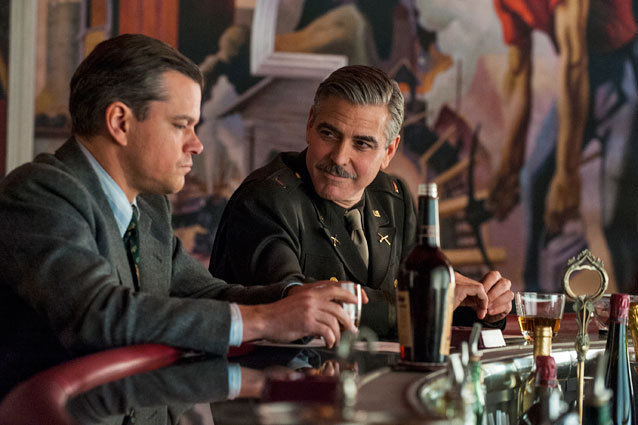 Columbia
UPDATE: Sony has pushed George Clooney's World War II drama The Monuments Men to Feb. 7, according to Variety. The decision comes two days after Clooney announced the film would not be released on its original release date of Dec. 18 due to time constraints.
EARLIER: And another one bites the dust…
It seems like every week there's news of one other strong Oscar candidate bowing its head in defeat; this time around it's George Clooney's World War II drama that's giving up on the race. According to The Los Angeles Times, Clooney's The Monuments Men has been pushed back to 2014, making it ineligible for the upcoming Academy Awards.
The high-profile project follows a World War II platoon that is tasked to rescue art masterpieces that have been stolen by Nazis, and then return them to their rightful owners. The film stars Clooney (who also directs), Matt Damon, Bill Murray, Jean Dujardin, John Goodman, and Cate Blanchett. With such a star-studded cast, it's surprising that the studio is willing to give up on awards consideration, but according to Clooney, they simply can't finish the project by its original release date, Dec. 18.
"We just didn't have enough time," Clooney told the Times. "If any of the effects looked cheesy, the whole movie would look cheesy. We simply don't have enough people to work enough hours to finish it."
The Monuments Men is hardly the first film of the year to push back its release date and take itself out of the running for an Oscar (however, this is an unexpected move since Clooney's film was already deep into its marketing campaign). Foxcatcher (starring Steve Carrell and Channing Tatum), Grace of Monaco (starring Nicole Kidman), and The Immigrant (starring Jeremy Renner and Joaquin Phoenix) have all been delayed until 2014. Additionally, Martin Scorsese's The Wolf of Wall Street is being moved from Nov. 15 to Dec. 25, following speculations that it too would be shafted to 2014. While it's completely possible that the studios just simply don't have enough time to finish the films, there's also the chance that they're nervous to go up against a whole line-up of movies that are expected to sweep at the Oscars (we're looking at you, 12 Years a Slave and Gravity).
There is no longer a release date for The Monuments Men, but it's expected to hit theaters in the first quarter of 2014.