Get Thee to the Geek: 8 Ways 'Star Trek: The Game' Allows You to Explore the 23rd Century Like Never Before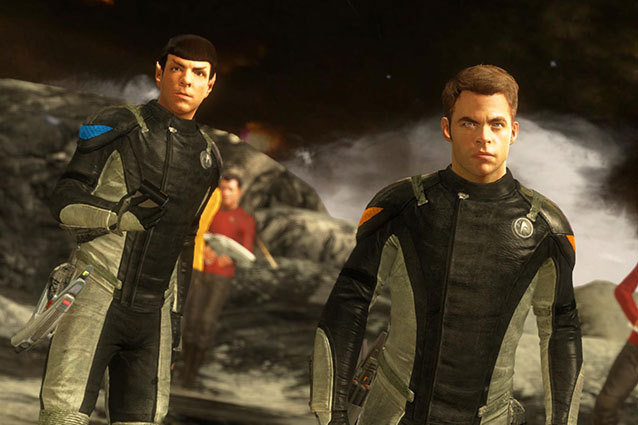 For us hardcore Trekkers, it's been awhile since we've been able to sink our teeth into a really meaty, story-driven Star Trek game. But no worries. The makers of Star Trek: The Game, available now for PS3, Xbox 360, and for PC, have heard your frantic cries for more immersive 23rd-century gaming and delivered. "We're gamers here and we've played every Star Trek game that's come out," says Brian Miller, the Senior Vice President at Paramount who oversees the whole Star Trek franchise.
The game designers recognized they had a void to fill despite the fact that there's an amazing legacy of Trek gaming that includes such fantastic title as 2000's Klingon Academy and DS9: The Fallen and 2002's Bridge Commander. "Some of our team here at Paramount had worked on previous games such as Bridge Commander and Klingon Academy," Miller says. So the development team was very concerned about not repeating themselves and giving players a wholly new gameplay experience — and one that ties into this summer's most anticipated blockbuster, Star Trek Into Darkness.
How does the latest Federation-endorsed game stand apart from the crowd? Here are 8 things about Star Trek: The Game that you've never been able to experience before… or at least haven't experienced in a really long time:
1. You Get to Play as Kirk and Spock! — Believe it or not, this is something you haven't been able to do in a Star Trek videogame since 1992's Star Trek: 25th Anniversary and 1993's Star Trek: Judgment Rites. "Those were point and click games where you would play as various characters," Miller says. "What we wanted to do with our game was give the player the opportunity to finally become Kirk and Spock. And, to this point, that really hasn't been possible yet."
2. It was Developed in Conjunction with the Movie Production — Star Trek: Hidden Evil was a semi-sequel to Star Trek: Insurrection and Starfleet Command III allowed you to pilot the ship commanded by Tom Hardy's villain Praetor Shinzon in Star Trek: Nemesis, but beyond that there hasn't been much integration between the games and the movies. It actually calls into question the canonicity of some of the previous console and PC titles. However, Miller says that's not the case with Star Trek: The Game: "We worked with the filmmakers to make sure that the story was canon and fit in with what's been created in the two films. We also had to make sure that the resolution of the game's plot would in no way interfere with Into Darkness, but those who pay close attention will notice a few callbacks and nods between our game and the new film."
3. It Has an Original Musical Score — Composer Michael Giacchino and his team collaborated on the music for Star Trek: The Game just like they did on Into Darkness, as if they were composing and arranging for a movie.
4. The Entire Movie Cast Lends Their Voices — Now, mind you, 2006's Star Trek: Legacy featured the voices of all the captains (William Shatner, Patrick Stewart, Avery Brooks, Kate Mulgrew, and Scott Bakula), but no previous gaming project has reunited the entire cast of one film. "One thing that surprised us when we were developing the game, was the high level of enthusiasm of our actors," Miller says. "When we began approaching them about their participation they instantly wanted to be involved, but with one condition… they'd do it only if the whole cast was involved. The actual process of recording the actors was done on an individual basis over the span of several months. Since the crew of the Enterprise resides all over the world we had to do quite a bit of traveling in order to record everything we needed. Chris Pine was recorded in San Francisco, London and New York. Karl Urban was recorded in New Zealand and Simon Pegg did his sessions in his hometown of London." 
5. You'll Get to Explore New Parts of the Enterprise — Unlike in the 2009 film you'll be able to explore crew quarters and the ship's mess. "We made sure all the in-game assets were 100% accurate," Miller says. "That includes the Enterprise model [used in the films] as well as all of the ship locations."
6. Scotty Gets Snarky — The Enterprise's chief engineer logged "research data entries" for many, many items on the ship. "For every item that you scan with your tricorder, you'll be treated to a somewhat accurate description of the item, as written by Scotty." There are also audio logs found throughout the game that diehard Trekkers will particularly appreciate. "Look for communicators hidden in the level and scan them with your tricorder to hear messages from the crew and new characters."
7. The Gorn Appears in the Flesh! — Or pixelated flesh, at least. Previous games like Starfleet Command and Klingon Academy have featured the Gorn, those hissing, reptilian baddies first seen in the classic Original Series episode "Arena," but only their ships. That scaly skin is hard to render! But they are the primary antagonists of Star Trek: The Game after they attack the New Vulcan colony, and you can get up close and personal with the cold-blooded foes themselves. "We really focused on expanding the Gorn speices – there are 15 different types of Gorn in the game, everything from Rushers, to Commanders, to females – all of which have never been seen before." In fact, the Gorn have proven such a challenge to Star Trek storytellers that they've only appeared in one episode other than their introduction in "Arena," the "In a Mirror Darkly" alternate-universe two-parter from Star Trek: Enterprise. There, the Gorn got a major CGI facelift, and that design was a definite influence on the game.
8. You'll Find Out What Happens When Spock Takes the Captain's Chair — We don't want to spoil exactly what happens, but Miller will tease this: "If you're playing as Spock, take a seat in the Captain's chair. See what Kirk has to say."
Follow Christian Blauvelt on Twitter @Ctblauvelt
More:
Alice Eve Shares Her Favorite 'Star Trek' Episode
Forget Khan, John Harrison Is a Klingon
Why 'DS9' Became the Best, Most Influential 'Trek'
---
From Our Partners:


Eva Longoria Bikinis on Spring Break (Celebuzz)


33 Child Stars: Where Are They Now? (Celebuzz)