Google: The Nexus 7 Tablet Could Change the Movie and TV Experience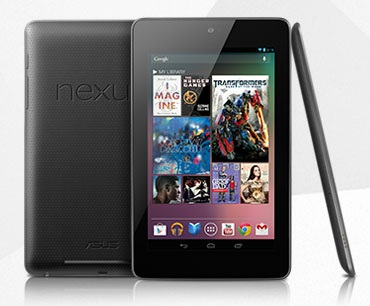 Remember the days when Google was only for information and maps and connecting with people and looking up English-to-Latvian translations and finding pictures of Ally Sheedy? Well, that era is long gone. Now, the company is moving on to the next level — movies and TV, via the newest Google product: the Nexus 7. Deadline reports that the new home-entertainment device, similar in concept to the Kindle, will be able to provide content from studios including Disney, Sony, Paramount, and NBCUniversal, thanks to a deal with Google Play.
Google's first tablet, priced around $199 will run Google's new 4.1 "Jelly Bean" software, pack a front-facing camera, a 1280×800 resolution screen, and an Nvidia Tegra 3 processor. For pop culture enthusiasts, the Nexus 7 will also offer downloads and rentals of movies and television episodes and seasons produced by the aforementioned companies. With products like these, the entertainment industry is becoming more and more remote. Could this change the way films and envisioned, and in turn, actually made?
[Image Credit: Google]
More:
James Cameron to Conquer Outerspace with Google
http://www.hollywood.com/news/movies/23014144/google-glasses-five-sci-fi-movies-to-prepare-you-for-2017-s-eyewear-fashion
Apple Is the World: Ashton Kutcher as Steve Jobs, the Founder's Drug History & More