All the Upcoming Movies That Wouldn't Be Possible in a Government Shutdown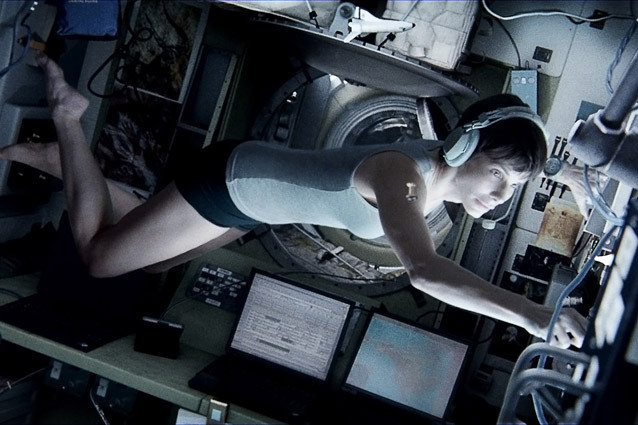 © 2013 Warner Bros. Entertainment Inc.
You might be under the impression that because you're not a senator or a mailman, the government shutdown doesn't affect you. But if you're looking forward to just about any of the movies set to release over the next three years, you are sorely mistaken. Think about the plot summaries of the films you're so eagerly awaiting: nine out of 10 of 'em wouldn't be possible while D.C. plays the waiting game. Not convinced? Here are all of the movies scheduled for release in the foreseeable future whose plots wouldn't ever happen under a government shutdown:
Gravity
NASA can't even operate its website, let alone send people into space.
Runner, Runner
No. The FBI would likely have to redirect its small-stakes takedown of criminal Ben Affleck in favor of focusing all energies on matters more pressing to national security.
Machete Kills
President Charlie Sheen couldn't very well make an above-the-board call in to friend Machete, a government non-essential by anyone's estimation.
The Fifth Estate
There wouldn't be anything for Julian Assange to leak. "They're still just sort of… sitting there."
Escape Plan
Do you really think the government could fork all that money into the development of a fail safe maximum security penitentiary?
Ender's Game
Not to the same degree, anyway. Sure, D.C. is still forced to pump funding into the military for the nation's protection, but we're talking bare essentials. Specialized training schools for gifted would-be soldiers? Get the heck out of here.
Free Birds
That's the upcoming animated movie where turkeys, pardoned by the president on Thanksgiving Day, use the government's time traveling resources to go back to the first ever Thanksgiving feast and change the tradition of the consuming of their brethren. So… no, that would likely not happen in a government shutdown, for a number of reasons.
The Hunger Games: Catching Fire (and all its sequels)
Sorry, but the Capitol could not fund such a frivolous spectator sport during a shutdown. To think!
Homefront
It's about a DEA Agent who, as we might assume from the casting of Jason Statham, is wont to leave whatever territory he defends with a heap of damages in tax dollars.
American Hustle
FBI sting operations? Methinks that getting the DMV back up and running is a higher priority than anything in the neighborhood of ABSCAM.
The Monuments Men
The Allied armies' Civil Affairs and Military Governments program "Monuments, Fine Arts, and Archives" would not have seen the light of day during a shutdown.
Jack Ryan: Shadow One
How many government departments has this guy been involved in?
Lone Survivor
Mark Wahlberg is actually funded entirely by the U.S. government, so this one wouldn't work.
Ride Along
With funds cut to the Atlanta Police Department, it'd be an insurmountable litigious risk for an officer to bring his future brother-in-law along on a dangerous ride along. 
Sabotage
Another one about the DEA, also starring some dude with a proclivity for destroying things (Arnold Schwarzenegger).
RoboCop
Pumping a whole bunch of money into transforming a cop who was shot in the line of duty into a high-tech killing machine? Did we mention it takes place in Detroit?
Three Days to Kill
Kevin Costner plays a dying Secret Service agent offered one last assignment. They're not just going to be doling out pity jobs to anyone with a sob story, here.
Divergent
Those head-scanners alone would never earn approval.
Captain America: The Winter Soldier
You can bet all branches of S.H.I.E.L.D. are under intense scrutiny around this time.
Godzilla
Eh, they'd probably be able to get away with this one.
X-Men: Days of Future Past 
We're still having trouble wrapping our heads around this subversion of American history. But we know there's got to be something in one of this high-concept plot's many sociopolitical chapters that wouldn't fly under a shutdown.
22 Jump Street
The War on Drugs, and all of its youngster officers, would be sorrowfully out of operation.
Transformers: Age of Extinction
Whatever military forces are in fact involved in Michael Bay's next turn at the franchise would likely have to settle for the old fashioned, far less expensive weapons. No robot monsters on this budget.
Fast and Furious 7
Sorry, DSS Agent Luke Hobbs. If you're not in the Top 5 Government Acronyms, you're going to be seeing some cutbacks.
The Secret Service
Come on.
Chappie
Who's paying for those robots, Blomkamp?
The Avengers: Age of Ultron
You heard what we said about S.H.I.E.L.D..
B.O.O.: Bureau of Otherworldly Operations
Don't even try optioning for an essential personnel badge, fellas.
Independence Day 2
No inspiring presidential speeches!
More:
Celebrate the Govt. Shutdown with a Google Doodle
Alec Baldwin's New Political Talkshow Will Be Insane
NBC and CNN Drop Hilary Clinton Projects
Follow @Michael Arbeiter
| Follow @Hollywood_com
---
From Our Partners:


40 Most Revealing See-Through Red Carpet Looks (Vh1)


15 Stars Share Secrets of their Sex Lives (Celebuzz)