What Does 'Gravity's Record-Breaking Opening Weekend Say About American Audiences?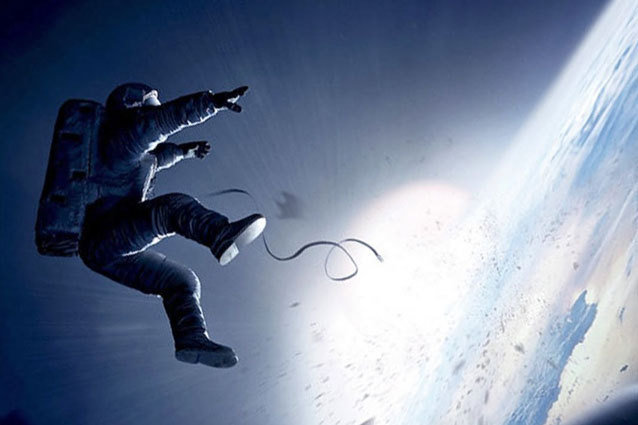 Warner Bros Pictures
Gravity has had an incredible weekend. In addition to being fact-checked on Twitter by Neil deGrasse Tyson himself, the film made an estimated $55.6 million domestically, which set a record for both October and autumn releases, as well as making it the biggest opening weekend ever for stars Sandra Bullock and George Clooney. It's also the second biggest opening for director and screenwriter Alfonso Cuarón, behind Harry Potter and the Prisoner of Azkaban. While the film being a success is not particularly surprising, given the film's star power and overwhelmingly positive reviews, the record-setting debut has caused some critics to remark that Gravity marks a turning point in American cinema.
But even if that's too strong of a statement to get behind, the film's success is undeniably a big deal, and so it's not much of a stretch to assume that it could a have a major impact on the film industry. So, what exactly does Gravity's record-breaking opening weekend mean? After all, films have big opening weekends all the time, especially films starring actors like Clooney and Bullock. However, Gravity is an original property with palpable Oscar buzz, which is what gives the achievement such signifigance. Currently, the list of highest-grossing films of all-time is dominated by franchises — all eight Harry Potter films, all three Lord of The Rings, a plethora of superhero movies. However, the summer of 2013 was notable for lacking a definitive "movie of the summer," instead showcasing a series of minor successes or outright bombs. The exceptions, though, were The Heat and We're The Millers, both of which were original films (the former earning its share of critical favor).
Studios see franchises and sequels as a safe bet. After all, there's already a built-in audience dying to spend their money on tickets, and it's easy to attract new audience members with all of the publicity. The better these films do at the box office, the more likely studios are to green light them over original or independent films, which are a much bigger risk, financially. But, if the disappointing summer grosses are any indication, maybe Americans are becoming bored with the overwhelming influx of familiar movies and are craving something different. 
Perhaps Gravity's being unlike anything audiences have seen or experienced before is actually the film's biggest strength. With the recent influx of reboots and superheroes, audience may be starting to feel some franchise fatigue, and Gravity's originality allows it to stand out from both the action and sci-fi blockbusters that dominated the summer and the emotional awards contenders that come out every winter. That both critics and audiences have been drawn to the film says something not only about the quality of Gravity, but also speaks to the fact that audiences are excited to see a movie that isn't the same thing they've experienced over and over again. Hopefully, seeing movie-goers flock to such an original film will encourage studios to finance more diverse, interesting films, even if only to balance out the huge summer franchises.
However, Gravity doesn't just manage to stand out in a sea of similar films; it also has enough varied elements that could appeal to a wide range of movie-goers. Setting aside that fact that everyone loves outer space, Gravity is a thriller that promises enough action and suspense to entice an audience who prefers those kind of films over heavier, awards-baiting material. On the other hand, Gravity also contains intense, emotional performances that have been receiving Oscar buzz, and will help draw in audiences who prefer drama over special effects. And for those who wish for movies to have some sense of familiarity, both Clooney and Bullock are reliable box office draws who are well-liked by audiences, and they provide a sense of comfort to both new audiences and concerned studio heads. Add to all of that the immersive IMAX experience that critics have been raving about, and Gravity was practically designed for success. 
It's not the first time that a film with major awards buzz has done incredibly well at the box office — Avatar, the current highest-grossing film of all time, was nominated for nine Academy Awards in 2010 — but early autumn is considered to be the quiet time between blockbuster summers and Oscar season that studios use to release horror films and the animated features that got bumped out of the holiday release schedule. As such, it's those kinds of films that set seasonal records. Gravity's October success only reinforces the idea that audiences are looking for movies that aren't telling the same stories over and over again. If the massive success does change things for American cinema, it will be a rise in interesting, original properties that appeal to the same kind of massive audience that action-packed blockbuster and heavy, dramatic films manage to draw in. 
More: 
'Gravity' Is A Lacking Story But An Unbelievable Emotional Experience
Undeniable Proof Sandra Bullock and George Clooney Are Meant to Be
Even Sandra Bullock's Son Thinks She Should Date George Clooney
---
From Our Partners:


A Complete History Of Twerking (1993-2013) (Vh1)


15 Stars Share Secrets of their Sex Lives (Celebuzz)