Great Western Law Dogs in Cinema
True Grit opens wide in theaters this week and, as a tremendous fan of the Coen Brothers, I am thrilled. The film, a remake of the classic American western starring John Wayne, tells the story of a determined young girl who hires a grizzled, rough-and-tumble U.S. Marshal to track down the man that murdered her father. Jeff Bridges turns in an outstanding performance as Marshal Rueben "Rooster" Cogburn and watching the film made me reminisce about my favorite lawmen, or law dogs, in westerns.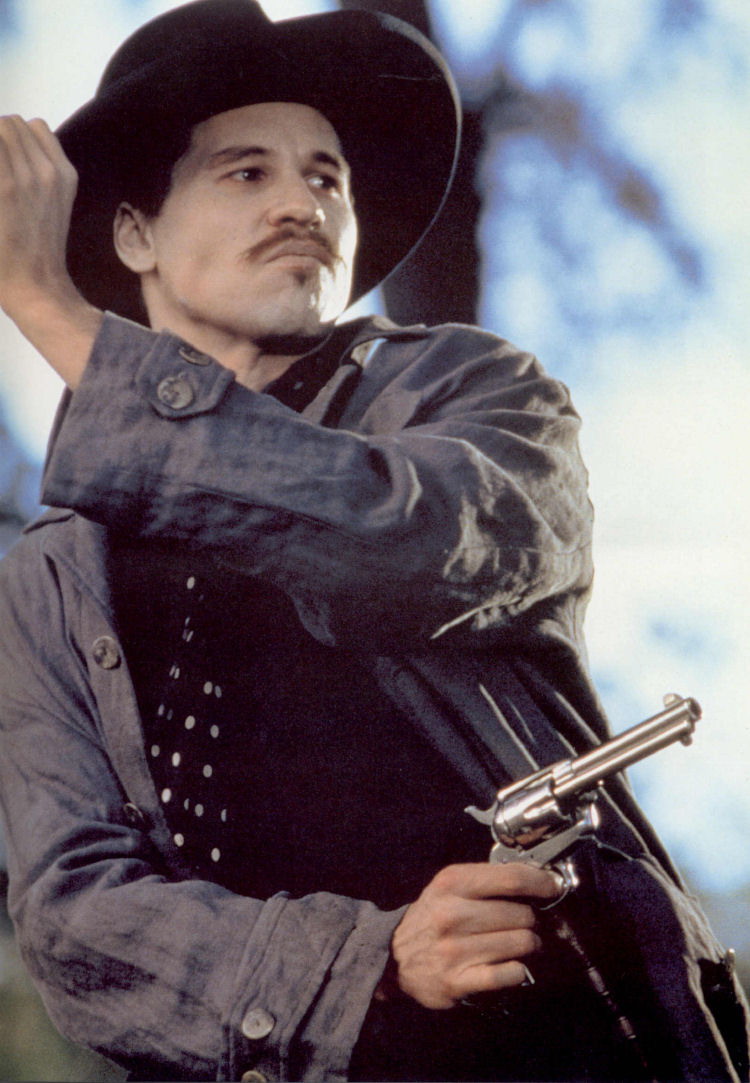 Doc Holiday (Val Kilmer) in Tombstone
Though he doesn't spend the entire film as an agent of the law, once Wyatt Earp swears in Doc Holiday as a deputized marshal, a slew of desperados meet bloody ends. In what is arguably the greatest performance of Kilmer's career, Doc Holiday is portrayed as a charming, witty scoundrel with a taste for gambling and dangerous women. But despite his weaknesses of character and his debilitating tuberculosis, Doc Holiday's penance as a gunslinger never wanes. Kilmer makes Doc Holiday endlessly likable by playing up the friendship between he and Wyatt with the utmost sincerity. He also has some of the best one-liners of any western hero. "I have not yet begun to defile myself."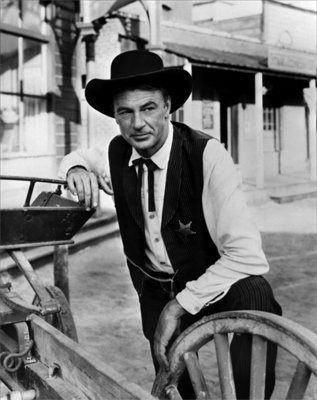 Marshal Will Kane (Gary Cooper) in High Noon
The reason westerns have had such a massive male following over the years, possibly more so than any other genre, is due in part to the way in which westerns display the archetypes of manliness. Few characters in the genre can rival Gary Cooper's Will Kane in this particular regard. Kane is a strong, silent sentinel of right over wrong, good over evil, and is well liked by all the citizenry he serves as marshal. But when a vicious outlaw Kane helped put away is released and whose return is promised upon the noon train, Kane's supposed allies back away from him as if he were the most heinous of pariahs. Much has been made of the subtle allusions within High Noon to the McCarthy-era Communist witch hunts; the faceless threat, the singled out, put-upon hero, and the all-consuming fear that forces good people to retreat instead of fighting for what's right. Whatever the metaphor, Kane refuses to relent and proves how one man with the right conviction can stand down evil all by himself.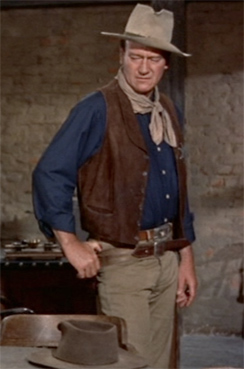 Sheriff John T. Chance (John Wayne) in Rio Bravo
It would seem more appropriate if one were to include John Wayne on this list, especially given the very impetus to write it, to cite his Rooster Cogburn from the original True Grit. While I enjoy and respect his performance in True Grit, I prefer his turn as Sheriff John T. Chance in Rio Bravo. Much like Will Kane, Chance is a man who refuses to deter from the righteous path even in the face of insurmountable odds and potentially his own death. When he refuses to turn loose the outlaw brother of a corrupt rancher, the rancher sends all manner of thug and lowlife to spring the murderous sibling. The opening scene of the film sees John Wayne beating the snot out of Dean Martin in an effort to sober him up, how can you not love that? Martin, along with yet another musical cast member Ricky Nelson, does a wonderful job supporting Wayne and solidifying his status as a classic law dog. John Carpenter's Assault on Precinct 13 is actually a loose remake of Rio Bravo.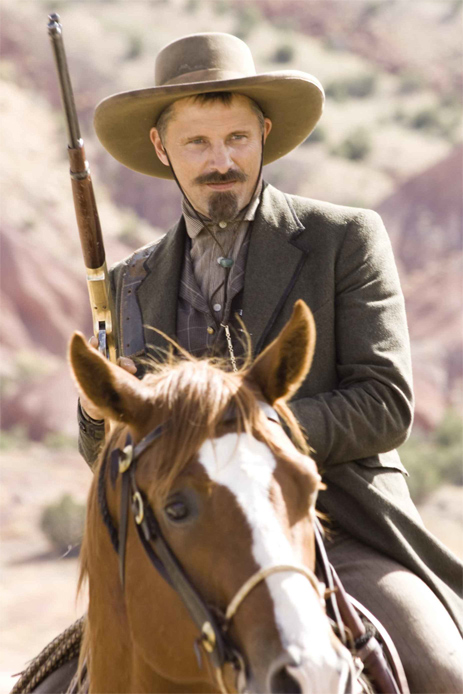 Everett Hitch (Viggo Mortensen) in Appaloosa
One of the better modern westerns, in my opinion, Appaloosa is the story of a pair of traveling lawmen played by Ed Harris and Viggo Mortensen. When they set up shop in Appaloosa, they are immediately greeted by an untouchable businessman accused of murdering a marshal. While Ed Harris is the leader of this duo, I find Viggo Mortensen's Everett Hitch far more interesting. A man of incredibly few words, Hitch is a deadeye with his wrathful shotgun and, more importantly, a staunch defender of justice. The scene wherein he and Ed Harris march to an obvious ambush without a trace of fear in their faces is phenomenal. Hitch's eventual showdown with the villainous Randall Bragg (Jeremy Irons) elevates his character from loyal second banana to preeminent law dog.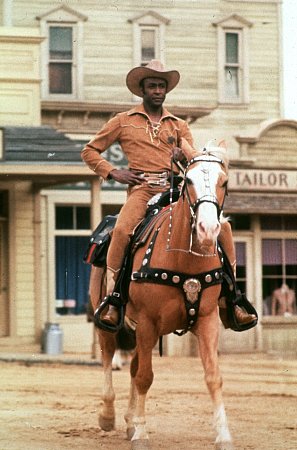 Sheriff Bart (Cleavon Little) in Blazing Saddles
When the town of Rock Ridge petitioned the governor for a new sheriff after theirs was killed, they were definitely unprepared for the response they received. Bart, a black sheriff in the old west, is faced with more than his fair share of obstacles. But with a combination of Bart's quick thinking, flair for disguises, and the fact that most of the residents of Rock Ridge were halfwits, he was able to not only run a marauding gang of baddies out of town, but also win the grudging respect of the citizenry. His inclusion on this list is hard earned. It's not every lawman that manages to ward off evil, withstand hateful racism, and sabotage a number of other productions on the Warner Brothers lot all while looking damn cool in the process.