Growing Up With Tony Scott's 'Top Gun'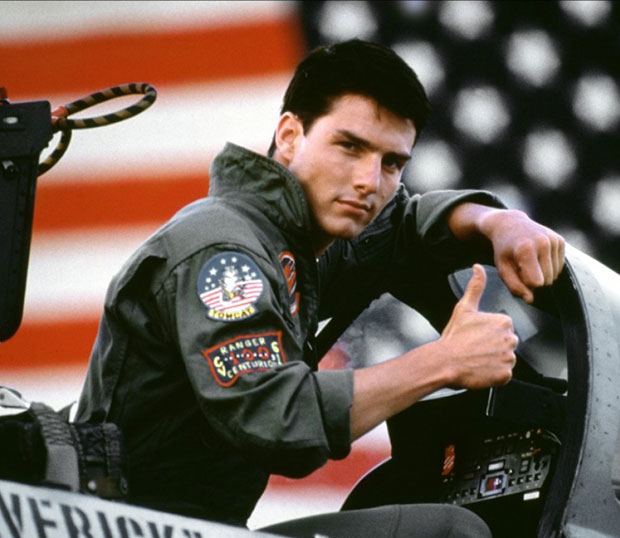 Knowledge of Tony Scott's passing has undoubtedly sent a shockwave through Hollywood. The famed director was responsible for some of the biggest, most crowd-pleasing action flicks out there. From Enemy of the State to Man on Fire and Days of Thunder, Scott delivered some of the more memorable audience-favorite films of the last three-decades. Of course, if you were to say the name Tony Scott to me at any point in my life, his name would only signal one thing: Top Gun.
Top Gun was the film that made my hometown and my dad, uncles, aunt cool (I had a lot of family in the Navy, alright?). Anyone who is in the same branch of the military as Maverick, motorcycle and bomber jacket or not, is automatically James Dean-level. But it wasn't just Tom Cruise and his need, his need for speed that gave the film its gusto. It was Scott's unmistakable mark on the tone and feel of this bad-boy pilot fairy tale.
Some may take offense to the somewhat hyperbolic, over-indulgent homage to the awesomeness of flying navy fighter jets throughout Top Gun, but that over-indulgence is what makes the film great. It's the reason that the "Top Gun Anthem" plays in my head every time my homeward bound flight lands at sunset in San Diego. It's the reason "Highway to the Danger Zone" weasels its way into my brain when we drive past Miramar — the site of the actual, original Top Gun — on the way to my mother's house. 
Top Gun brought these everyday Navy pilots, whose lives are actually filled to capacity with school, pressure, and impossible expectations, to a level of absolute, irrefutable greatness. It did so by making use of
their
world. Sure, the scene in which the pilots attend class in the hangar is absolutely inaccurate (think dingy, windowless classroom instead) and yes, San Diego is probably one of the most beautiful "real world" settings available. Still, Scott captured the essence and the spirit of the city, which was and still is a Navy town. He took us from the picturesque roads where Maverick rode his manly motorcycle into the grimy, sailor-filled dive bars without terrifying us. That ability to capture a side of San Diego while telling a grandiose story is what elevates the over-the-top film from its status as just a schlocky movie with heavy, shiny equipment and good-looking guys. It was a heroic, fantastical depiction of something that was a daily reality for the Southern California city.
Scott's films may not have been critically-acclaimed, and some of them may even be forgettable, but this film has significant staying power (so much so, that a sequel was in the works over 20 years after its original release). Top Gun is in every way, a big budget, shiny action movie. But it's also a film that's truly memorable, and for some of us, even meaningful. And that is a legacy worth remembering.
Follow Kelsea on Twitter @KelseaStahler.
[Photo Credit: Paramount]
More:
Remembering Tony Scott and His Cinematic Legacy — VIDEOS
How Do You Feel About The Release of 'Top Gun' In 3-D