Is 'Pitch Perfect 2' the Best Move for Hailee Steinfeld?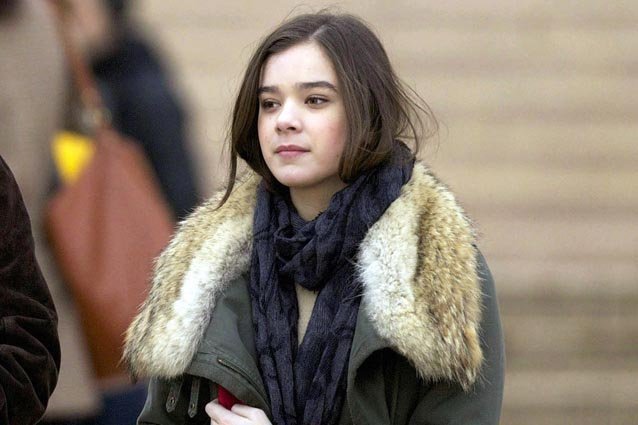 Relativity Media via Everett Collection
The Barden Bellas are looking for new members, and their first recruit is Hailee Steinfeld. The Oscar nominee is set to join the cast of Pitch Perfect 2, although details about who she will play are still being kept under wraps. Steinfeld will perform alongside returning cast members Anna Kendrick, Brittany Snow, Rebel Wilson, and Elizabeth Banks, who will also direct the sequel. Steinfeld is the first new cast member to sign up for Pitch Perfect 2, which is set to begin filming shortly. 
Pitch Perfect 2 is somewhat of a departure for Steinfeld, who has generally stuck with dramas and action films since her breakthrough role in True Grit, although her upcoming assassin comedy Barely Lethal does seem to suggest that she is interested in exploring new genres. Pitch Perfect is a great way for her to test out her comedic chops, since playing a supporting role in an ensemble comedy will give her a chance to play off of the other actresses as well as the freedom to try out new things without the added pressure of carrying the film. She's already had some experience delivering smaller comedic moments in projects like 3 Days to Kill, so she should fit in with the other ladies of Pitch Perfect 2 well.
The sequel is also a great opportunity for her to expand her fan base and connect with a younger audience. Since True Grit, many of her films have been aimed at older, male-leaning audiences. Though she's made films like Romeo and Juliet and Ender's Game, which are targeted at teenagers, neither one was a big hit at the box office, so Pitch Perfect 2 will allow her to reach a much larger audience than she might have been able to in some of her other films. Recently, Steinfeld has had a run of playing the daughter in big action films fronted by older actors, and so a film starring other young women gives her a chance to explore different storylines and scenarios that may allow her to connect with a younger audience than the ones that generally go to see Kevin Costner blockbusters. 
Since the first Pitch Perfect was a surprise hit, it seems incredibly likely that the highly-anticipated sequel will do well at the box office too. That's a good sign for Steinfeld, whose recent films have struggled to make big numbers. Though she's not struggling to get good roles, a hit film might open up the opportunity for her to play more leading roles, or explore a wider range of genres.
However, what Steinfeld really needs more than a hit film is a good film, one that reminds everyone just how talented she is. Many of her subsequent projects haven't been as well-received as True Grit, which might explain why she has been stuck playing so many daughters and best friends. Her performance in the Coen Brothers Western proved that she has enough talent and screen presence to carry a film of her own, but after making so many mediocre films, many moviegoers have probably forgotten just how good she is. And while all Pitch Perfect 2 seems set to make a lot of money, it's also probably not the good movie that Steinfeld needs. 
Pitch Perfect is a fun, entertaining film, but it's not a particularly well-written one, to say nothing of the issues that come with the numerous jokes about characters' weight and sexual identity. Even if Steinfeld's role is the film's breakout character, it's not the kind of film that would lead to roles in more quality films the way that something like Bridesmaids or The Heat did for its stars. With so many similar characters filling up her filmography, Steinfeld needs another complex, attention-grabbing or interesting character to remind filmmakers what she is capable of before she starts to become typecast. She seems to be taking steps towards preventing that now, by experimenting with different genres, but what she really needs is quality film with a compelling character to showcase her talent, the way she was able to with Mattie in True Grit.
Steinfeld is likely being considered for the same kind of roles as actresses like Chloe Grace Moretz, Shailene Woodley and Jennifer Lawrence, but though they have followed up their breakthrough roles with other attention-grabbing performances and star turns, Steinfeld has been stuck playing primarily supporting parts, which limits her range and opportunities. While Pitch Perfect 2 is a great chance for her to show a different side of herself, it might not be the film she needs to get out of the daughter/sister/supporting character rut that she's been in for some time now.