Heather Graham to Appear in 'The Hangover Part III'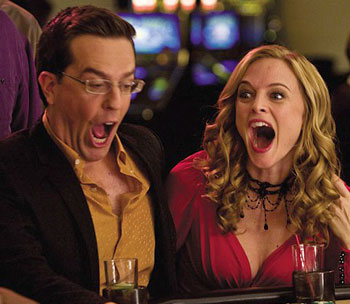 If there was anything to take away from the 2011 box office hit The Hangover Part ll (aside from the realization that a lot more Chow requires a lot more patience as a viewer) it's that writer/director Todd Phillips' hangovers must have a lot of déjà vu. In addition to Ken Jeong's Chow, the sequel to the wildly successful, infinitely quotable original, featured plenty of elements from The Hangover, including lost wolf pack members and a cameo from Mike Tyson. 
So it's of no surprise that Phillips is taking another key element from the 2009 
Hangover
and infusing it into the upcoming third installment. Hollywood.com can confirm that
Heather Graham
, who played Jade, the sweet Las Vegas stripper/escort who marries
Ed Helms
' kindly, anxious Stu when he's in a drunken stupor, will appear in
The Hangover Part lll
. 
Graham, whose charming, funny turn as Jade made her one of the highlights of the original, will reprise her role as Stu's estranged wife and Carlos/Tyler's mom. (One can only hope that Carlos/Tyler also makes a return, though they should probably keep him away from Zach Galifianakis' Alan and/or any doors.) 
While The Hangover Part ll was an undeniable smash (the movie became the highest-grossing R-rated comedy of all-time with a staggering $488 million worldwide intake) many critics and fans were disappointed with how much the sequel recycled from the first film. So does the news of Graham mean more of the same for the third flick? Or will her appearance simply mean some fun that was missing from the second flick? 
One can only guess that the re-emergence of Jade will throw in some surprises for Helms' now-married Stu (maybe there's been a little sibling for Carlos/Tyler along the way), who can never seem to catch a break in these movies. Better yet, maybe it will take them back to where it all started: Vegas. (Though rumors and reports have placed the third movie everywhere from Tijuana to Los Angeles to an insane asylum. Either way, it will be nice to have a female presence in The Hangover Part III, something that was sorely missing from the second. 
The 42-year-old who last seen in 2011's far more family-friendly Judy Moody and the Not Bummer Summer, will also be seen in the porn drama About Cherry alongside James Franco. The Hangover Part III is anticipated to have a May 2013 release from Warner Bros. 
Are you excited that Heather Graham, who was indisputably one of the best surprises and highlights of The Hangover, is returning? Or are you afraid that, like the second, the third will simply rehash too much from the original? Are you hoping that Stu and Jade will finally wind up together? (Seriously, who didn't want to see that?) Share in the comments section below. 
[Photo credit: Warner Bros.] 
More: 
Bradley Cooper, Ed Helms, and Zach Galifianakis Negotiate for The Hangover Part III