'House at the End of the Street' Star Elisabeth Shue Gushes About Co-Star Jennifer Lawrence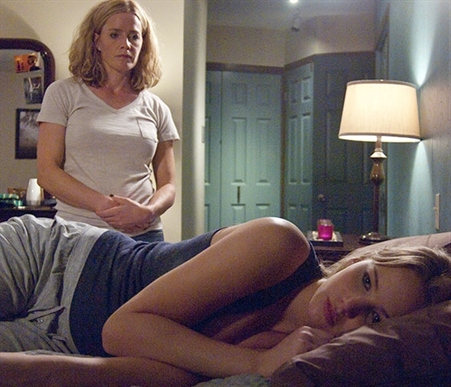 It's hard not to like Jennifer Lawrence. She's a talented actress, she's personable, she's well-dressed, and she is as tough as they come as Katniss in The Hunger Games. And it's not just her fans who are taking notice. Actress Elisabeth Shue stars alongside the starlet in this week's House at the End of the Street, and she picked up on Lawrence's unique qualities right away. 
"Jennifer is such a mature young woman," Shue tells Hollywood.com. "She's got the aura of someone much older than her years." Perhaps that's why she always brings a little something extra to every role she takes on — even in the Relativity Media horror flick that has her falling for a potential serial killer. It's definitely why she was chosen to play opposite Shue's character, who the actress refers to as an "immature mother." 
But it's not just about being mature. Shue has seen her fair share of the spotlight, having been in movie after movie since she began stealing hearts in The Karate Kid. She knows a thing or two about dealing with the demanding acting profession, and all the extra stressors that come with it. She thinks Lawrence is handling it all pretty perfectly. 
"She has such a good head on her shoulders," gushes Shue. "She's so much more evolved than I was at that age." 
We are talking about a horror flick here, but it isn't nice to know your favorite actresses are just wonderful as we imagine them to be?
House at the End of the Street hits theaters Sept. 21. 
[Photo Credit: Relativity Media]