Hugh Jackman, Jennifer Lawrence, Naomi Watts & More React to Their Oscar Nominations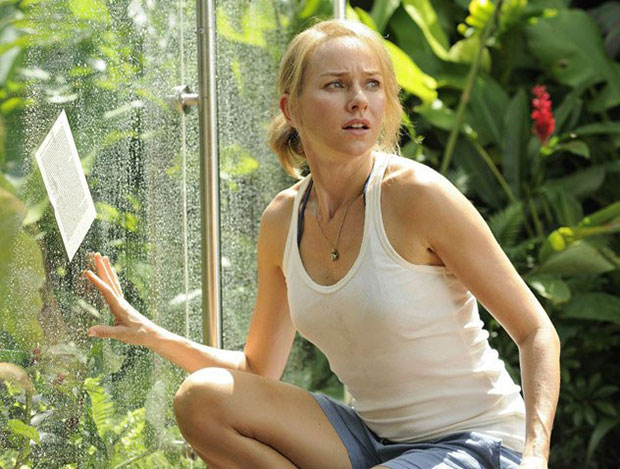 There must be few experiences more exciting if you're an actor or director than waking up to find you're an Oscar nominee. Several of those whose names were rattled off among the nominations for the 85th Academy Awards have already shared their joy and gratitude about the honor of competing for a little gold statuette come February 24.
Hugh Jackman, Best Actor, Les Misérables
"I hadn't planned to listen live to the announcements, but when I got into the car this morning to go to work, the driver had the nominations streaming as they were being broadcast. To be honest, it's very exciting but all a bit surreal, and it hasn't fully sunk in yet. This is a brilliant awards year that has been defined by an eclectic list of stories that have been told by incredibly talented and courageous filmmakers, and it's an honor to be mentioned in the same sentence as the other nominees in the Best Actor category. Having hosted the show, I have seen so many different sides of the Oscars, but to be an actual nominee is something I never would have dreamed possible."
Naomi Watts, Best Actress, The Impossible
"I am so thrilled and humbled with this morning's wonderful news. The journey of telling Maria Belon's miraculous story of survival has been an incredible experience and I am so grateful for this acknowledgement of our film. I am truly honored."
Denzel Washington, Best Actor, Flight
"Flight was one of the most challenging roles I've ever had in my career, and it was an honor to be directed by Robert Zemeckis. It's always nice to be asked back to the show, and it will be fun to share the evening with our nominated screenwriter John Gatins."
Jennifer Lawrence, Best Actress, Silver Linings Playbook
"I'm so honored and grateful for this nomination and to be in the company of such talented actresses. Having the fortunate opportunity to work with David O. Russell was an extraordinary gift, and I am so thrilled for my fellow cast members Bradley Cooper, Robert De Niro and Jacki Weaver who are all nothing short of amazing. This was a labor of love that we all poured our hearts into and could not be more thankful to The Weinstein Company and Harvey Weinstein for their unyielding support of the film."
Robert De Niro, Best Supporting Actor, Silver Linings Playbook
"I am very pleased that the Academy has chosen to honor the many individuals who were a part of Silver Linings Playbook."
Jacki Weaver, Best Supporting Actress, Silver Linings Playbook
"I am completely over the moon by this morning's news. To be nominated twice now is incredible, and to be a part of this wonderful film and amazing cast makes things even sweeter. I am so happy for David O' Russell and could not be more thrilled."
Mark Boal, Best Original Screenplay, Zero Dark Thirty
Thank you to the Academy for these incredible honors. And thank you to the writers who have honored me today with their generosity and to the academy for the Best Picture nomination. None of us would be so honored today without the genius and remarkable talent of Kathryn Bigelow, and to her we are forever grateful.
Ang Lee, Best Director, Life of Pi
"I am deeply honored and frankly a little overwhelmed by all of the nominations that Life of Pi has received this morning. So many talented people gave everything they had to this film, both in front of and behind the camera, and to see all of them receive this kind of recognition is something I am incredibly grateful for."
Steven Spielberg and Kathleen Kennedy, producers of Best Picture nominee Lincoln
"We are absolutely thrilled and astonished with the 12 nominations. It is such a tribute to the work of those who joined us in this 12-year journey to bring Lincoln to the screen. We humbly thank the Academy members who honored so many of us."
Sally Field, Best Supporting Actress, Lincoln
"I'm spinning and beyond thrilled on so many levels. To be included in this amazing group of extraordinary craftsman and exquisite talents has been an honor in itself. But now for us all to receive so much recognition from the Academy I'm deeply appreciative and overwhelmed, and basically, I still can't believe I got the role."
Tony Kushner, Best Adapted Screenplay, Lincoln
"I'm tremendously honored to be a nominee in the company of so many writers and filmmakers whose work I admire. I'm very grateful to Steven and Kathy, to Daniel, Sally, Tommy Lee and the whole cast, to Rick, Joanna, Janusz, Mike and John and everyone who made Lincoln happen. I'm overwhelmed by the Academy's response to the film. I heard that I'd been nominated while waiting to take off on a plane from JFK to LAX. James Gandolfini, who's sitting in front of me, gave me a hug and a kiss, so I'm about as happy as can be. "
Joanna Johnston, Best Costume Design, Lincoln
"I'm thrilled and honored to be nominated, it was an extraordinary experience with a remarkable team who are all part of this recognition. It is my first nomination and I'm so happy to be part of this unique body of talent."
Tim Burton, producer/director of Best Animated Feature nominee, Frankenweenie
"Frankenweenie is a very personal film for me. The idea of telling a feature length version was in the back of my mind for many years. Stop Motion was the perfect medium for this project, and one I've always loved for its expressiveness and dimensionality. I've worked with so many incredible artists: animators, cast members, set builders, and puppet makers, all who have helped bring this film to life one frame at a time. I'm so honored that the Academy has recognized this film as one of its nominees."
Mark Rich, director of Best Animated Feature nominee, Wreck-It Ralph
"To have the Wreck-It Ralph team's passion and years of hard work acknowledged by the Academy is an honor like no other. We are so proud, so grateful – I can't wait to congratulate everyone in-person."
Peter Lord, producer and co-director of Best Animated Feature nominee, The Pirates! Band of Misfits
"This is amazing! We tried to do something a little different with The Pirates!, in terms of tone and comedy, and it's just brilliant that the Academy has responded to it in such a wonderful way."
Mark Andrews, director of Best Animated Feature nominee, Brave
"We are incredibly honored by today's Academy Award nomination. Brave has been an adventure from the beginning – starting with our research trips to Scotland, the crew embarked upon a journey that inspired us all and forever changed our fates. Thanks to the Academy from all of us here at Pixar."
John Kahrs, director of Best Animated Short nominee, Paperman
"It's beyond an honor to have Paperman nominated for an Oscar. I can't thank everyone on the team enough for their passion and hard work in making this dream project a reality."
With Additional Reporting By Lindsey DiMattina, Shaunna Murphy, and Matt Patches
Follow Christian Blauvelt on Twitter @Ctblauvelt
[Photo Credit: Summit Entertainment]
More:
2013 Oscars Nominate Only 9 for Best Picture: Which Film Should've Been the 10th Nominee?
Kathryn Bigelow and Ben Affleck Lead This Year's Oscar Snubs. Who Else Was Ignored?
Oscar Nominees 101: Everything You Need to Know About the Stars and Their Movies

Megan Fox's 12 Hottest Moments (Moviefone)

Ryan Gosling's 'Airbrushed' Abs: Plus 19 More Reasons We Love the Actor (Moviefone)