'The Hunger Games: Mockingjay Part 1′ Casting Roundup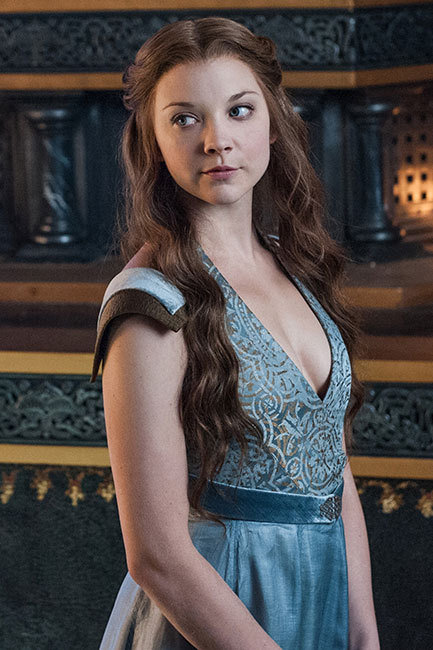 HBO
The Hunger Games: Catching Fire might be about to set theaters ablaze, but the most die-hard Hunger Games fans are already looking forward to the franchise's two-part conclusion. Thankfully, Hollywood has been helpful and the casting mill has been providing excited book fans with faces to put to the names we've all memorized from Suzanne Collins' bestselling trilogy.
Obviously when discussing casting news from Mockingjay, some book spoilers will be discussed. So here's your SPOILER WARNING in case you haven't made it to the final page of The Hunger Games trilogy just yet.
Natalie Dormer is Cressida
Cressida is a reality producer and director who follows Katniss around, documenting her life for the population. In the books, Cressida is described as being bald with a head tattoo. This might be a bit of a problem for the brunette Dormer, who probably needs her lovely locks to continue playing Margaery Tyrell in HBO's Game of Thrones.
Julianne Moore is President Alma Coin
The biggest casting coup for the final two films. It's never a bad sign when A-list Oscar-nominated actress Julianne Moore agrees to show up in your film. Moore will be playing Alma Coin, the President of the mysterious District 13, long thought to have been wiped out by the Capitol. One of the biggest new characters in the final book, she'll be sure to have some juicy scenes with Jennifer Lawrence's accidental rebel Katniss.
Stef Dawson is Annie Cresta
Finnick's great love is former Games winner Annie, who has since gone a little nutty over time. She'll be sitting out Catching Fire, but will show up in Mockingjay played by a relative newcomer, Australian actress Stef Dawson.
Lily Rabe is Commander Lyme
A former winner of the Hunger Games, Lyme leads the rebellion in District 2. In the books the part isn't very large, but casting well known American Horror Story alum Lily Rabe probably means the part is will be expanded a bit for the film version.
Mahershala Ali is Boggs
As President Coin's military advisor, Boggs is tasked with looking out for Katniss' safety. A tough-as-nails military commander, Boggs will be played by the equally stoic Mahershala Ali who had starring turns in shows like Alphas and Treme.
Patina Miller is Commander Paylor
A military leader in the rebellion, Commander Paylor eventually plays a large part in the action in Mockingjay. So it was smart casting to conscript Broadway mainstay Patina Miller, who knows a little something about stage presence.
Elden Henson and Wes Chatham are Pollux and Castor
Brothers and cameramen for Cressida, the major difference between the two is that Pollux is an Avox. The first film skipped over the concept of Avoxes: runaways captured by the Capitol who have had their tongues removed. Ouch!
Evan Ross is Messalla
Messalla is Cressida's assistant, and in Mockingjay he'll be played by Diana Ross' son.
Are you excited for Mockingjay? What do you think of the casting? Sound off in the comments!