Ian McKellen To Star in Yet Another Sherlock Holmes Adaptation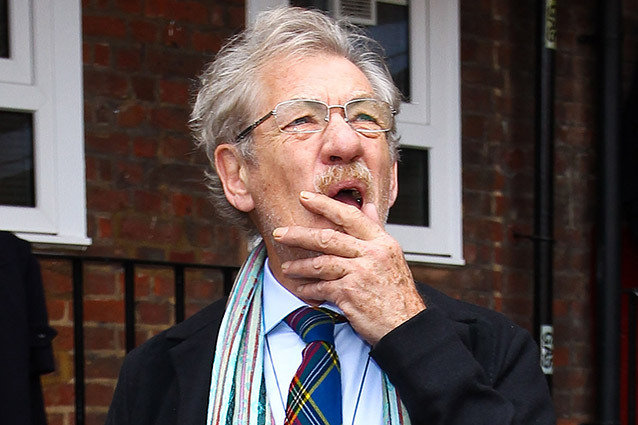 WENN
Gandalf, Magneto, Sherlock Holmes – Ian McKellen will play all of the great literary characters. CinemaBlend reports that the legendary actor is set to play the world's most famous consulting detective in the upcoming adaptation of Mitch Cullin's A Slight Trick of the Mind. The film's director Bill Condon announced McKellen's involvement with the project at the Toronto International Film Festival, where he is premiering his film The Fifth Estate, which stars Benedict Cumberbatch, who rocketed to fame after starring in the BBC's Sherlock (it's all connected!).
McKellen will show a decidedly different side of the detective in the film: one that's elderly, retired, and without his longtime companion, Dr. John Watson. According to the novel's summary, Holmes "revisits a case that may provide him with answers of his own to questions he didn't even know he was asking–about life, about love, and about the limits of the mind's ability to know." All of that questioning leads the audience to a question themselves – no, not whether McKellen will do a great job, or how his interpretation of the character will stack up against all of the others, but rather, does the world really need yet another Sherlock Holmes adaptation? 
As one of the most frequently adapted works of all time, there is no shortage of television shows, films, plays, and books about the great detective. But after having to suffer through Sherlock Holmes: A Game of Shadows and enduring the slugfest between Sherlock die-hards and Elementary devotees, surely some sort of Holmesian fatigue has to be settling in. It doesn't matter who's being cast, it doesn't matter when it's set, it doesn't matter how faithful or unfaithful it is to the orginal stories, eventually, enough is enough. 
So, Hollywood, how about you take a break from creating new Sherlock Holmes adaptations and give everyone a chance to enjoy the ones that already exist? Unless someone's rebooting Sherlock Holmes in the 22nd Century. That would change everything. 
More:
Reunited X-Men Storm Comic Con
Ian McKellen Films Final Shot As Gandalf
Peter Jackson and Ian McKellen Say Goodbye To Gandalf
---
From Our Partners:


A Complete History Of Twerking (1993-2013) (Vh1)


15 Stars Share Secrets of their Sex Lives (Celebuzz)