Your Friend From Brooklyn Probably Already Told You, But NPR Released the 'Inside Llewyn Davis' Soundtrack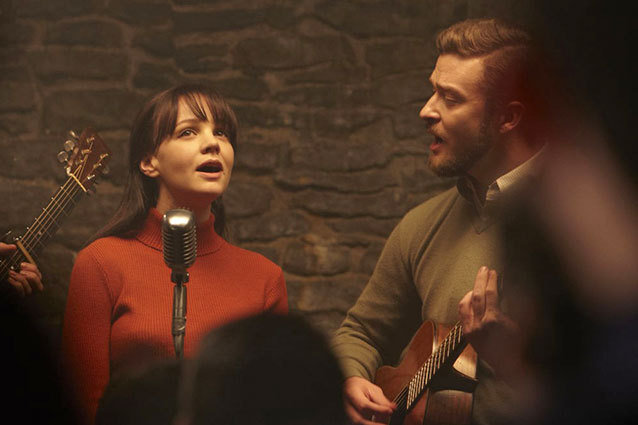 CBS Films
Ever since the first Inside Llewyn Davis trailer was released earlier this year, we've all taken to brownstone porches and subway platforms with a nonstop recording of Marcus Mumford and Oscar Isaac's "Fare Thee Well" cover and a checkered pocket full of somber contemplation. The latest Coen Bros picture has the makings to be the best music movie in ages, owing both to its tale of a trembling New York folk musician facing the aching realities of the toughest industry on the planet, and to its beard's worth of actual great music. We've only gotten a taste of the latter so far — the aforementioned ditty by star Isaac (who plays the titular Llewyn Davis) and Mumford & Sons' lead singer and guitarist standing out — but through the good graces of National Public Radio, we are now treated to the full soundtrack.
A number of the movie's actors, in addition to Isaac, have a place on the album: Justin Timberlake, Carey Mulligan, Adam Driver, Stark Sands, and Nancy Blake among them. The soundtrack also employs the musical talents of artists like Brooklyn- and Queens-based folk musicians John Cohen, Dave Van Ronk, the Punch Brothers, and Bob Dylan.
The Coens have done wonders with many colorful corners of the United States: Los Angeles, the Midwest, the Great Plains, the Deep South… but this could very well be their iconic stab at New York City. Not the same New York they channeled in The Hudsucker Proxy, but the one vastly overshadowed — the folksier, slushier New York that has seen resurgence in the wake of this decade's upswing in Brooklyn counterculture. We look forward with excitement to Inside Llewyn Davis as a great music film and a great New York film. In the meantime, we enjoy the lovely tunes the Coens, their players, and NPR have treated us to.
Inside Llewyn Davis Soundtrack
1. "Hang Me, Oh Hang Me" — Oscar Isaac
2. "Fare Thee Well (Dink's Song)" — Oscar Isaac and Marcus Mumford
3. "The Last Thing on My Mind" — Stark Sands, with Punch Brothers
4. "Five Hundred Miles" — Justin Timberlake, Carey Mulligan, and Stark Sands
5. "Please Mr. Kennedy" — Justin Timberlake, Oscar Isaac, and Adam Driver
6. "Green, Green Rocky Road" — Oscar Isaac
7. "The Death of Queen Jane" — Oscar Isaac
8. "The Roving Gambler" — John Cohen, with the Down Hill Strugglers
9. "The Shoals of Herring" — Oscar Isaac, with the Punch Brothers
10. "The Auld Triangle" — Chris Thile, Chris Eldridge, Marcus Mumford, Justin Timberlake, and Gabe Witcher
11. The Storms Are on the Ocean" — Nancy Blake
12. "Fare Thee Well (Dink's Song") — Oscar Isaac
13. "Farewell" — Bob Dylan
14. "Green, Green Rocky Road" — Dave Van Ronk