'Iron Man 3': Introducing Don Cheadle's Brand New Character — POSTER
As an incentive to spend your Presidents' Day looping the Iron Man 3 Super Bowl spot ad nauseum (which, to be fair, we've been doing since the big game), Marvel has released another bit of stylish art with a splash of American patriotism. And it's a doozy: our first close up look at Don Cheadle's new and improved character, Iron Patriot.
RELATED: 'Iron Man 3': What Secrets Does the Trailer Reveal?
Cheadle took over the role of James Rhodes from Terrence Howard for Iron Man 2, where he was granted the character's biggest moment. In the sequel, he got his own set of armor, turning him into the Iron Man sidekick known as War Machine. For Iron Man 3, Rhodey gets another bump, a suit of armor with a red, white, and blue paint job. In the comics, the Iron Patriot armor didn't have any special enhancements, but anything could happen in Iron Man 3, which introduces technology that allows Tony Stark (Robert Downey Jr.) to control his armor with his mind.
REALTED: A Behind-the-Scenes Look at the Art of Blockbuster Poster-Making
Check out the new poster of Iron Patriot below. Iron Man 3arrives in theaters May 3.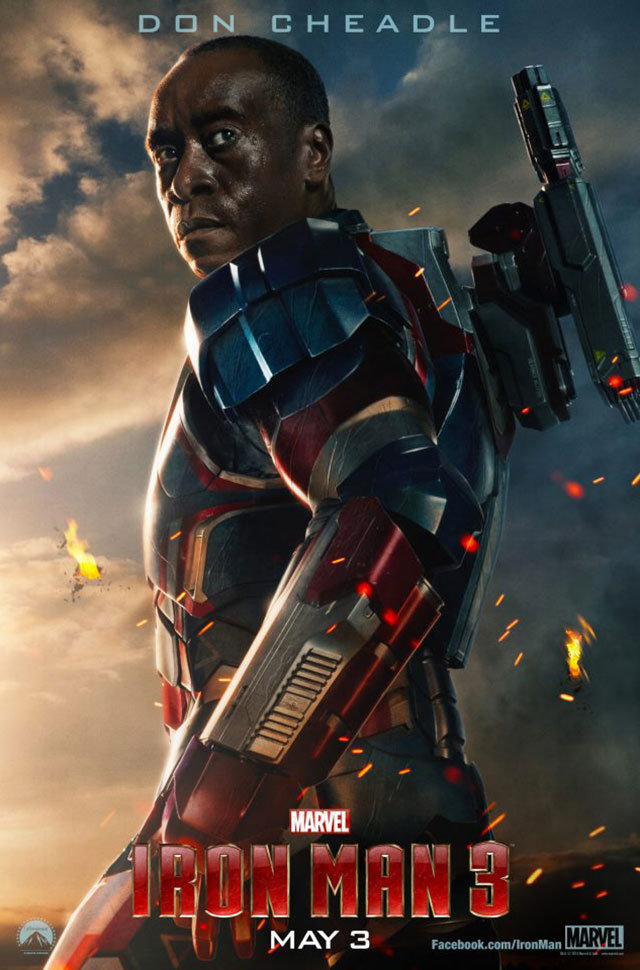 [Photo Credit: Marvel]
---
From Our Partners:

'SI's 25 Sexiest Swimsuit Covers of All Time (Vh1)

Pregnant Kate Middleton Bikini Pics Spark Palace Anger (Celebuzz)