James Brown Has Got a Brand New Biopic! Mick Jagger and Brian Grazer to Begin Casting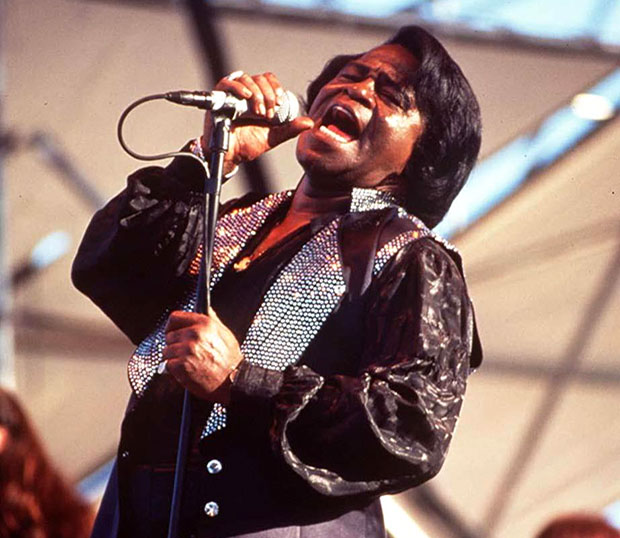 You feel good? No? Not even a little? Maybe this news will help. Producers Mick Jagger and Brian Grazer (Apollo 13, A Beautiful Mind) are moving forward with their James Brown biopic and about to proceed with casting after renegotiating the rights to the late King of Soul's life-story with his estate.
The project's been gestating for 12 years, and even had the approval of Brown himself before his death in 2006, back when Spike Lee was in talks to direct. But the legal wrangling over Brown's estate — he left the bulk of his $100 million fortune to charity, to the dismay of his children — delayed the film and forced Lee's exit. The Help's Tate Taylor is now set to helm from a script Grazer commissioned a decade ago by British screenwriters Jez and John-Henry Butterworth, according to a new interview with the producer in Rolling Stone.
Grazer estimates that even though casting has yet to begin, he's already invested about $2 million of his own money to develop the idea, and even hired Al Sharpton as a consultant for a while. "I like to make movies about mastery and genius, and it's hard to find great subjects," Grazer told the magazine. "And James Brown is a visually dynamic subject. A Beautiful Mind was hard because we had to get you to understand how schizophrenia works. This will be much easier. On the most visceral level, he sings and dances, and the performance of that contributes to defining him as the hardest working man in showbiz."
Jagger jumped aboard once the Brown estate signed off on the biopic last year. The Rolling Stones' frontman was very much influenced by American blues and soul music, and you can definitely see some of Brown's raggedy, side-shuffling, dancing-in-place style in Jagger. In many ways, the Maroon 5-anointed "moves like Jagger" are really the "moves like Brown."
Brown's signature stage presence will prove a challenge for any actor to replicate. "We're going to start casting and we're going to have to test lots of actors and be determined to pick the right one," Grazer says. "No movie starts in a day." The initial draft of the screenplay apparently included 30 musical performances, meaning that Grazer will need to find not only a gifted actor — one capable of harnessing the more sordid aspects of Brown's life like drug abuse, domestic violence, a 1988 multi-state car chase — but have major musical ability.
As far as we're concerned, there's only one actor who seems to fit the bill: Donald Glover. Childish Gambino is already one of the hardest working men in showbiz. Why not have him play The Hardest Working Man in Showbiz?
Follow Christian Blauvelt on Twitter @Ctblauvelt
[Photo Credit: Rex USA]
More:
Brian Grazer's James Brown Biopic Going Forward With Mick Jagger Producing
Brad Pitt Could Be the Guy Who Killed Jesus
Jackie Robinson Biopic '42' Takes Us on a Trip to the Deep South… of Brooklyn — TRAILER

Megan Fox's 12 Hottest Moments (Moviefone)