Jason Dohring Signs on for 'Veronica Mars' Movie, Ensuring More of Logan and Veronica's Epic Love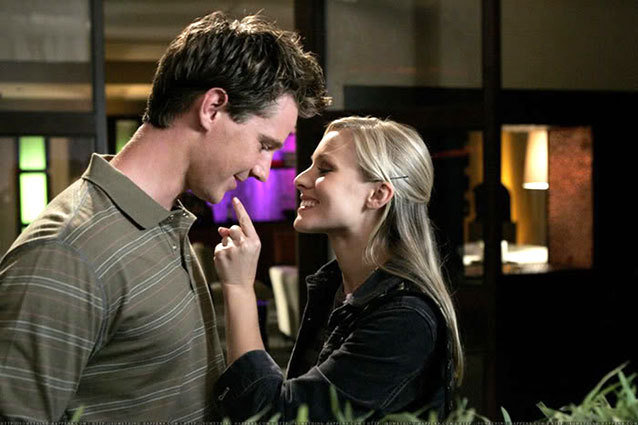 The first Veronica Mars star who is not Kristen Bell is officially on board for the upcoming Veronica Mars movie, and you'll probably squeal when you find out who it is: Jason Dohring, a.k.a. Veronica's true love Logan Echolls, a.k.a. the dreamiest d-bag to ever grace the UPN network, has signed on to reprise his role in the Kickstarter-funded feature film about everyone's favorite teen detective.
Veronica Mars creator Rob Thomas announced the news in an email to the movie's Kickstarter campaign backers. "Jason Dohring is officially on board for the Veronica Mars movie," Thomas says. "We now have three actors officially cast. Veronica, Logan and the waiter who says, 'Your check, sir.'"
The third role belongs to a generous soul who donated $10,000 to the project within hours of its official launch, with the promise that there's no way the donor's brief appearance would land on the cutting room floor.
RELATED: What We Know About the 'Veronica Mars' Movie
Dohring is only the second original cast member to officially commit to reprising his role, but the hold-up is really just due to contract negotiations. "Don't worry. We're busily working on bringing your favorites into the fold," Thomas assures fans in his update.
Thomas told the Huffington Post after the Kickstarter launch that in addition to Dohring and the two other cast members who appeared in the Kickstarter announcement video with him and Bell — Enrico Colantoni, who played Veronica's sheriff dad, Keith, and Ryan Hansen, who played Logan's even d-baggier best friend, Dick — he'd also reached out to many more of the show's regular cast members. "Before we launched, I talked to Francis Capra [Eli 'Weevil' Navarro], Percy Daggs [Veronica's BFF Wallace], Tina Majorino [Veronica's other BFF, Mac] and Chris Lowell [Stosh 'Piz' Piznarski] and told them what we're doing and that I hoped they would be available and excited about it," he said. "They certainly all are, but we don't have them in deals yet. … I have a lot of confidence that we're going to get them, we're just not there yet."
RELATED: Why So Much 'Veronica Mars' Movie Backlash?
The VM movie will revolve around the gang's 10-year high school reunion. "Having Veronica drawn back around the same time as her 10-year high school reunion allowed me a graceful way to include as many of the cast members as possible," Thomas told the Huffington Post.
Though there was no doubt a Veronica Mars movie could happen without some epic love story action with Logan, it's nice to know the ink is officially dry on Dohring's contract.
Follow Jean on Twitter @hijean
[Photo Credit: The WB]
---
From Our Partners:


40 Most Revealing See-Through Red Carpet Looks (Vh1)


33 Child Stars: Where Are They Now? (Celebuzz)