14 Pieces of Crazy, Awesome 'Jurassic Park' Merchandise
If you grew up in the 90s, the only thing cooler than getting to see Jurassic Park was to collect all of the merchandise (and, boy, there was a lot) tied to the game-changing blockbuster. From finger puppets to sleeping bags to those Burger King watches (pictured), Steven Spielberg's prehistoric action adventure became a marketing and merchandising juggernaut in and of itself. 
RELATED: The 20 Most '90s Moments of 'Jurassic Park' 
With the 3D re-release of Jurassic Park currently in theaters, it's impossible not to get a little nostalgic about all of the things you begged your parents for (pogs!) and the things you really wish you hadn't (that infuriating, impossible-to-master Super NES game). Of course, since Generation Irony grew up loving Jurassic Park (un-ironically) you better believe there's plenty of merchandise, from cell phone cases to trendy flats, still being made today. 
RELATED: 'Jurassic Park 4' Finds a Director
So, take a trip down memory lane with us (in the Jurassic Park jeep, of course) and take a look at 14 wild pieces of Jurassic Park merchandise and memorabilia. Hold on to your butts. And your lunch box. 
Gallery: 14 Pieces of Jurassic Park Merchandise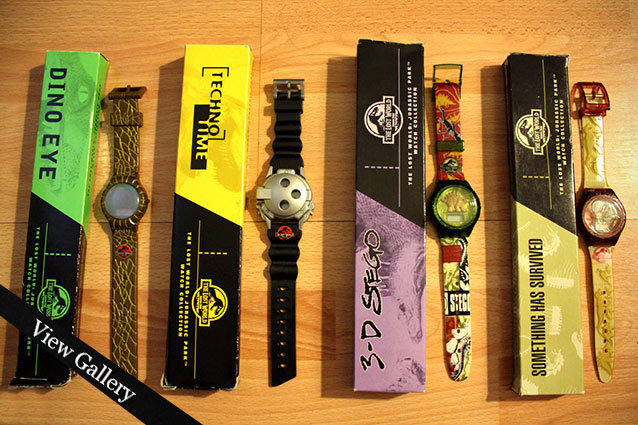 [Photo credit: Burger King] 
---
From Our Partners


Hayden Panetierre Bikinis in Miami (Celebuzz)


Every Jurassic Park Dinosaur Ranked From Best to Worst (Vulture)