'Les Mis' Star Amanda Seyfried on Cosette: 'We Needed to Find Ways to Make Her Interesting'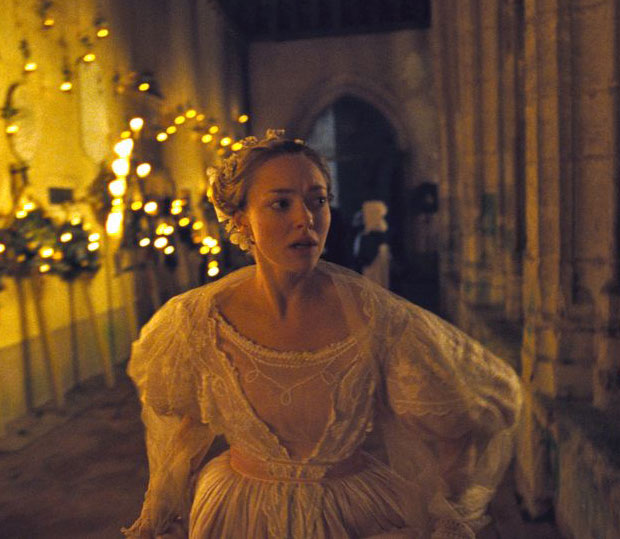 Amanda Seyfried nails the greatest challenge in bringing Les Miserables' infamous ingenue to life: "There's not much of Cosette, but she's really important."
In this week's big screen adaptation of the legendary musical, Seyfried plays the grownup Cosette, the daughter of Fantine (Anne Hathway) who is rescued by Jean Valjean (Hugh Jackman) from her impoverished existence living with the sadistic inn owners, the Thénardiers. She grows up to the be a stunning blonde — not too difficult for Seyfried — who catches the eye of a rebellious student, Marius (Eddie Redmayne), and gives him a reason to live.
Even in the Broadway version, Cosette isn't as dimensional as one would hope; she's more of an object of desire than a woman with her own uphill battles. Seyfried was determined to change that for the movie version. "We overanalyzed… we took parts of the book that aren't in the musical to flow more freely from scene to scene," Seyfried says. "In the little time that I had to explain Cosette and give the audience a reason [to see her as] a symbol of love and strength and light in this tragedy, I needed to be able to convey things you may not have connected with in the show."
Seyfried admits it was difficult for her to overcome the technical challenges of singing live on the set of Les Mis, finding herself "listening to my voice instead of living in the moment." When she did slip into the role, she was able to add a new layer to Cosette. "I actually took a bunch of things from Annie's portrayal of Fantine and infused them in Cosette. You want to recognize her when she's older. You want a piece of Fantine in her."
To hear Seyfried dish on her love of Jackman, Hathaway and the cast, along with how she transformed Cosette into a character that can survive inside the epic tapestry of Les Mis, check out our interview below:
[Photo Credit: Universal Pictures]
Follow Matt Patches on Twitter @misterpatches
More:
'Les Misérables' Star Hugh Jackman Admits Singing in the Alps Is Harder Than 'Wolverine' Stunts
'Les Misérables': Anne Hathaway Reveals She Was the Cosette to Her Mother's Fantine
'Les Miz': Why Today's Moviegoers Find It Hard to Accept Characters 'Breaking Into Song'

20 Hottest Bikini Bodies of 2012: Kim Kardashian and More!